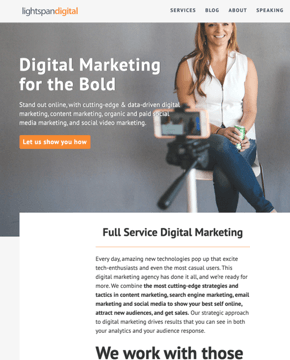 2339 N California Ave., #47590, Chicago, IL. 60647
Phone: 773-442-2448
Website: lightspandigital.com
Founded: 2009
Founder: Mana Ionescu
Top Clients: Wholesome, Mondo, UChicago Masters in Computer Science, Fidelitone
Expertise: Digital storytelling, social selling, influencer programs, employee advocacy, marketing automation, analytics.
Company Description 
Lean, minimalist, and dubbed "the Lightbugs" by a client, Lightspan Digital is the brainchild of founder Mana Ionescu. Born in Communist Romania and a true immigrant-American success story, she cut her teeth as a pro-bono marketer before building her own company on the back of a key insight—social engagement.
Lightspan Digital approaches social media marketing like working out in the gym—a little work every day over a long period of time can work all-out miracles, much more so than an unsustainable early sprint. She even came up with a term for it—the "Daily Social Media Workout."
Founded in 2009, Lightspan Digital has kept a small team but expanded greatly in its ability to serve clients large and small. Their portfolio of services now encompasses content marketing, analytics, brand ambassador and influencer marketing, video marketing, email marketing, marketing automation, and search engine marketing—in other words, a holistic approach to digital marketing worthy of the marquee agency they are.
Proud to be a "purpose-driven" marketing firm that doesn't just serve clients for the heck of it, Lightspan Digital grounds its service in twelve key values:
Take Initiative

Be Responsible

Focus On Results

Be True

Be Engaged

Use Healthy and Direct Communication

Act With Integrity

Act With courage

Trust

Offer Respect

Be Resourceful

Be Growth-Focused
Focus Areas
Lightspan Digital puts significant emphasis on telling a brand's story, because they know that the brand's story is an antidote to short attention spans—emotionally-engaging stories that make people stop, pay attention, become invested. 
A company's narrative forms more than just the spine of its long-form content; it also infuses everything the company does, down to the smallest Tweet or LinkedIn post. Lightspan Digital brings that narrative into focus, if it isn't already, and then builds a marketing strategy that suffuses that narrative through every touchpoint.
Another focus area of Lightspan Digital is brand purpose. In keeping with their own goal to market with a purpose, the Lightbugs want to help brands zero in on their own purpose—the "why" of their business. Purpose-driven brands tend to last longer and attract more profit, as well as more brand loyalty from Millennial and Gen-Z customers who want to know what their favorite brands stand for, and prefer to shop with a brand in alignment with their values. Lightspan Digital approaches brand purpose as the future of customer loyalty.
Services Provided
Digital Marketing Strategy and Planning

Social Selling

Content and Email Marketing

Digital Project Management
Notable Clients
Wholesome

Mondo

UChicago Masters in Computer Science

Fidelitone
Why Work with Lightspan Digital
Companies and organizations should seriously consider Lightspan Digital if they want personal service from a small team who doesn't take a "by-the-numbers" approach to each digital marketing project. You will be working with key players when you hire the Lightbugs, which is why they are selective about who they work with.
Consider whether or not your organization has a handle on your "brand purpose"—and if not, do you see value in developing your brand purpose? It will come up in the process of working with the Lightbugs. It might seem extraneous to develop a brand purpose. It might even seem a little bit scary—after all, taking a stand risks alienating potential clients and customers who might take the opposite stand. But research shows that polarizing brands actually do better than non-threatening brands, attracting a much more loyal customer base in a digital age.
Lightspan Digital is also a great choice for companies that want to hone their narrative, as well as marshal social media as a tool for growth. Lightspan Digital built its reputation on mastery of social media. If this is a weak spot for your organization, the Lightbugs will get the job done for you.
You Might Also Like: