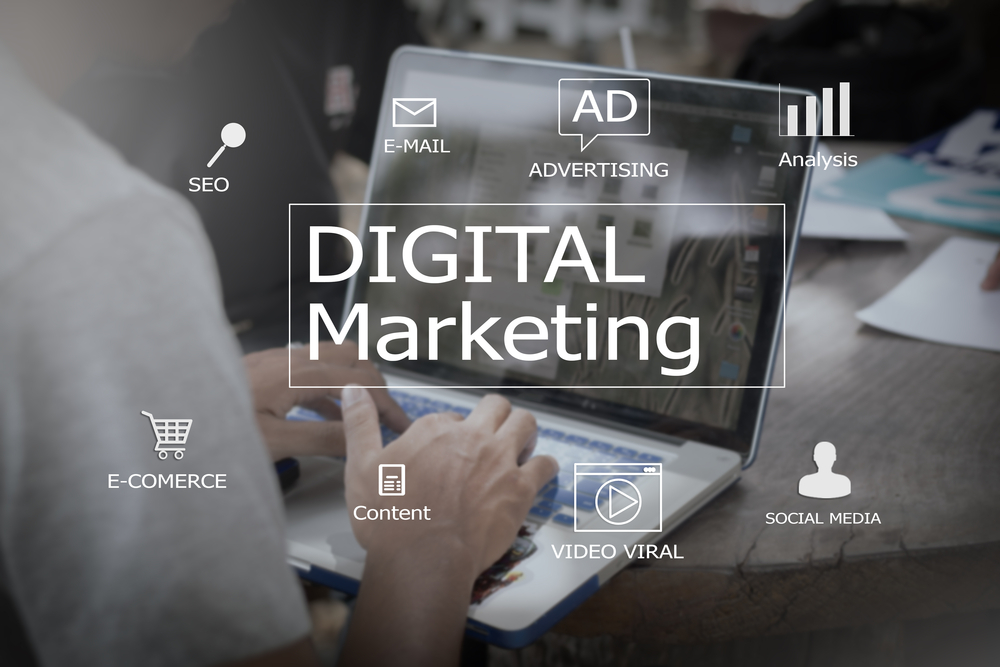 If you have searched for this page, you must be looking at new marketing opportunities for the coming year.
Digital marketing agencies' main focus is on growing your brand and online presence so you can focus on your business. They are experts in a variety of areas to help meet your goals, ranging from digital strategy and website design to social media and PR.
And there's a great demand for this, with 56% of businesses in the US looking for similar solutions.
In Chicago alone, there are hundreds of digital marketing companies, so it can be very difficult to choose the one that best suits your needs.
This post will let you see the best Chicago digital marketing companies this year. You'll be able to narrow down the best candidates before eventually hiring one to meet your digital marketing targets.
Don't waste any more time scouring the web, seeing landing page after landing page telling you why they are the best. Instead, you will find all you need to know right here, from award-winning companies to up-and-coming businesses.
Digital Authority Partners
Address: 222 W Merchandise Mart Plaza #1212, Chicago, IL 60654
Phone: 312- 600-5433
Founded: 2015
CEO: Codrin Arsene
Top Clients: Athenahealth, Omron, Dolbi, Fortinet, Kroger, Business Talent Group, American Heart Association.
Expertise: Digital strategy, user experience design, analytics, and development.
Digital Authority Partners (DAP) is a digital strategy and product development agency that helps companies build digital products and experiences that make a difference.
The company's main industries are healthcare, financial technologies, and government.
DAP's experienced team of product managers, developers, designers, analysts, and marketers guide businesses on how to implement voice technologies, artificial intelligence, blockchain, and virtual reality to slash their operational costs and boost ROI. The agency's CEO, Codrin Arsene, has extensive experience helping Fortune 500 companies achieve their full potential through complex digital strategy initiatives.
Arsene is on a quest to revolutionize healthcare from within. As a result, in 2018, DAP launched healthcareweekly.com, a news website dedicated to executives in the private and public sectors who aspire to digitally transform the industry.
Simple Machines Marketing
Address: 330 N Wabash Ave, 23rd Floor, Chicago, IL 60611
Phone: 773-219-1090
Founded: 2012
CEO: Jill Wilson
Top Clients: Loan Ecosystem Online, The Exeter Group, IPMG, Chicago Apartment Place Inc, ICM Properties, United Abrasives,
Expertise: Marketing plan development, inbound marketing, demand generation
From consulting and strategy to social media and data analysis, Simple Machines Marketing provides the resources, tools, and talent you need to drive growth. One of their strongest attributes is being able to understand their clients quickly. This then shortens the lag time between starting and delivering.
Simple Machines Marketing is suited to small businesses. They have a small team but everyone understands their job well. Each team member is passionate about the company's three core values: going the extra mile, being thorough in their approach and having a can-do attitude.
This Chicago digital marketing company also has a library of blog posts and resources to read through, emphasizing their knowledge and expertise in this industry.
Perfect Search Media
Address: 12 E Ohio St, STE 400, Chicago IL 60647
Phone: 877-655-8227
Founded: 2010
CEO: Ajay Pattani
Top Clients: Charming Charlie, New York Film Academy, Rubicon Columbia University,  Dylan's Candy Bar, The Chicago School of Professional Psychology, Stage Stores
Expertise: Paid Search, SEO, Social Media Advertising, Amazon Advertising
Perfect Search is a results-driven digital marketing company in Chicago committed to building custom strategies for its clients. Their mission is to elevate businesses and represent the best client satisfaction, service, and team.
The working culture is important to Perfect Search. They're dedicated to creating a dynamic and inclusive environment for their team, taking part in events such as scavenger hunts in the summer to having their own version of Catchphrase.
In terms of their work, they put a great emphasis on continuous testing. Since the digital space is always evolving, Perfect Search uses constant testing to ensure your digital marketing methods are always working at optimal levels.
This digital marketing company is dedicated to finding the perfect solution for you. Expect clear communication from this business too.
Rise Interactive
Address: One South Wacker Drive, Third Floor, Chicago, IL. 60606
Phone: 312-281-9933
Founded: 2004
CEO: Jon Morris
Top Clients: S.O.S, Pandora, Northshore University Healthsystem, Incredible Egg,
Expertise: Amazon, Paid Social, Programmatic, and Affiliate.
Rise Interactive was founded in 2004 by CEO Jon Morris, following his second-place finish at the University of Chicago's prestigious New Venture Challenge business plan competition. While his initial idea was to teach traditional marketers about digital, the overwhelming interest for Morris to lead these efforts resulted in the agency's launch.
They've grown from a simple business plan to an award-winning digital marketing agency, fortunate enough to serve some of the world's leading brands.
Rise Interactive has a unique approach to help clients shift their marketing investments fluidly and effectively, all while delivering high-quality and relevant results to their customers.
They have an analytically-driven approach to digital marketing, with testing and pursuing the optimal customer experience high on the agenda. With a suite of tools and technology at their disposal, they have been one of the best Chicago digital marketing companies this year.
Straight North
Address: 1001 W. 31st Street, Suite 100, Downers Grove, IL 60515
Phone: 844-219-3699
Founded: 1997
CEO: Duerr
Top Clients: Chicago Bears, Hub Group, Harvard, AutoDesk, Lava Lamp, Amdocs, Daily Herald, IDEX, Association of Legal Administrators, Pro Stock Hockey
Expertise: SEO, PPC and Website Responsiveness
Straight North is an Internet marketing agency specializing in SEO, PPC, and responsive websites. They help firms increase sales leads and e-commerce revenue.
Their core service is SEO, helping hundreds of clients improve their organic search visibility for more than 20 years. They are the only SEO company in Chicago that validates and reports all sales leads from phone and forms. This enables them to see exactly how many leads their campaigns are producing.
In their own words, "we prefer to tell it like it is. We value transparency in our business dealings."
Straight North focuses on both B2B and B2C organizations. One of their most recent innovations is an internal platform to make deliverables to small businesses, meaning they are an excellent choice for almost all businesses.
97 Switch
Address: 111 W Illinois St, Chicago, IL 60654
Phone: 312-212-0968
Founded: 2013
CEO: Jeremy Greenberg
Top Clients: Hotel EMC2, the Albert, State and Lake Chicago Tavern, ROOF on the Wit, WindStar Media
Expertise: Web Design & Development, Digital Marketing, and Strategic Planning & Results
97 Switch takes great pride in their relationships with all people. They aim to deliver the best service possible to their partners by listening to their clients' needs and acting on what they need. Being good to people is a foundational part of their business and they will not compromise it for anything.
They understand the importance of being visible on Google. With vast experience in building websites and marketing them to customers, they will be able to find you when they hit that search button. 97 Switch is also strong at paid search, so pairing this with an SEO strategy is sure to achieve your marketing goals.
If you are looking for a warm and friendly but very professional and astute business, 97 Switch is one of the best Chicago digital marketing companies this year that you should be looking at.
Digital Third Coast Internet Marketing
Address: 2540 W North Ave, Chicago, IL 60647
Phone: 773-904-2700
Founded: 2007
CEO: Geroge Zlatin
Top Clients: Shorr Packaging, Success for Lurie's Children, Life Time Fitness, Waterstone, Big Blue Swim Academy
Expertise: SEO, Paid Media
Digital Third Coast was founded in 2007 in Chicago and specializes in SEO (search engine optimization) and paid media (including paid search and paid social). Their strategies involve blending data journalism with digital PR, and the results are award-winning campaigns for their clients.
Businesses rely on Digital Third Coast for a variety of reasons. For example, clients can count on them from technical and creative standpoints so they can better promote their products and services to their target audience.
Digital Third Coast's services are customized to each individual customer. Expect to benefit from experienced data-driven content marketing and ad copy.
Their aim is to make a measurable difference by helping organizations clarify, measure, and achieve their digital marketing goals. To achieve this, they will live by their five key company values: to be bold, curious, accountable, always ready to learn and to sweep the floors.
Walker Sands
Address: 55 W. Monroe Street, Suite 3925, Chicago, IL 60603
Phone: 312-267-0066
Founded: 2001
CEO: Ken Gaebler
Top Clients: Miller Heiman Group, Mattersight, CloudCraze, CCC Information Services, West Monroe Partners, MEDNAX,
Expertise: Strategy, SEO, Paid Search
Walker Sands was one of the best Chicago digital marketing companies this year. They are a full-service B2B marketing agency with core capabilities in public relations, demand generation, branding, creative, marketing strategy, and web. The firm's integrated approach to marketing drives awareness, credibility, and conversions for 100+ clients around the world.
When you work with Walker Sands, you gain a team of experts who will create and execute customized marketing strategies specifically designed to achieve your unique business goals.
For businesses looking to generate more inbound sales leads, elevate the status of your brand, generate more awareness of your brand and the value you deliver, reconnect with visitors to your website after they leave, or if your website is buried beneath your competitors' in the search results, Walker Sands are more than capable to meet your requirements.
Logical Media Group
Address: 445 W Erie, Suite 208, Chicago, IL 60654
Phone: 312-265-0192
Founded: 2003
CEO: Chris O'Neill
Top Clients: CMK Companies, University of Chicago, Vienna Beef, Ram Racing, Hampton Inn, GWC Law Firm
Expertise: PPC, Amazon Advertising, SEO, Web Design
Logical Media Group's mission is to craft exceptional digital experiences for people and companies to transact, connect, and explore. Logical accomplishes this through capabilities in web design, paid media (search + social), and search engine optimization. Logical also has expertise in Amazon marketing, Google Analytics configurations, and improving a website's ability to convert.
Logical Media Group has been servicing clients for over a decade. They started with a small team of five people. Today, their River North offices has more than 40 employees ready to start working on your project.
Logical Group Media has been ranked on Inc. Magazine's annual 5000 list in 2016 and 2017. This is a very prestigious award and shows the level of results you can expect from this Chicago digital marketing company.
OneIMS.com
Address: 111 E. Wacker Drive Suite 435, Chicago, IL 60601
Phone: 1-888-663-4671
Founded: 2006
CEO: Solomon Thimothy
Top Clients: G2 Crowd, EPAY Systems, Florock, Focus Group, Netcom, Whitney Medical Solutions
Expertise: White Label Agency Services, Social Media Marketing, Reputation Management & PR
OneIMS is a full service results-driven online marketing agency, specializing in SEO, PPC, Web Design, Reputation Management, and Link Building. They help businesses increase online visibility and acquire more customers. Their team of strategists is experienced in building marketing campaigns for all industries.
OneIMS gives you the solutions, strategies, and tools you need to reach and engage your prospects and clients through their "3 C approach": connect, communicate and captivate. This method attracts the right audience, gets your message across at every stage of the buyer's journey and nurtures them once the sale has been completed.
OneIMS has been referenced in several respected publications, such as Forbes and Inc.com. Your business is in good hands here.
BFO (Be Found Online)
Address: 3304 N Lincoln Ave, Chicago, IL 60657
Phone: 877-553-6863
Founded: 2009
CEO: Steve Krull
Top Clients: Motorola Solutions, Party City, Nissan, StubHub, Aspire, Jackson Hewitt Tax Service
Expertise: Digital Solutions, Paid Media, Organic Search, Analytics
Be Found Online is a Chicago-based digital marketing agency. Founded in 2009 as a search agency, they have since grown tremendously and they offer a full suite of digital marketing solutions including organic media, paid media, local search, and digital analytics.
Their team lives at the intersection of art and science, staying ahead of trends and going beyond any routine approach. Inspired by creativity and analysis, they are pioneers of the digital marketing landscape, driving innovation and delivering exceptional service for their clients.
They aim to build a culture of passionate, fun people who cultivate enduring client relationships based on accountability. Be Found Online has also been named by Inc 5000 as one of the fastest-growing companies in the United States every year since 2012.
Chicago Style SEO
Address: 4619 N. Ravenswood Ave., Suite 104, Chicago, IL 60640
Phone: 773-302-2670
Founded: 2009
CEO: Rod Holmes
Top Clients: Health, Travel, Nonprofit
Expertise: SEO
As suggested by the name of this business, Chicago Style SEO is an SEO expert. They cover all aspects of SEO as well as PPC and web development. They always start with research to understand where you are so they can plan where you need to be. After they know your business inside out, they will dive deep into your keyword market, competitor strategy, analytics configuration, and your website to put together a plan to capitalize on your SEO opportunities.
This Chicago digital marketing company is committed to building and maintaining relationships with employees, clients, and their community. They also recognize the intrinsic value of their employees and their contributions to the business as a whole. Then, with their clients, they work hard to demonstrate the value of their work and the impact it makes for their business.
Lever Interactive
Address: 701 Warrenville Rd, Suite 200, Lisle, IL 60532
Phone: 630-435-6400
Founded: 2006
CEO: Chris Gilmartin
Top Clients: Abt, Home Depot, FTD, Philips, Threadless, Chevrolet, Thomasville, Experian, RadioFlyer, Northwestern College
Expertise: SEM, SEO, Analytics, Mobile
Lever Interactive are well-known for their excellent customer service. Once you have Account Manager on your side, they will be closely involved in ALL aspects of your campaigns and/or projects. They don't just have the knowledge, but they also know how to act as a leader with actual experience.
The company has a wealth of experience on both the client and agency sides of the business. They have worked with clients of all sizes so you can be sure they know what they are talking about. Lever Interactive has seen and overcome the challenges you face every day and has the solutions you need on offer.
Further, Lever Interactive is extremely flexible in working with their clients. They have a track record of scaling campaigns effectively, regardless of how large or complex they may be, making them one of the best Chicago digital marketing companies this year.
SoMe Connect 
Address: 845 W. Washington Blvd, Floor 2, Chicago, IL 60607
Phone: 773-357-6636
Founded: 2012
CEO: Madhavi Rao
Top Clients: TransUnion, Potbelly, Rocketmiles, Famous Dave's, The John Buck Company, Belgravia Group
Expertise: SEM, Social Media Management, Paid Media, Web Design
SoMe Connect is a Chicago based search, social, inbound digital marketing agency. On average, they're proud to deliver a 3x return on advertising spend to their clients. Their in-house team of strategists and consultants are based in the West Loop and bring enterprise-level experience to make the phone ring for your business.
Since its founding year, SoMe has grown from a strictly social media agency to a dynamic full-service digital marketing group racking up accolades locally and nationally, including Chief Marketer's "Top 50 B2B Marketing Agencies," CLUTCH's "Top SEO Firms in Chicago," and UpCity's "Top Marketing Agencies in the US."
Arcalea
Address: 73 West Monroe Street, Chicago, Illinois 60603
Phone: 312-248-4272
Founded: 2015
CEO: Michael Kent
Top Clients: The University of Chicago, DELL, ConceiveAbilities, Discover Financial Services, Level Office
Expertise: Brand Awareness, Analytics, Conversions
Brands compete for revenue, market share, and profitability in an increasingly dynamic environment. In order to understand how to approach any form of marketing, brands must first choose which of these core business objectives to focus on. Arcalea's Strategic Assessment focuses on understanding how brands fit into the market, positioning the brand, and defining a strategy for entering the market.
Arcalea then benchmarks the universe of assets a company or brand has online by quantitatively assessing its digital equities: all of the digital touchpoints that either contribute to or detract from, the target audience paths to conversion. They blend methodologies from information security with experience in Fortune 100 marketing and advertising to create a comprehensive quantitative benchmark.
This unique approach to digital marketing has made Arcalea one of the best Chicago digital marketing companies this year.
Yakkety Yak Marketing
Address: 216 South Jefferson Street, Suite 200, Chicago, IL 60606
Phone: 312-648-2925
Founded: 2014
CEO: Ashley Logan
Top Clients: American Migraine Foundation, Global Patient Advocacy Coalition, Graymont Medical, Lake Effect Medical, NCSA, Reigning Champs
Expertise: Brand Strategy, Content Creation, Graphic Design, Email
Yakkety Yak is a full-service digital marketing agency with content at its core. They fuse brand strategy, content development and inbound marketing to craft high-impact brands. With a client-first mindset and boundless creativity, their goal is to build—and then execute—the best digital communication strategy, creating beauty their clients can see and results their clients can measure.
Yakkety Yak is also passionate about giving back. They are donating one year of marketing services to a Chicago-based nonprofit organization that is women-owned or women-benefitted. Their goal is to apply marketing best practices to help spread your message and make an even bigger impact in the future, so you can focus on helping those in the community in the day-to-day.
LyteYear
Chicago, IL
Phone: Not disclosed
Founded: 2017
CEO:
Top Clients:
Expertise: SEO, SEM, Mobile Growth, Paid Social
LyteYear offers consultancy services, specializing in specific digital marketing channels. Each consultant contributes their expertise to big brands, tech giants, and agencies. After mastering their channels, they began taking on their own clients and ultimately decided to partner. This team of experts is based all over the world, and has experience across several industries and companies of all sizes, from Fortune 50 eCommerce retailers to newly launched startups.
LyteYear also partners with agencies to audit their current digital marketing offerings, or to step in as their digital marketing experts. Their core channels of expertise are: SEO, SEM, ASO, and mobile growth, AMS, paid Facebook, paid Instagram, and paid LinkedIn.
Comrade Web Agency
Address: 770 N Halsted St, Ste 106, Chicago, IL 60642
Phone: 312-419-7065
Founded: 2007
CEO: Ivan Vislavskiy
Top Clients: Law Firms, Local service providers, IT startups, Construction companies, Manufacturing companies, SAAP platforms, and eCommerce websites.
Expertise: Web Design, Digital Marketing
Comrade Web Agency is a full-service award-winning digital marketing, SEO and web development agency, based in Chicago. They just love solving design, technology, and marketing challenges to elevate clients to the next level. Clients can expect results driven by teamwork, a proven process and Industry-leading knowledge in a variety of industries, including legal, IT, eCommerce, corporate, professional services, construction, and manufacturing.
Comrade Web Agency believes any company, no matter its size, can compete and be successful, regardless of the competition has already established itself as the market leader. They are driven by a team of young, creative and ambitious experts. For the price of one employee, Comrade Web Agency provides a full team consists of experienced strategists, web designers and developers, content, SEO, PPC, and social media experts.
VisualFizz
Address: 444 N Michigan Ave #1200, Chicago, IL 60601
Phone: 1-773-599-1829
Founded: Not disclosed
CEO: Dan Salganik
Top Clients: One Hope United, Toyota, The Yard KW, Max + Cheese Fest Chicago, Orderly
Expertise: Experiential Marketing Brand Strategies, ROI Based Advertising Campaign Development
VisualFizz is a team of experienced digital marketing experts who strive to push boundaries, experiment, bend the rules, and create memorable marketing experiences. Their vision is to create successful marketing campaigns that evoke emotions and create meaningful interactions between the consumer and the brand. With their personal approach to digital marketing, they can focus on your business needs so that you can focus on what you do best.
VisualFizz believes in ongoing education and learning through experience. They encourage growth and learning across all levels of the company by attending events and conventions, studying new processes, and staying on top of trends.
Before launching a campaign with you, they will ensure they have a full grasp of the foundation of your industry and company.
Mightybytes
Address: 4001 N Ravenswood, Suite 404, Chicago, IL 60613
Phone: 773-561-7529
Founded: 1998
CEO: Tim Frick
Top Clients: Alliance for the Great Lakes, Chicago Association of Realtors, Dharma Merchant Services, DePaul University, National Association of Boards of Pharmacy, National Geographic Learning
Expertise: Strategy & Consulting, Design & UX, Build & Deploy
Mightybytes is a Chicago-based digital marketing agency with 20+ years in business and a proven track record of helping clients improve their online presence. They build new websites, optimize existing ones, migrate old sites to modern platforms, and simplify over-complicated functionality, technology, and content architecture.
They have worked with organizations of all sectors and sizes. For nonprofits, associations, and universities, they have specific expertise to help achieve your marketing goals.
Mightybytes is a Certified B Corporation and an Illinois Benefit Corporation, meaning they are committed to using the power of business to make a genuine, positive impact on society.
This is a business you can trust for one simple fact: they will never pitch you a product or service you don't need. If they don't think they're the right fit for you, they'll refer you to someone that is. Transparency is key to the way this Chicago digital marketing company operates.
Marcel Digital
Address: 445 West Erie St, Suite 200, Chicago, IL 60654
Phone: 312-255-8044
Founded: 2003
CEO: Ben Swartz
Top Clients: John Hopkins, Rush University Medical Center, Herbalife, University of Maryland, Wide Open West (WOW!) Seattle Sutton's Healthy Eating
Expertise: Website Development, CRO, Website Analytics, Paid Search
Marcel Digital is a digital marketing and web development agency based in the River North neighborhood of downtown Chicago. Founded in March 2003, Marcel remains one of the original and most well established digital marketing firms in the United States.
Their data-driven approach to digital marketing and web development allows them to create innovative and comprehensive strategies. With services ranging from web development and conversion rate optimization to SEO and advanced analytics implementations, your business will continuously increase your overall revenue, organic visibility, and website engagement.
Marcel Digital's goal is to bring transparency to the digital landscape and to collaborate with clients to create truly sensational brand experiences.
Interested in other digital agencies in Chicago? Check out our top list of firms in the following industries:
Best Consulting Firms In Chicago
Healthcare Consulting Firms In Chicago
Best Chicago Creative Agencies
Top Managed IT Services Firms In Chicago