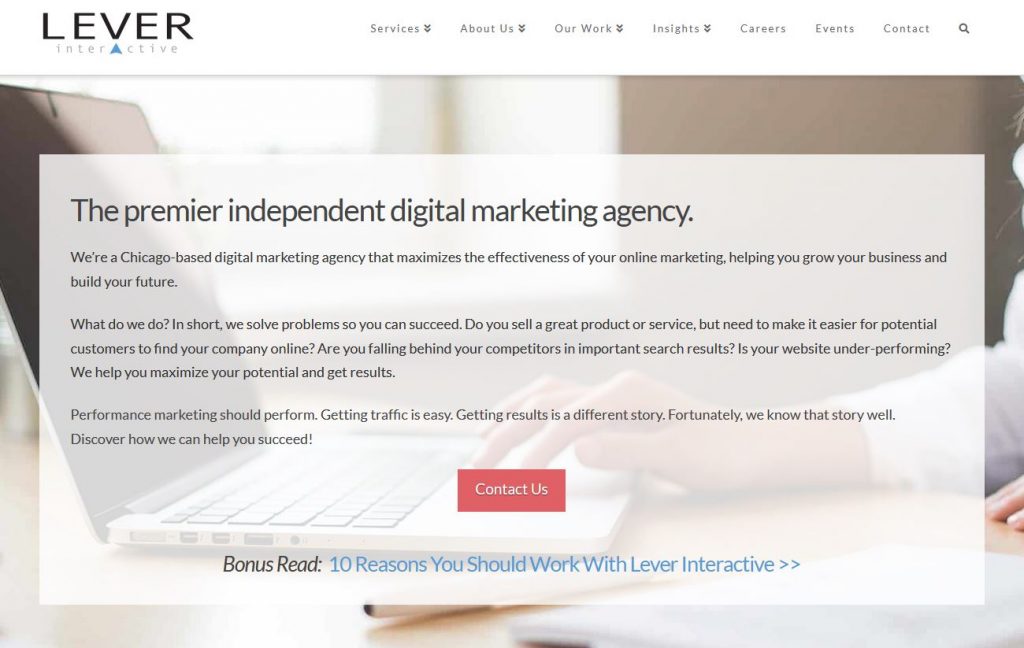 Address: 701 Warrenville Rd, Suite 200, Lisle, IL 60532
Phone: 630-435-6400
Founded: 2006
CEO: Chris Gilmartin
Top Clients: Abt, Home Depot, FTD, Philips, Threadless, Chevrolet, Thomasville, Experian, RadioFlyer, Northwestern College
Expertise: SEM, SEO, Analytics, Mobile
Lever Interactive are well-known for their excellent customer service. Once you have Account Manager on your side, they will be closely involved in ALL aspects of your campaigns and/or projects. They don't just have the knowledge, but they also know how to act as a leader with actual experience.
The company has a wealth of experience on both the client and agency sides of the business. They have worked with clients of all sizes so you can be sure they know what they are talking about. Lever Interactive has seen and overcome the challenges you face every day and has the solutions you need on offer.
Further, Lever Interactive is extremely flexible in working with their clients. They have a track record of scaling campaigns effectively, regardless of how large or complex they may be, making them one of the best Chicago digital marketing companies this year.