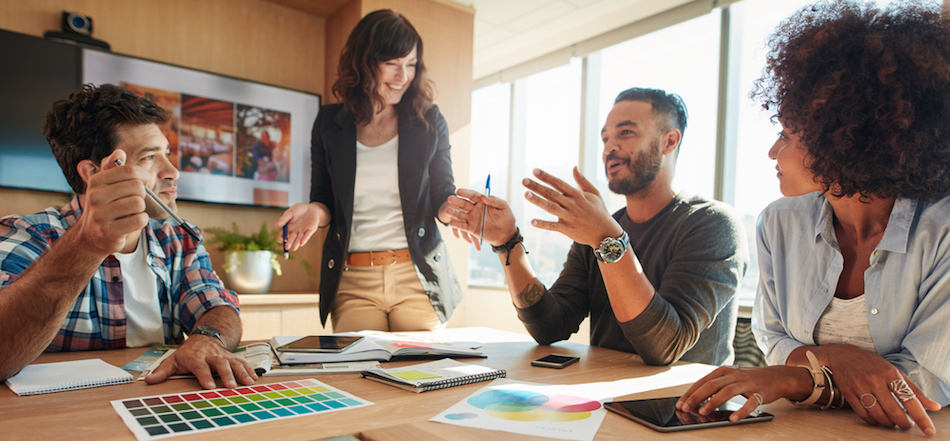 Chicago Creative agencies are businesses that help organizations bring their brands to life. The services provided by these companies can vary, but they may include market research, product development, branding, advertising, campaign building and public affairs.
Over the last couple of decades, Chicago creative agencies have seen a massive shift in the way their services are delivered; from voice, to paper, to analog and finally, the digital channels that we all use today.
As a whole, the creative industry is worth $698 billion, and accounts for 4.32% of U.S. goods and services.
Contributing towards a large portion of the U.S economy, new Chicago creative agencies launch every year, and others begin finding their way to fame. This can make finding the right creative agency for your organization or brand extremely difficult.
Despite our beloved Chicago being one of the top service cities in the nation, finding a creative agency in Chicago may yield few results, and it may be difficult to find the ones that cater to your specific needs. Even if you do find what you're looking for, the process can take a long time, using up precious resources you could be using on another task within your organization.
This is why we're here to help. We have come up with the top local Chicago creative agencies.
With many different creative entities to choose from, all of which specialize in different areas within the niche, there's guaranteed to be something here for everyone's needs.
Digital Authority Partners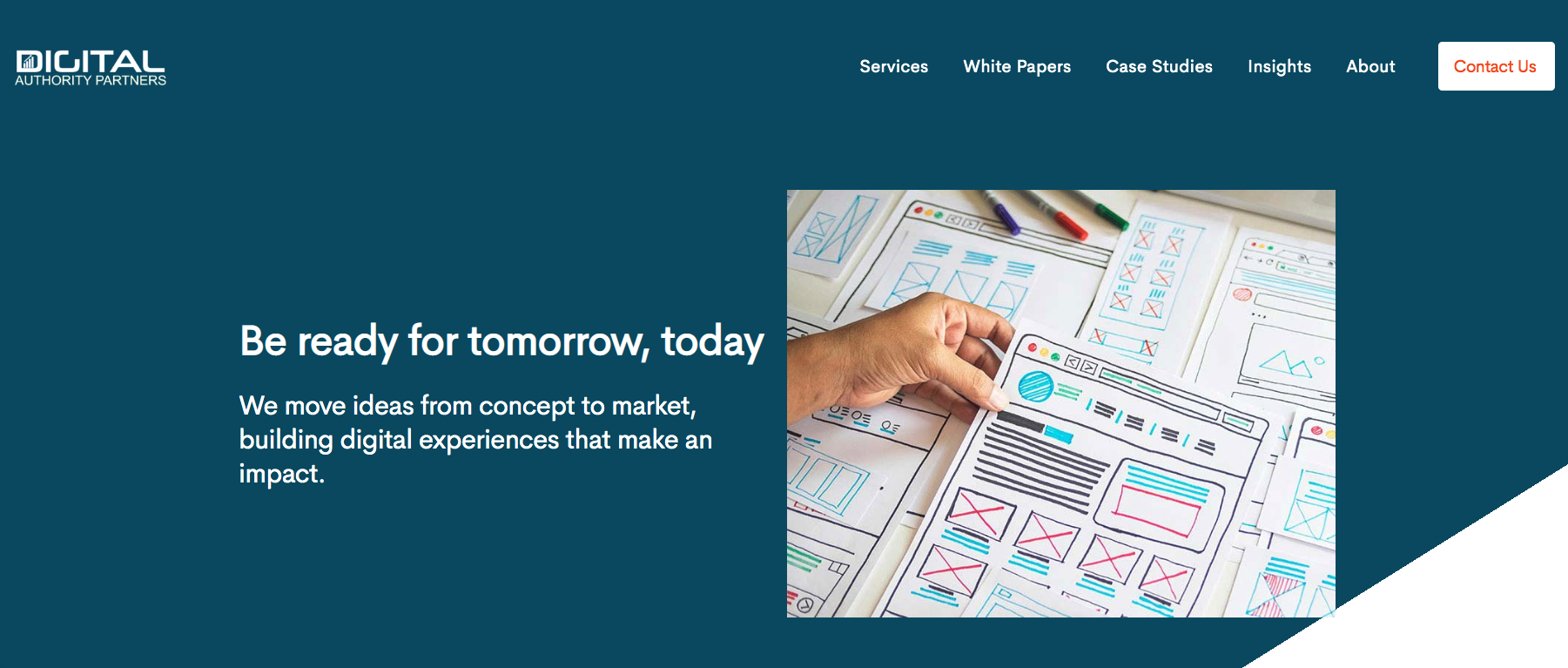 Address: 222 W Merchandise Mart Plaza #1212, Chicago, IL 60654
Phone: (312) 600-5433
Founded: 2015
CEO: Codrin Arsene
Top Clients: Athenahealth, Omron, Dolbi, Fortinet, Kroger, Informatica, Frommer's.
Expertise: Branding & SEO, Digital Strategy, UX/Design, Analytics, and software development.
Digital Authority Partners is a creative agency that focuses on helping brands to transform their digital initiatives and increase brand awareness in the digital world we live in.
Named Chicago's 2018 'Best Tech Workplace For Diversity', this Chicago creative agency is known for their team of specialists that can help your brand in a number of different areas, including Artificial Intelligence (AI), UX/design, product development, marketing, and analytics. To put it simply, this creative agency uses technology to its full advantage in order to create new processes, software and systems that solve day-to-day problems companies face.
Digital Authority Partners also offers coaching services, where they teach businesses how to implement software and processes that will slash operational costs and boost ROI. Their main industries are healthcare, financial technologies, and government agencies.
In 2018, Digital Authority Partners launched Healthcare Weekly, a news website dedicated to executives in the private and public sectors who aspire to revolutionize healthcare from within.  They've also launched their own Artificial Intelligence software for the HR industry under the HireSphere brand.
Punchkick Interactive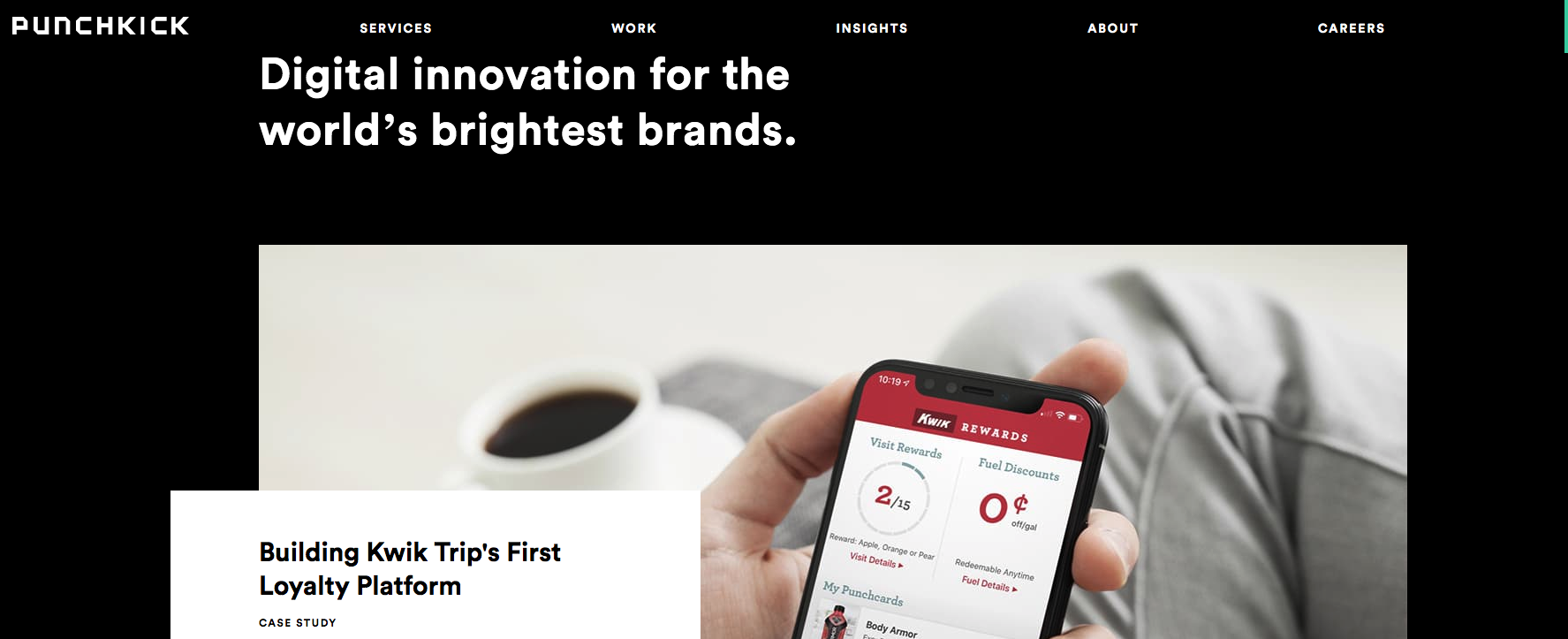 Address: 150 N Michigan Avenue Floor 39, Chicago, IL 60601
Phone: 800 549-4104
Founded: 2006
CEO: Zak Dabbas
Top Clients: Harley-Davidson, Allstate, Microsoft, Marriott.
Expertise:  Mobile creative, and app development
The Punchkick Interactive team works with businesses of all shapes and sizes to help them understand their brands, and connect companies with their audience by blending creative design thinking with cutting-edge technology.
Their team of specialists work closely with your business to assess what would work best for your brand and your potential customers going forwards.
Punchkick Interactive provides a number of different services, from mobile strategy and app development to API engineering and quality assurance, based on your business goals and KPIs for 2020 and beyond.
88 Brand Partners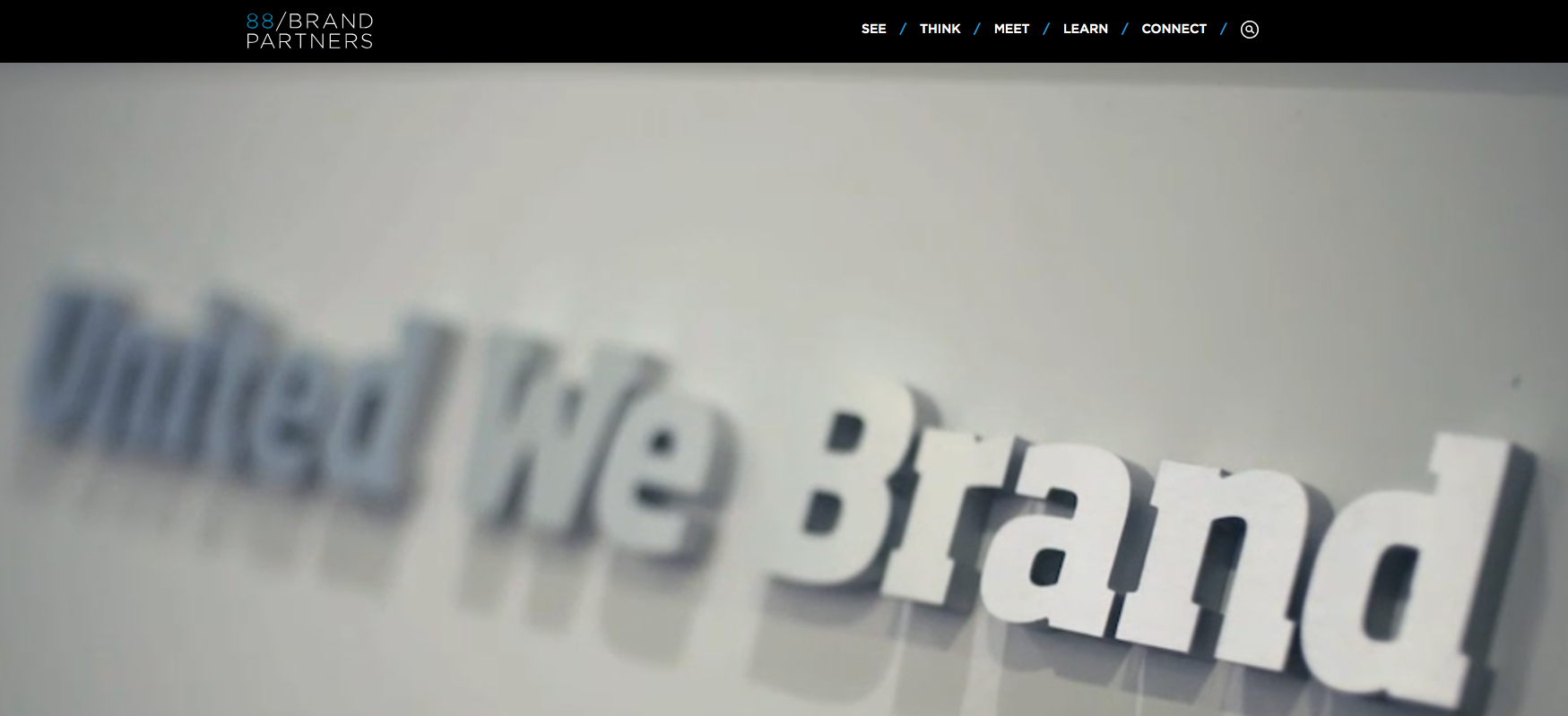 Address: 542 Dearborn Suite 1300, Chicago, IL 60605
Phone: (312) 664 2500
Founded: 1998
CEO: Michael McGuire
Top Clients: Discover, W Hotels, Mayo Clinic.
Expertise: Advertising, branding, and broadcast video services.
Awarded the Davey Awards in 2016, 88 Brand Partners is a creative agency that focuses on deriving their strength from big ideas rather than big budgets. Working with companies of all sizes, they will provide a full creative service that elevates and expands your brand in the digital space.
Within their role, their team of specialists will integrate strategy, planning, copy and design to create a form of communication that cultivates a more meaningful—and personalized—connection between brands and their audiences.
In addition to their paid services, where they will closely work with clients to achieve their creative digital success, 88 Brand Partners is also committed to helping the local community with their Pro Bono program. This means that one business will have the unique opportunity to receive their specialist support completely free of charge, making it perfect for small or emerging start-up companies.
Nerdery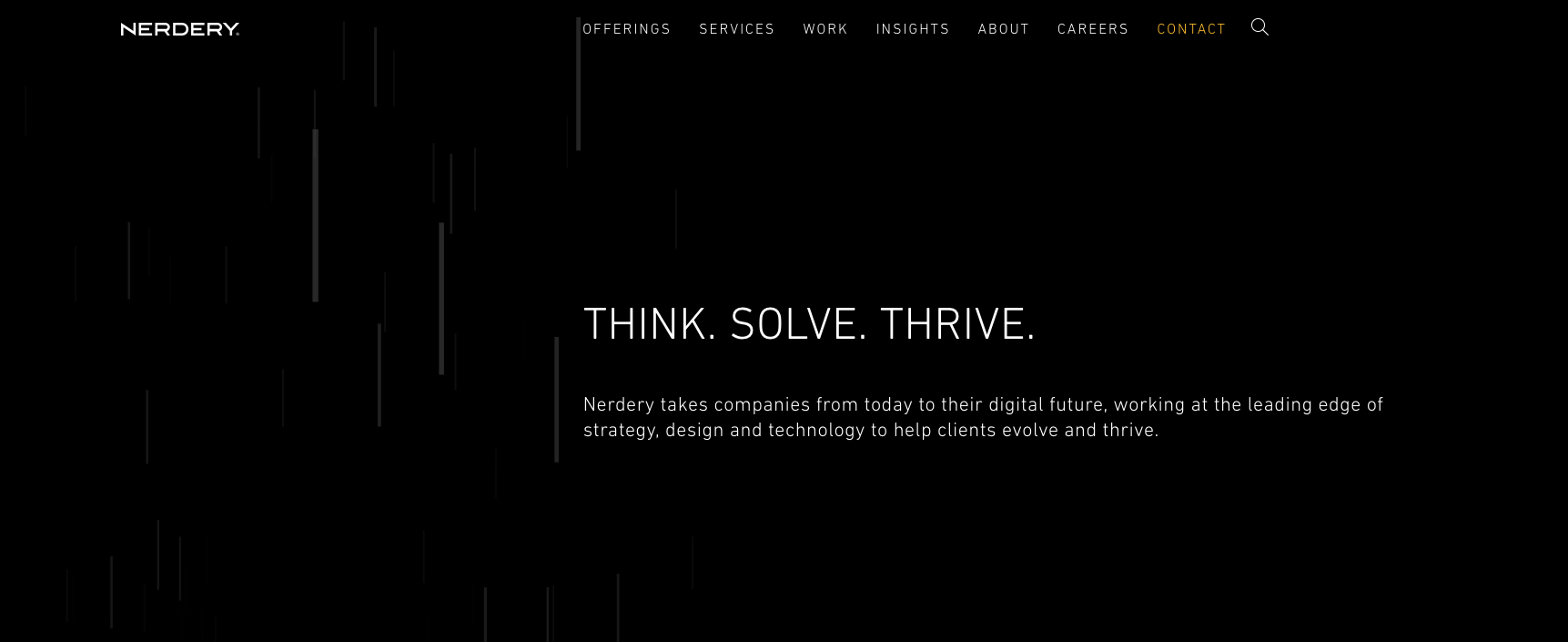 Address: 1033 w. Van Buren St. Suite 700, Chicago, IL 60607
Phone: 877 644 6373
Founded: 2003
CEO: Adrian Slobin
Top Clients: Google, Microsoft, Purina, HyVee
Expertise: Digital products, personalized strategies, website design, and mobile and web app development.
The Nerdery is a creative consultancy firm that helps businesses to understand their brand. Using this information, the specialists behind the brand will propel the brand towards their digital future by evolving their strategy, design and current technology.
Their creative methods will help your business thrive, leaving behind the design and other creative perks that were preventing your growth.
In addition to this, The Nerdery offers businesses the unique opportunity to ask questions about all things digital. With a quick-to-answer team of specialists, businesses will receive the advice they need about their digital technology quickly and efficiently.
The company mainly focuses, however, on developing personalized strategies. They also use their creativity to design websites and develop both mobile and web apps that can be used to support or further a business' brand awareness.
Damen Jackson

Address:  954 W. Washington Blvd. #750, Chicago, IL 60607
Phone: (312) 277 0702 ext. 123
Founded: 1998
CEO: Ron Farnum
Top Clients: KitchenAid, Foodsaver, Disney, ChapStick
Expertise: Packaging design, branding, and communication strategies.
Damen Jackson, a small agency who received the Transformation Award in 2017 to commemorate their successful and innovative work with major brands, are a strategy and design based agency.
Working mostly with midmarket companies, Damen Jackson will commit all of its 8 employees to providing your brand with memorable branding, packaging and visual design.
Depending upon the goals established at the start of your working relationship, they will also invest in advertising services to provide your business with comprehensive brand awareness in the online world.
Digital Kitchen

Address:  600 West Fulton. Suite 401, Chicago, IL 60661
Phone: (312) 944 3999
Founded: 1995
CEO: Bill Fritsch
Top Clients: HBO, HT&T, Target, Levi Strauss
Expertise: Web design, video production, branding, and content marketing.
Digital Kitchen is a creative agency in Chicago that focuses on the creative experience. They transform businesses by expanding linear stories into immersive narratives, turning emerging bands into category leaders, and crafting executives that define genres.
Focusing specifically in the entertainment, IT, and consumer products and service sector, their team can work with you to establish your goals and where the creative vision of your brand should be headed. Once decided, you will be allocated a team of specialists who can help you with web design, video production, branding, or content marketing, or a mix of all four.
Rise Interactive

Address: One South Wacker Drive, Third Floor Chicago, IL, 60606
Phone: (312) 281 9933
Founded: 2004
CEO: Jon Morris
Top Clients: Pandora, Ulta Beauty, North Shore University Health System
Expertise: Analytics, digital media, and data driven creative development.
Rise Interactive is a creative agency that uses digital media, creative development, and analytics to help marketers make better investment decisions. The company itself aims to reduce initial costs and maximize ROI's for great investment opportunities that help marketers become frontrunners within their niche.
The company also works with individuals to help them better understand their analytics, and provide creative and digital media solutions across the board.
Coates Group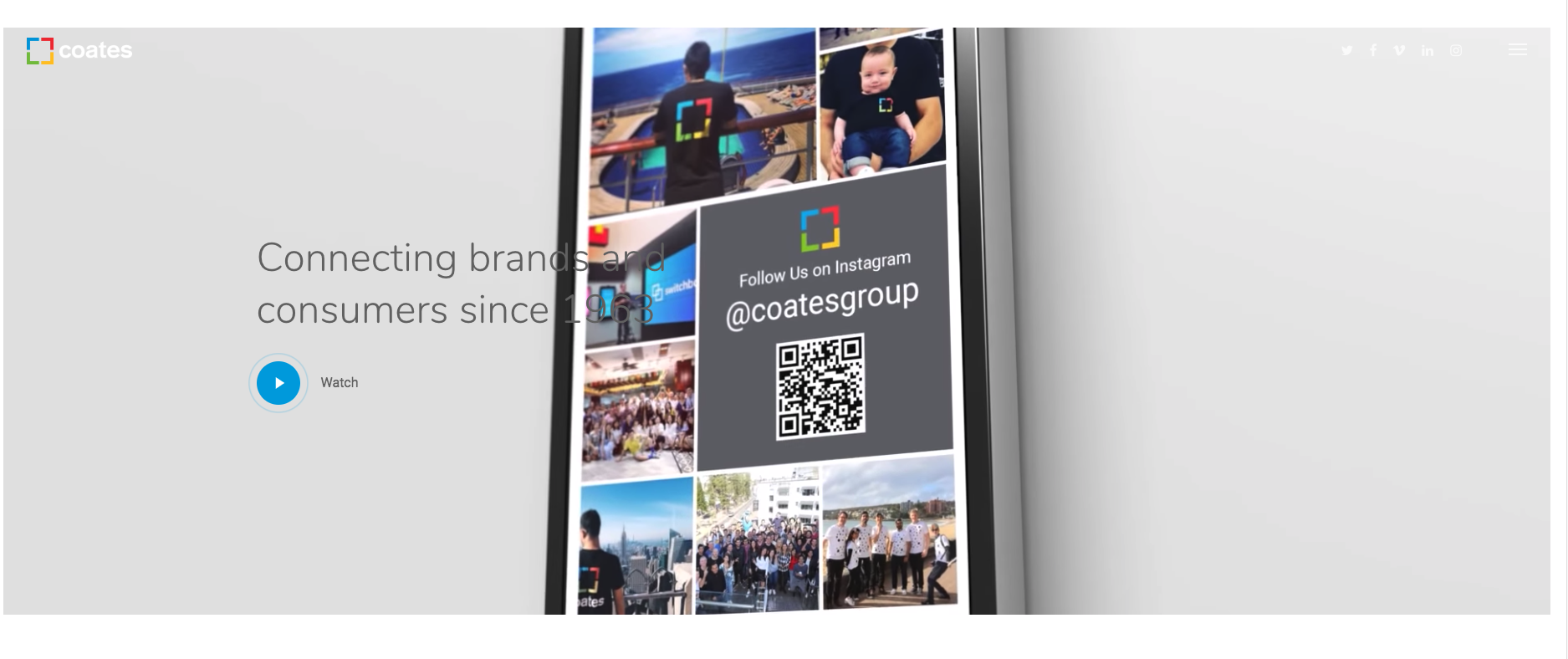 Address: 112 N May Street, Chicago, IL 60607
Phone: (312) 374 1365
Founded: 2003
CEO: Leo Coates
Top Clients: KFC, Carl's Jr., McDonalds, BP, Krispy Kreme
Expertise: Innovative digital hardware and content management software.
Coates Group is a creative agency that provides innovative digital merchandising solutions that make your brand visible with hardware and gaming-changing content management software at their heart.
With more than 50 years of experience, Coates Group specialists will perform rigorous research and use their courage to take risks that help you to create and execute an engaging, personalized experience for every customer within your business.
Sticking almost exclusively to the hospitality trade, their agency is perfect for those looking to transform their food kiosks, display boards for menus and outdoor signages in a way that provides a personalized customer experience for your business.
Finn Partners

Address: 625 N Michigan Ave #2300, Chicago, IL 60611
Phone: +1 212 593 6428
Founded: 2011
CEO: Peter Finn
Top Clients: Nike, Verizon, The North Face and World Wildlife Fund
Expertise: Public relations management, digital content creation.
Finn Partners is a digital marketing agency with integrated, dedicated teams that pay special attention to the creative aspects of a business that drive real results. Each team consists of researchers, strategies, designers, technologists, content specialists and campaigners, meaning your business will receive the full MOT treatment.
Working closely alongside your business executives, the Finn Partners team you are paired with will work to identify your businesses goals and assess how to go about creating a campaign that works for everyone.
Having worked with hundreds of companies, they have created campaigns that range from public relations management to digital content creation, meaning they will be able to help you regardless of what your goals are.  
You may also be interested in reading:
Best Marketing Agencies in Chicago You'll Want to Work With TODAY
Best Consulting Firms in Chicago Who Will Redefine Your Business in 2020