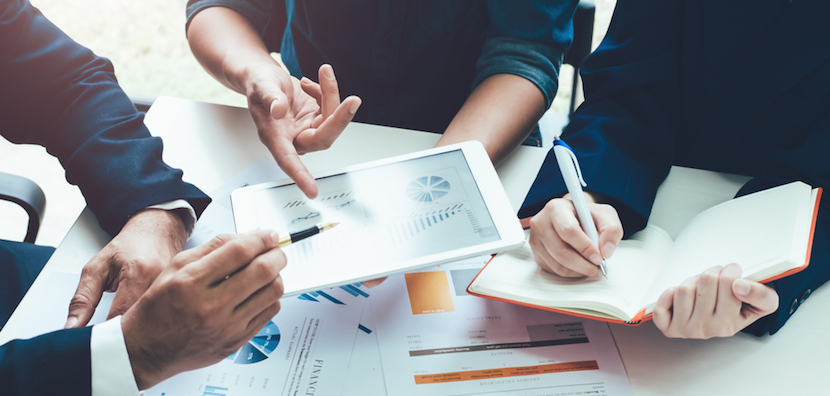 Healthcare consulting firms in Chicago are made up of teams of industry experts who work closely with executives from healthcare organizations throughout the US to digitize their workflows, improve the patient experience and reduce operational costs. Their role is to provide guidance and take action to help a health organization achieve their goals within a set period of time.
As of 2015, the healthcare consultancy industry was worth $8.7bn. This grew by 9% from 2014, and is said to have been largely because of digitalization, demographic changes, and ongoing transformation in accordance with the Affordable Care Act.
It's also thought that the pressure to cut costs and improve efficiency while improving the quantity and quality of care put more pressure on healthcare organizations, leading to more of them reaching out to consultancy firms to help them find the best way forwards.
If you are looking for this guidance, or want to help improve your healthcare organization but don't know which healthcare consultancy firm in Chicago you should choose, then look no further.
This list is made up of the top 7 Healthcare consulting firms in Chicago, based on research into their vision, area of expertise  and the clients they have already previously supported.
Digital Authority Partners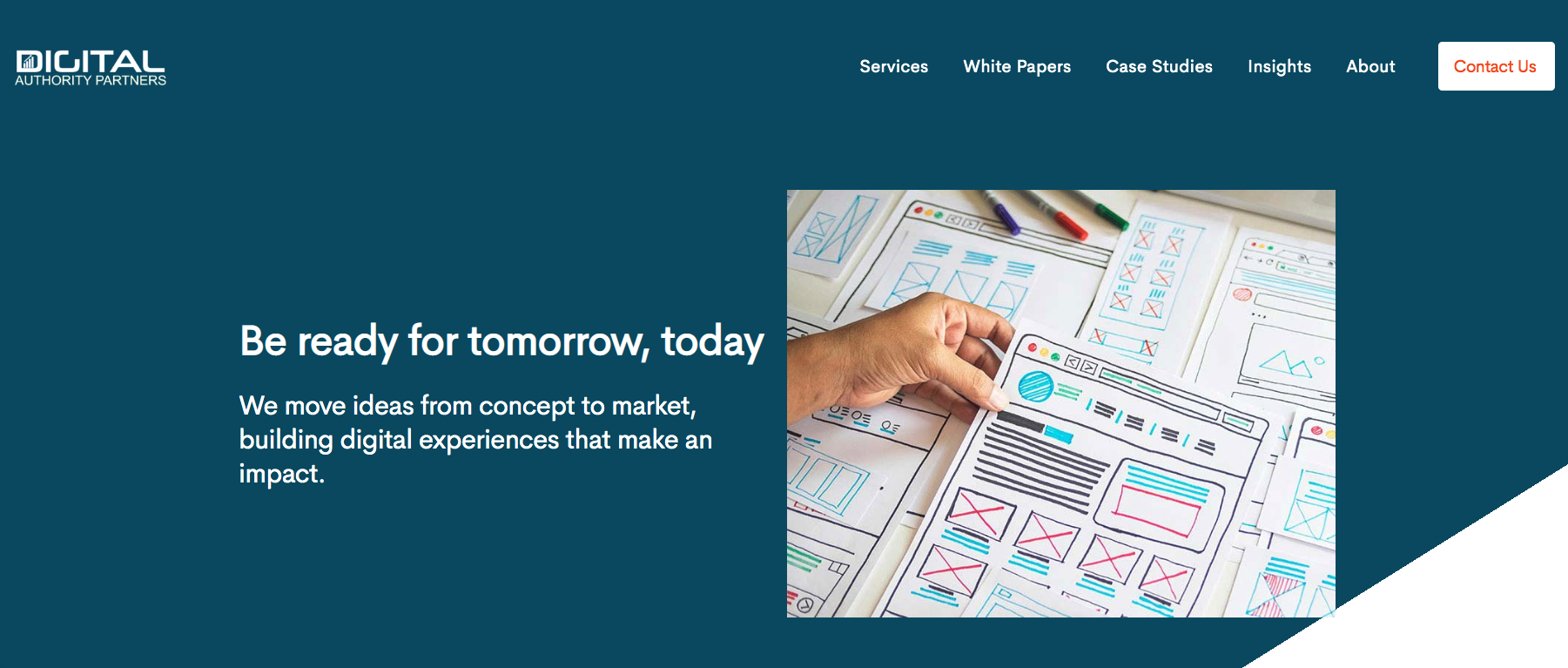 222 W Merchandise Mart Plaza #1212, Chicago, IL 60654
Phone: (312) 600-5433
Founded: 2015
CEO: Codrin Arsene
Top Clients: Athenahealth, Omron, Blue Cross Blue Shield
Expertise: Digital Strategy, UX/Design, Analytics, Development
Digital Authority Partners is a healthcare consulting firm in Chicago that supports healthcare organizations of all sizes in their mission to be innovative in the digital world. From implementing and improving digital strategies to increasing brand awareness, the consultancy firm finds a way to really understand the best steps forward for the organization they are supporting. Whereas DAP is the 'youngest' company on the list, they've made a name for themselves as being at the forefront of digital innovation in healthcare,  with clients ranging from medical device manufacturers to software providers and payers.
Additionally, in 2018, Digital Authority Partners launched Healthcare Weekly, a news-based website focused towards executives in the private and public sectors. This brand focuses on highlighting innovative technologies within the healthcare field, providing information about the digital revolution in healthcare as it unfolds.
This experience makes Digital Authority Partners with a unique ability to support your healthcare organization in many different ways. They even offer opportunities to join their coaching service, where they will teach you how to implement the necessary measures to propel your organization to the top of your industry in a straight forward manner, for a long time after their consultancy expertise is needed within your organization.
Navigant Consulting

150 N Riverside Plaza Suite 2100, Chicago, IL 60606
Phone: (312) 583 5700
Founded: 1983
CEO: Julie Howard
Top Clients: 300 health systems, including 11 of 15 "Honor Roll Hospitals"
Expertise: Digital Strategy, Performance Improvement, Business Process Outsourcing, Risk and Regulatory Compliance, Financial Analysis
Navigant consulting is a firm that works with healthcare organizations to help them take control of their future. Comprising of specialist teams that have many years of experience in the field, they apply this to every project they do, alongside foresight and expertise, in order to pinpoint emerging opportunities. These provide the organizations they work with the best opportunities to grow. Navigant do it this way as it also protects the businesses value, and prevents unmeasured risks from taking place.
Their services have led them to be officially recognized as one of the top healthcare consultancy firms within the US, with their specialists now collaborating with a number of specialist hospitals and health systems. They also work closely alongside physicians, payers and government entities to help the clients who access these organizations thrive.
Huron Consulting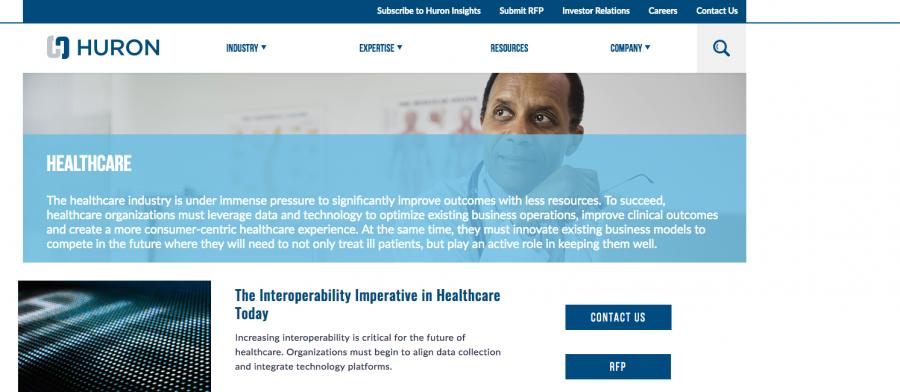 550 W Van Buren St #1700, Chicago, IL 60607
Phone: (312) 583 8700
Founded: 2002
CEO: James H. Roth
Top Clients: Allegiance Health, HealthEast Care System, UCLA Health System
Expertise: Business Advisory, Enterprise Solutions & Analytics, Technology
Huron Consultancy is a healthcare consultancy firm operating globally, with offices in Chicago. They focus largely on helping their clients drive growth to their healthcare organizations by analysing analytics to create effective strategies that help said business reach their goals. They also work to enhance current healthcare practices within organizations, as well as helping frontrunners to remain innovative with new ideas and strategies.
Clients who work with Huron Consultancy are often looking for people to help them make transformative moves within their company in order to succeed going forwards. This often includes changes and improving to meet the demands as the healthcare industry delves deeper into the digital revolution.
RSM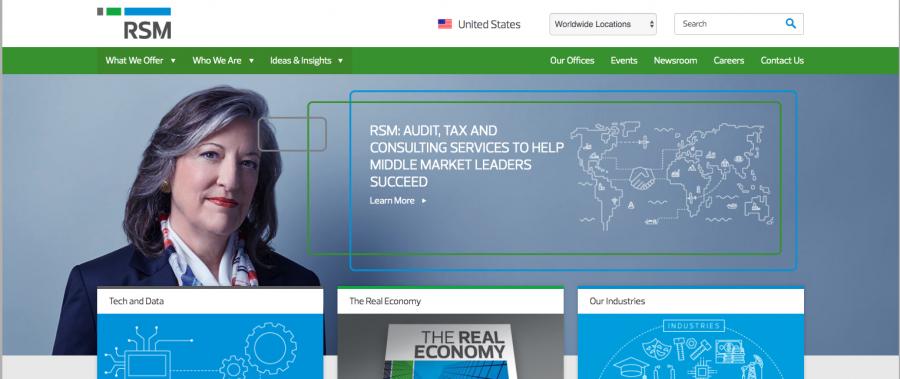 1 S Wacker Dr Suite 800, Chicago, IL 60606
Phone: (312) 384 6000
Founded: 1926
CEO: Joe Adams
Clients: Hospitals, Physician Groups, Human Services Agencies
Expertise: Financial Services, Technology Solutions
Unlike some of the other healthcare consultancy firms on our list, RSM focus specifically on the complex financial and accounting issues that many healthcare organizations face. With an expert team of specialists who have vast experience in the financial sector of healthcare, and plenty of resources to support them, they help organizations address industry challenges in a straightforward, distinct manner.
Some of the services offered by their specialists include general financial support, tax reimbursement and technology solutions that will make your organization more efficient. Their services are so well received by the healthcare industry as a whole that they currently have over 3000 healthcare institutions on their books across the U.S. This provides them with more than enough experience to offer you access to the services you need, regardless of the size of your business.
Cannon Design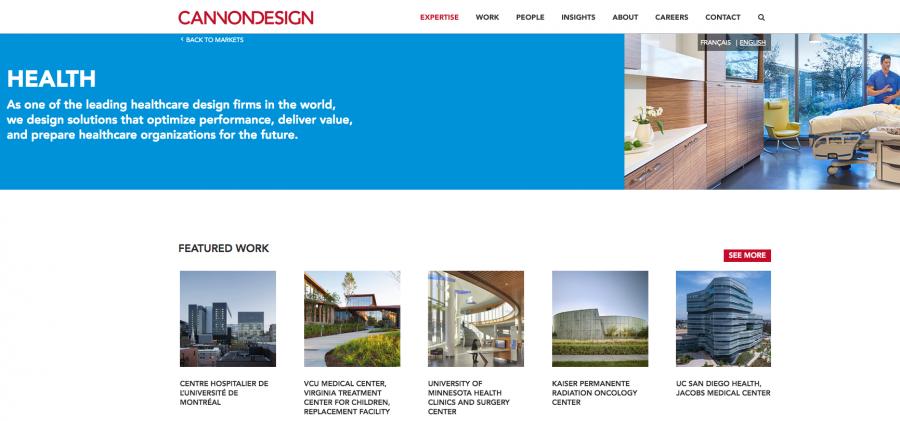 225 Michigan Ave #1100, Chicago, IL 60601
Phone: (312) 332 9600
Founded: 1945
CEO: Bradley A. Lukanic
Top Clients: Jacobs Medical Center, The University Of Kansas Hospital, Nationwide Children's Hospital
Expertise: Design, Engineering, Strategy Planning
Cannon Design is a healthcare consultancy firm that has a number of different specialities within their team, all working together to help solve their client's greatest challenges. Fostering a high-level of multidisciplinary thinking, their teams assess the healthcare organizations situation from all angles to identify opportunities to improve and remain unique rather than confirm with the rest of the industry.
Immersing themselves into the client's worlds to fully understand their needs in context, they fuse together intelligence and research to generate new ideas and understand how best to apply them. This allows them to develop solutions that meet performance expectations, adapt to change, and position their clients for success.
West Monroe Partners

222 W Adams St, Chicago, IL 60606
Phone: (312) 602 4000
Founded: 2002
CEO: Kevin McCarty
Clients: Dentists, Healthcare executives, Hospitals,
Expertise: Digital Transformation, Health Plans, Health Systems, Technology Improvements
West Monroe Partners is a consultancy firm made up of a team of business savvy and technical experts. Together, they work to achieve sustainable success for healthcare companies that continues to see results years down the line. Their team of experts is driven by opportunities to contribute and make a difference to healthcare companies across the US.
Among other things, their business savvy experts will take control of coming up with strategies that generate revenue, reduce costs and transform the way the company is currently being run to improve efficiency. The technical experts will take charge of building solutions that help your healthcare organization to address the toughest of technology and industry problems as a whole. This may include updating old software, or implementing new technology to optimize your services and offer your clients the best of what the industry has to offer.
Together, the two sides of the team within West Monroe Partners are used to working in high pressure environments where the stakes are high, and the deadlines are strict. This makes them perfect for healthcare organizations, where deadlines are often tight and there's a lot of stress involved to get projects completed and strategies implemented within these timeframes.
Prism Healthcare Partners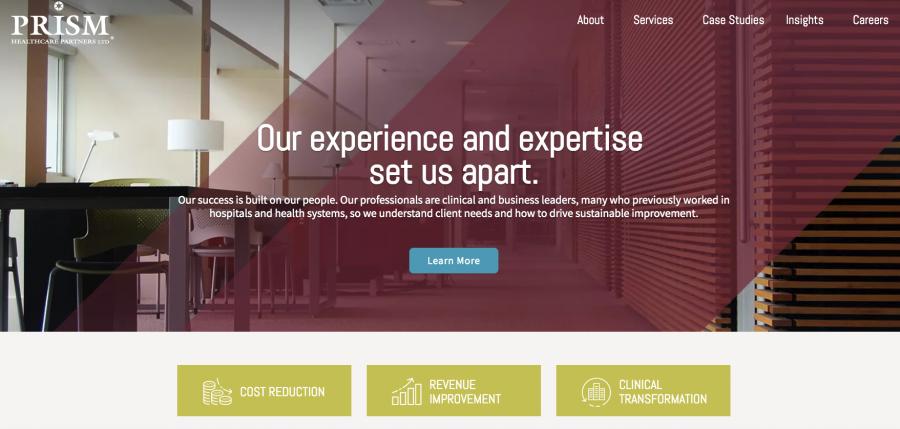 190 S LaSalle St #2900, Chicago, IL 60603
Phone: (312) 610 4800
Founded: 2012
CEO: Mukesh Gangwal
Top Clients: UW Health, HSHS St. John's, Cortland Regional Medical Center
Expertise: Cost Reduction, Revenue Improvement, Clinical Transformation
Prism Healthcare Partners are a healthcare consultancy firm that understands the need for individualized solutions to the complex challenges many organizations face today. A team of industry experts, Prism works with their clients to tailor solutions to your healthcare organization's unique needs and preferences.
They work exclusively with hospitals, health systems, and academic medical centers to optimize their financial situation and improve both operational and clinical performance across the board. Previous clients have also turned to Prism to receive guidance through mergers, acquisitions, financial turnarounds and new initiatives.
Providing real, measurable and sustainable results every time, Prism Healthcare have build up their reputation and now have many of the top-ranked hospitals, as rated by U.S News & World Report, on their books.