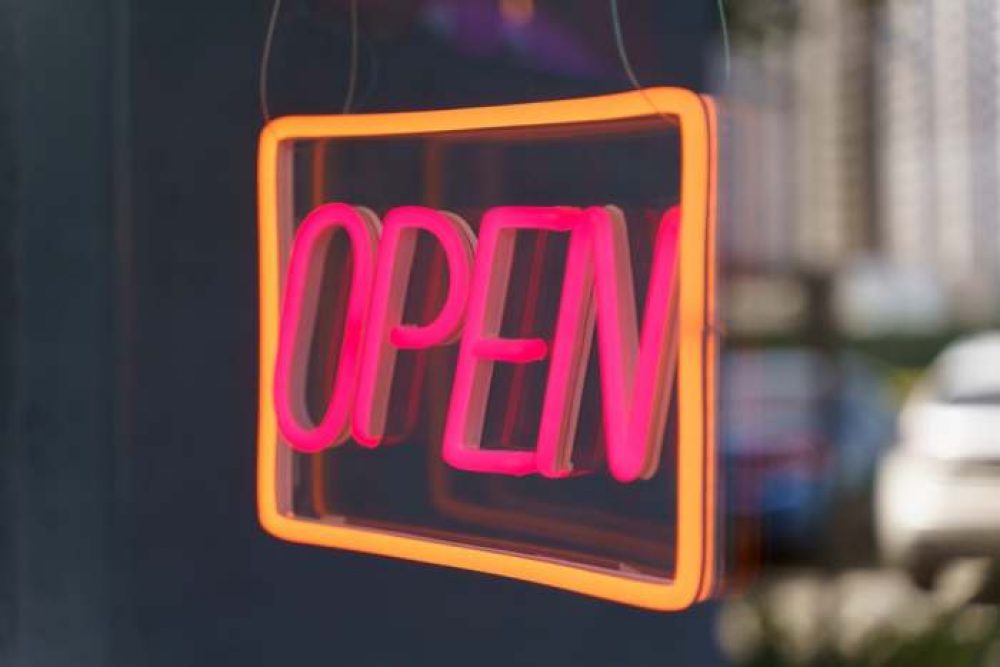 Chicago's first ever casino officially opened its doors to the public on Saturday, September 8th.
The temporary Bally's casino in the former Medinah Temple in River North has been in rehearsals for a week, but the Illinois Gaming Commission had to sign off officially on the opening before a date could be announced. Meanwhile, Bally builds its permanent $1.7 billion casino at the Chicago Tribune Freedom Center printing plant site in River West, which could take up to three years.
Reporters had a first look, but only a photo of the bar was provided
Bally's gave reporters a first look at the inside of the completed facility (but we could not take photos, the only one provided being of the bar), which is filled with 750 slot machines, 55 table games, two restaurants and a cafe.
Medinah Temple is fully staffed with 700 employees, all certified with the Illinois Gaming Board, Bally's officials said.
Three hundred of those positions are dealers. Bally's, in conjunction with City Colleges of Chicago, has been hosting dealer schools since March. Dealers spend upwards of 16 weeks training in order to become certified.
The 111-year-old temple now has 750 slot machines and 50 table games.  The site kept its historical architecture, including original ceilings, with stained glass throughout.
The bulk of the slot machines are on the first floor, where a giant bar welcomes guests, and a small café is located.
Table games and more slot machines are located on the second floor, with two restaurants and the VIP/high roller level on the third floor.
Some of the slots available include Cash Falls, Butterfly Rise, Queenie and Ocean Spin.
A large circular bar is in the center of the first floor, complete with granite countertops and red leather chairs. Each slot has its own brown leather chair, complete with a red embroidered "B" on the back. So, if the usual gift ideas are not appealing anymore, and you are looking for something new to celebrate a loved one, a trip to the new casino might be the answer. And you are sure not going to get hungry, since Wabash Cafe, located on the main floor, will offer to-go items like juices, coffee sandwiches and hot dogs. Prices for various items range from $9-$12, according to a menu displayed when the press was invited to visit the place. 
Some people are not too happy about the temporary casino's location
If you don't have the means to book a stay in one of the best hotels in Las Vegas to gamble your heart out, you can now have this opportunity right here, in our home town. However, the building of Chicago's first permanent casino, since the current location is only supposed to be temporary, doesn't come without controversy. 
Some people, including city officials, are not too happy about the temporary casino, fearing a rise in crime and traffic jams. 
Local Ald. Brendan Reilly (42nd), who has fiercely pushed back against casino plans and told Block Club Chicago he is still "vehemently opposed to the casino opening at Medinah Temple."
Brian Israel, director emeritus of the River North Residents Association, had a similar take.
Israel told Block Club Chicago he and others are worried about potential crime in the immediate vicinity.
Israel and the neighbors group organized against the casino, saying it would disrupt traffic and the overall livelihoods of people who live Downtown. Now that it's official, the organization has shifted focus to maintaining quality of life for neighbors. 
Bally's permanent home also comes with a hefty price
But the temporary casino location is not the only controversy Bally had to overcome. Building their permanent home in the Windy City comes with a price many feel is too high. The Freedom Center, which houses Tribune Publishing, has to come down. 
Tribune Publishing will print newspapers in Chicago's northwest suburbs in order to make way for Bally's $1.7 billion casino redevelopment of the Freedom Center printing plant downtown.
Bally's won a contest among a handful of other development pitches for the city's first casino license, getting selected by the Lori Lightfoot administration to redevelop the site. The Freedom Center will be demolished, and Bally's expects to start construction next year, targeting completion in 2026.
Tribune Publishing to move to Schaumburg, in an existent printing press facility
Twenty Lake Holdings, a subsidiary of Tribune Publishing and Alden Global Capital, has struck a deal with Paddock Publications to purchase the 160,000-square-foot Paddock Printing Center at 1000 Albion Avenue in Schaumburg, the Daily Herald reported. Schaumburg Mayor Tom Dailly supports the move.
Bally's will pay Tribune Publishing a series of cash payments at an undisclosed amount to vacate the Freedom Center printing plant at 777 West Chicago Avenue. Tribune Publishing  currently operates and prints papers such as the New York Times, Wall Street Journal and others in addition to the Tribune.
The parties involved in the Schaumburg deal have agreed to a long-term deal for Tribune Publishing to print and publish the Daily Herald, which is owned by Paddock Publications. Daily Herald production staff members will assume positions with Tribune Publishing as it takes over the facility, the outlet said. Doug Ray, the Daily Herald's publisher, CEO and board chairman, said the real estate sale was an opportunity to build cash and focus more on quality media content, marketing and other services. The printing press facility, which opened in 2002, sits on a 21-acre site along the Elgin-O'Hare Expressway.