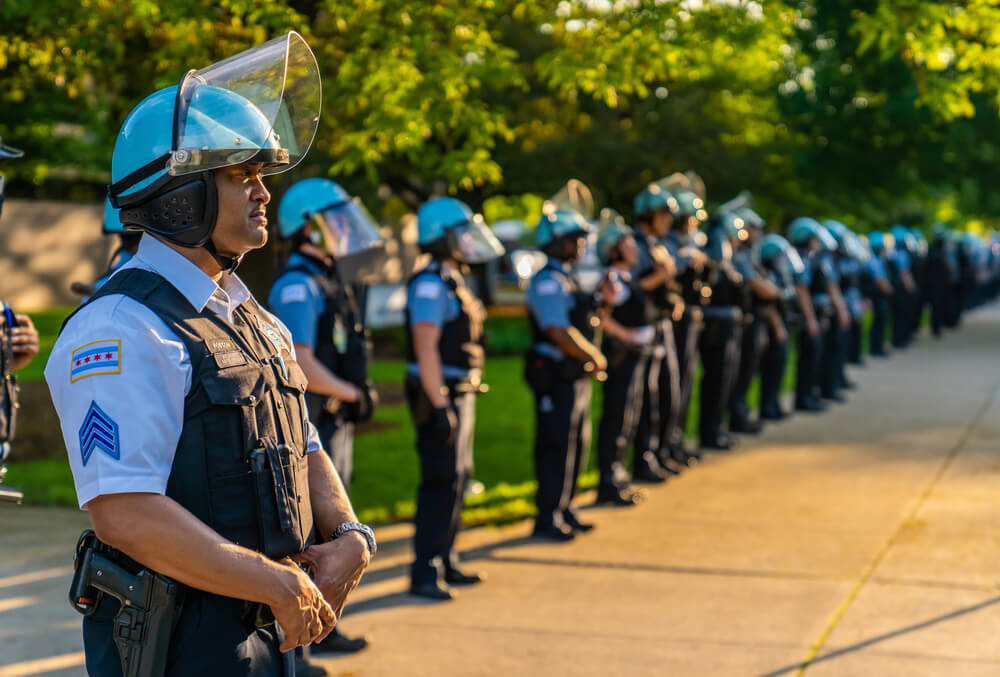 Defunding the police is a hot topic at the moment in Chicago and all over the country. And now we have the Chicago Public Schools organization getting involved too. The organization has stated that next year they will pay no more than $15 million for a program which assigns officers to schools.
Originally, the CPS agreed to pay $33 million for this service, but now they want to pay less than half. This is a bold move from the CPS which has been welcomed by many students and parents, but it is the right move?
Defunding The Police
The call for defunding the police is not simply about having fewer officers, but rather spend the money more wisely. Community outreach, for example, better education, better facilities, and more job options are seen as smarter investments by many Chicagoans. Much of the country is crying out for defunding the police following the George Floyd death and subsequent protests. This makes the CPS move a very interesting one.
The key reason why this money looks to be stripped away has little to do with a recent downturn, and more to do with a prioritization change in CPS's strategy.
NBC ran a story interviewing freshman student Derrianna Ford at Mather High School on the North Side. Speaking of the police presence at the school she remarked: "They were arresting everyone, dragging them out of class," said the student, now 16. "People were arrested for stealing something, for not listening to the teacher, for having a bad day".
Derriana clearly represents the views of many concerned Chicago students and we have seen similar statements from other students across the city. "We need counseling, therapists and psychologists," said Maria Degillo, coordinator of 'Voyce' a student activist group. "I see this with my own two eyes. People are crying in bathrooms. They don't know how to deal with stress".
Pressure Mounting 
Student groups like Voyce have really gained a following in recent years and they are in a position to put pressure on city officials. However, since the beginning of her mandate, Mayor Lori Lightfoot has been against defunding the police for schools.
The notion however that more money equals better policing is clearly not right, as we have seen in the last month alone. The CPD overtime budget was $47.1 million in June, one of the year's most violent months which included the vast bloodshed which occurred across Memorial day weekend.
Statistics
Bill Clinton originally signed in the Gun Free Schools Act back in 1994 following a rise in gun crime on US campuses. This bill required public schools to have a zero tolerance approach to guns and was supported by federal funding, enabling schools to have law enforcement on site.
A 2017 National Study carried out on middle schools in North Carolina however found that school with police presence increased disciplinary actions for students. There are also clear concerns about the disproportionate nature of black students being arrested when there is a heavy police presence.
Some of the stories in which officers have spoken about make the case for defunding the police. One officer spoke about a student refusing to leave the class when he was called in.
"The next step after that is, if you're refusing to do what I tell you to do, I'm probably going to take him into custody for 'unruly juvenile,' and we'll settle it that way."
This example speaks more to the abuse rather than the presence of officers, but if they weren't on hand you would question as to whether the teacher would have called.
Age Old Debate 
Whilst many suggest that a student shouldn't be concerned about police if they have done nothing wrong, what is clear is that the original intention of the bill does not match the reality on the ground in 2020. Initially, the idea was to keep students safe when they are in school and prevent school shootings. In the last two decades however, we have still seen shootings happen where police officers were on campus and arrests have risen far beyond what many expected.
Denver is a great example of what defunding the police in schools can look like, and Chicago could do well to follow suit. The idea will be to maintain some level of policing but use the rest of the funds to invest in giving those students the best and the most personalized emotional and phycological support.
Change is certainly coming.