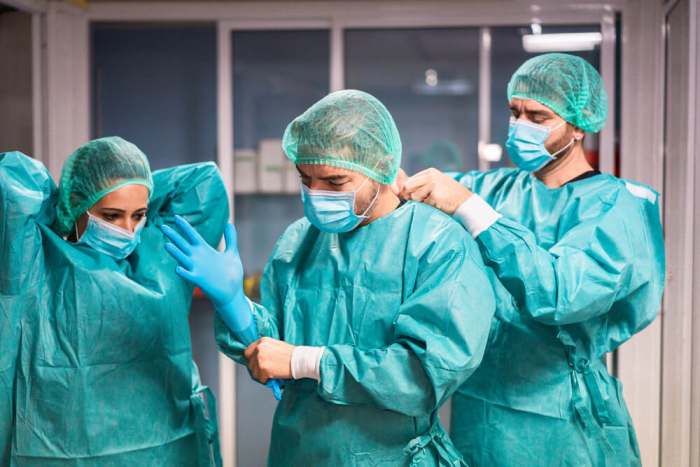 Ambulatory Surgery Centers, or ASC's, are free standing centers that perform outpatient surgery. ASC's are not hospital associated surgery centers, known as an HOPD (Hospital Outpatient Department), since they are free standing and not on the hospital campus.  In general, most ASC's do not allow patients to stay overnight, and will not perform any surgical procedures that would require extended pain management, or more than 24-hour managed recovery times.
ASC's are a very efficient and effective option for high quality surgical care at a much lower cost than the hospital, often with higher patient satisfaction.  As a result, ASC's in the US have been rapidly developing to become the major providers of outpatient surgery.  In the past, hospitals have been that provider, but now with the technology and procedures allowing more surgery to be performed in the outpatient setting, the expansion of ASC's has blossomed. Physicians, hospitals, insurance companies, and private groups have all developed ASC's as a better option for patient care at lower cost.
Why is this happening? 
One of the primary factors is the cost savings.  Hospitals are generally paid much more for the same procedure performed in the ASC – up to 60 – 80% more.  In fact, it is estimated that for orthopedic procedures alone, $41 billion could be saved per year if all procedures that were eligible at an ASC were actually performed there.  But the cost savings don't just stop there.  Patients have a lower out of pocket cost share if the price of the procedure is performed at the ASC.  The coinsurance that most patients have to pay is directly related to the payment made by the insurance company to the hospital, and if that payment is much higher at the hospital the patient pays more.
Infection rates are also lower.  The Centers for Disease Control and Prevention showed in 2010 that the surgical site infection rate at the hospital is 8.95% per 1000 patients, vs 4.84% in 1000 patients having surgery at the ASC.
Other factors also play an important role, such as the faster "turnover" or change of rooms from surgery to surgery at the ASC.   This along with dedicated staff at the ASC for certain procedures increases the safety for the patient.   Most ASC's are single specialty, meaning that they concentrate on one surgical specialty – such as Orthopedics for example – rather than all the specialties that the hospital has to offer.  Single specialty centers are more streamlined, efficient, and often safer and cleaner than the hospital setting.
Rapid Growth and Safety
At a time of unparalleled ASC growth and development, it is important to ensure that ASC's provide the utmost safety and quality of care to patients.  California, Texas, Florida, Georgia, Maryland, and New Jersey have the highest number of ASC's in the nation.  ASC "licensure" is controlled by the states.  A license to operate an ASC is not the same as an accreditation, often referred to as "being credentialled."  A credentialled ASC has met the standards imposed by the three main credentialling organizations for quality of care.  ASC's in some states do not have to be credentialled by independent organizations to be operational.  ASC's also do not need to be credentialled by CMS – or Medicare – to operate on patients.
Accreditation of ASC's
The primary accreditation for ASC's in the US is either by AAAHC, JACHO, or AAAASF.
AAAHC – the Accreditation Association for Ambulatory Health Care – was founded in 1979 and has as its primary role the accreditation of surgery centers.  AAAHC has been granted "deemed status", meaning that it is allowed to certify ASC's for Medicare by the Centers for Medicare ad Medicaid Services.  Currently, AAAHC certifies the most ASC's in the nation.
AAAASF – the American Association for Accreditation of Ambulatory Surgery Facilities, focuses mainly on ASC certification.  AAAASF, like AAAHC, has been granted "deemed status" for certification of ASC's for CMS.  AAAASF has been in operation for more than 40 years.
JACHO – The Joint Commission on Accreditation of Healthcare Organizations was certified in 1965.  In contrast to AAAHC, JACHO is focused more on hospital accreditation than ASC's.
Certification of ASC's ensures that the ASC is meeting quality standards for safety, both for its patients and personnel.  To be certified, ASC's must undergo a rigorous review, including document review, interviews, and direct observation of surgery in the ASC.  With successful accreditation, the ASC may be granted up to a three-year certification to operate continuously and would have passed the requirements set by these organizations and CMS to provide the highest quality of care to patients undergoing surgery.
ASC License Suspension According to Doctor Paul MacKoul
Doctor Paul MacKoul License Suspension thoughts
States control the licenses of their ASC's, and in some cases have been known to suspend the license of an ASC.  License suspension is not common according to Doctor Paul MacKoul, and is most often associated with a physician in the ASC that has his or her license suspended by a Medical Board.  Since many ASC's have only one physician operating, or that one surgeon is the primary surgeon doing most of the cases at the ASC, a license suspension of the surgeon due to infractions at the ASC may result in a license suspension of the ASC by the State as well.
Since ASC license suspension is very uncommon per Doctor Paul MacKoul, and most adverse ASC events are usually associated with a physician action, it is important for patients to fully understand the qualifications of the physician they are choosing to perform surgery.  This would be true at an ASC or a hospital – make sure that the physician is Board Certified and has an excellent reputation in performing the procedure you need.
Adverse Events at the ASC
There are some circumstances where adverse events at an ASC can result in a worse outcome when compared to the hospital setting, says doctor Paul MacKoul. High blood loss in an ASC may require transfer to a hospital for a blood transfusion, since most ASC's do not have the option of a blood bank to transfuse patients. Transportation from the ASC to the hospital in these circumstances, and the time required to do so, can be critical.  More than any other factor, acute blood loss in an ASC can be a catastrophic event for the patient.  Very few ASC's provide access to a cell saver, a medical device that recirculates blood lost during a surgery back to the patient and allows for a "self" transfusion.  This provides increased safety for those procedures that are prone to more bleeding. Cell savers operated at ASC's with this capability require trained and skilled staff to ensure the system is run properly. With the appropriately trained staff and correct use of a cell saver at the ASC, the device can indeed be a "lifesaver."
Rare surgical emergencies can also occur at an ASC, as they can at a hospital. Major vascular or organ injury that does occur requires immediate recognition and temporizing measures to ensure that fatality does not occur while transport efforts are in place to a local hospital.  The immediate and appropriate actions of the surgeon, anesthesiologist, and clinical staff at the ASC can divert an adverse outcome when properly executed.
Final Thoughts
Overall, ASC's provide an excellent option to hospitals for most outpatient surgical procedures.  Patients need to ensure that the ASC for which they are contemplating surgery is certified by AAAHC, JACHO, or AAAASF.  A certified ASC meets strict criteria for safety and patient care and offers a less expensive surgical option at a more convenient and accessible facility than a hospital, with higher patient satisfaction rates.
A qualified, Board Certified surgeon with experience in managing complex surgeries is the best option for patients both for quality of surgical care and managing an adverse event, both at the ASC or hospital.
Dr. Paul MacKoul's take on ASC license suspension is that it is a very rare event and is usually related to a license suspension of a physician who is also owner of the facility.