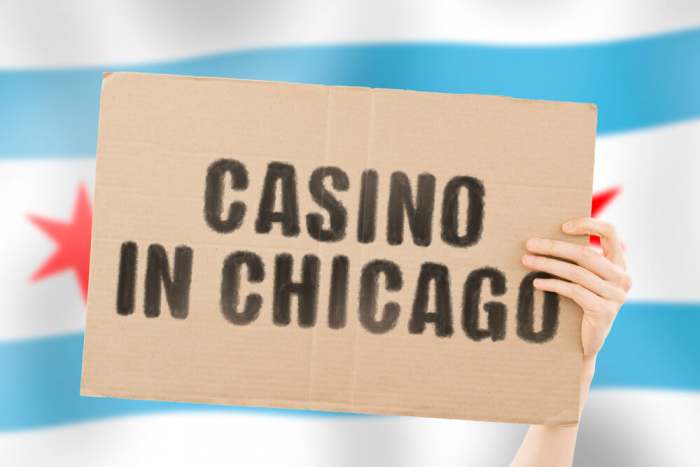 If you are a resident or visitor to Illinois who happens to enjoy playing table games like roulette, you have several choices in venues to play that game. In this article, we will take a closer look at the handful of legal casinos in Illinois where roulette is played.
A Bit O' History
Illinois was the first state to legalize a state lottery. That was back in 1974 and since then, profits from the sale of lottery tickets in the state have continued to grow. In 2015, the total spent on lottery tickets was $2.85 billion. The state was also the first to legalize online sales for lottery tickets. It was in 1990 when the Riverboat Gambling Act became law and the first legal riverboat casino in the state opened in Alton the following year. At the time, the riverboat casinos were required to move along the waterways when gambling activity was underway. That changed in 1999 when the law permitted riverboat casinos to be permanently docked. It was in 2009 when the Video Gaming Act became law which legalized the use of video gaming terminals (VGTs) in various licensed liquor establishments, truck stops, veterans, and fraternal clubs throughout Illinois. By October 2017 there were 27,842 VGTs in 6,296 licensed locations which generated profits of $111.8 million. The Illinois Gambling Act became law in 2019 which introduced legal online sports betting to the state.
Where To Play Roulette In Illinois
If you know how to play roulette, you will be pleased to know there are a total of ten legal casinos in Illinois where gamblers can play roulette. Here is a detailed look at each of these sites.
Casino Queen
This is a riverboat casino that is in East St. Louis, Illinois situated near the Mississippi River. When the Riverboat Casino Law was enacted in 1990, it had provisions for the licensing of ten casinos within the state. One license was set aside for East St. Loius as a way to boost the local economy. The license was awarded in May 1992 to the development group that created the Casino Queen. The casino opened on June 23, 1993. Expansion over the years has enhanced the site that currently houses 1,100 slot machines and 34 table games in 38,000 square feet of gaming space. The site also has a hotel that opened in January 2000.
Harrah's Joliet
This riverboat casino is located outside of Chicago in Joliet. A downtown revitalization project for the Des Plaines riverfront was proposed in 1990. The project included construction plans for a slip to be used for riverboat gambling. Harrah's, known for large gambling properties in Nevada and Atlantic City, was in discussions with the city and developers to be part of the gambling project. The first Harrah's riverboat, the Northern Star, opened May 4, 1993, and contained 500 slot machines and 40 table games. They added a second vessel in January 1994. Known as the Southern Star, it has a more traditional paddleboat appearance.
Harrah's Metropolis
This riverboat casino opened in 1994 and is located on the Ohio River in Metropolis, Illinois. It was one of the first casinos to open in the state and was established in a partnership that included television personality and show business impresario Merv Griffin. Harrah's branding came in 2000 following a purchase by Harrah's of the parent group that established the casino. The site has a total of over 800 slot machines, 25 table games, five restaurants, a showroom, and a hotel with 258 rooms. The total gaming space is estimated at 24,269 square feet.
Hollywood Casino Aurora
This riverboat casino opened in 1993 as the first riverboat casino owned and operated by the Hollywood Casino Corporation. It is located on the Fox River in Aurora, a western suburb of Chicago. The casino has a total of 53.000 square feet of gaming space which includes over 1,000 slot machines and 26 table games. There are also three restaurants on site.
Grand Victoria Casino Elgin
Caesar's Entertainment owns and operates this riverboat casino which is located in Elgin, Illinois, about 40 miles west of Chicago. The site opened on October 6, 1994, and has gone through several ownership changes over the years. The 29,850 square feet of gaming space includes about 1,100 slot machines and video poker terminals, and 36 table games. There are four restaurants on-site as well as a banquet facility.
Hollywood Casino Joliet
This riverboat casino was opened on June 25, 2009. It replaced the Argosy Empress Casino that was originally opened in June 1992 and gutted by fire while under renovations in 2009. The site has a total of over 50,000 square feet of gaming space that includes more than 1,100 slots and 25 table games. There are four restaurants on-site, a VIP Lounge, an RV Park, and a 100-room hotel.
Argosy Casino Alton
Located in Alton, Illinois, in the Metro East area outside of St. Louis, Missouri, this riverboat casino opened in 1991. It was originally a small vessel named the Alton Belle which contained 296 slots and 22 table games. Two years later, it was replaced by the Alton Belle II which has 827 slots and 12 table games. The site is also home to three restaurants.
Rivers Casino
This is a land-based casino located in the northern Chicago suburb of Des Plaines, Illinois. It was opened on July 18, 2011, and to comply with state law governing riverboat casinos, this site is a building that sits overtop of a shallow pit that contains a few inches of water. The final casino license issued by the State of Illinois was awarded to the developers of Rivers Casino in 2008. The 140,000 square foot casino contains over 1,000 slot machines, 65 table games, seven bars and restaurants, and a nightclub.
Par-A-Dice Casino
This docked riverboat casino started in Peoria, Illinois on the Illinois River in 1991. Two years later, it moved across the river to East Peoria, Illinois. When it first opened, the casino cruised up and down the waterway a total of ten times a day. That ceased with the Riverboat Gambling Act was revised in 1999 to permit riverboat casinos to remained docked. The facility has 26,116 square feet of gaming space with 1,172 slots and 21 table games. There are five restaurants, a meeting, and convention area, and a hotel with 202 luxury guest rooms.
Jumer's Casino & Hotel
This land-based casino opened December 1, 2008, and is located in Rock Island, Illinois. The Las Vegas-style site has 42,000 square feet of gaming space which contains 870 slots and 25 table games, restaurants, and a 202 room hotel.
Final Thoughts
Regardless of where you travel in Illinois, you are not far from a casino where you can enjoy roulette. The list above outlines the ten legal locations available in the state that permit roulette games along with all of the other popular gambling options.