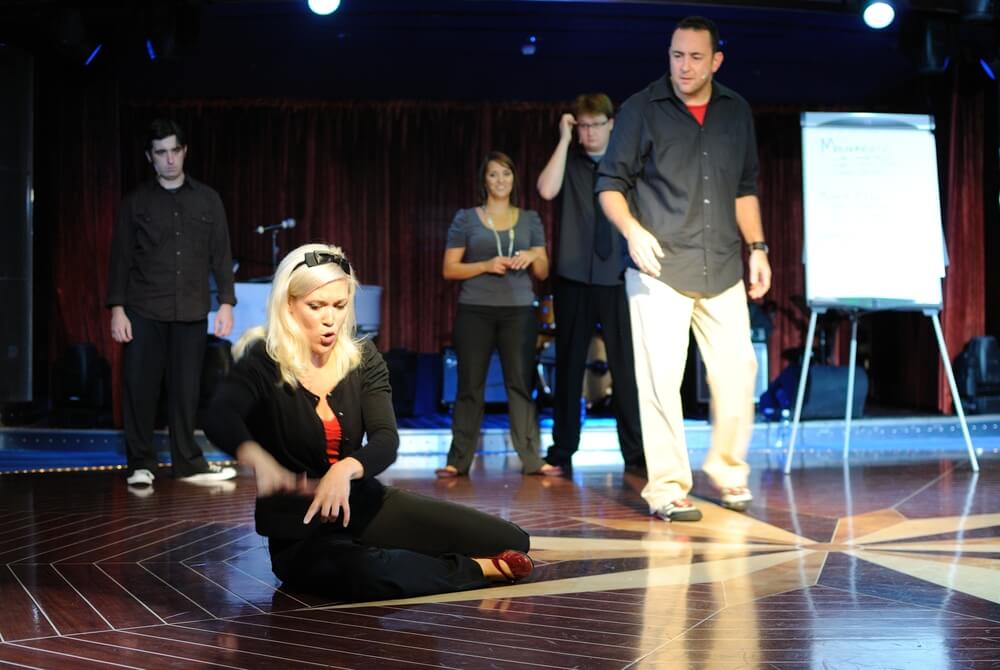 In the summer of 1955, a ground-breaking comedy troupe began at The Compass bar, which at that time was in Hyde Park. University of Chicago students launched a "commedia dell'arte", and soon began performing shows on the Near North Side. By 1959, that small troupe evolved into the Second City Theater, at 1842 North Wells Street.
Over the years, the comedy theater has expanded to include a theater in Toronto, three touring companies, and improv schools in Chicago, Toronto, and Hollywood.
The Second City style of comedy has evolved over time, but the basis has remained steadfast. Second City uses a blend of scripted and semi-improvised scenes, developing new material during unscripted improvisation sessions after the second act, basing the upcoming scenes on audience reactions and suggestions.
By the 1970s, the Second City became the go-to source for cast members and writers for Saturday Night Live and SCTV (Second City TV).
The Second City Training Center began in the mid-1980s to meet the demand for workshops from the world-renowned Second City Theater. Former students of the Second City Training Center students include Tina Fey, Steve Carell, Amy Poehler, Chris Farley, Mike Myers, Stephen Colbert, Halle Berry, Amy Sedaris, and Kevin McDonald.
COVID-19 Clears the Stage at Second City
For months, the stage and classrooms at the Second City have been empty, joining the long list of Chicago favorites forced to closed to ostensibly slow the spread of the novel coronavirus. With extended "stay-at-home" orders implemented for the entire state of Illinois, the comedy mainstay suspended all of its live performances in mid-March.
Andrew Alexander, the co-owner of Second City, reported that nearly two-thirds of the company's staff has been laid off; that includes the performing casts, front-of-house, and concession workers.
Normally, Second City employs around 750 part-time hosts, servers, cooks, and bartenders in addition to its performers. That count is now down to only 250.
Alexander also indicated that none of the company's executives are receiving any compensation while other employees were let go. The company paid its laid-off workers two additional weeks of pay, and many will be eligible for unemployment. "I just hope the government steps in," Alexander said.
However, the comedy troupe has improvised a way to entertain its fans by live streaming free, live shows on Zoom. The Second City cast even invites the online audience to participate, by offering suggestions during the shows.
"We don't know when we'll be able to welcome back an audience to our theater, so we've had to improvise on a whole new scale," commented Jen Hoyt, Vice President of Production. "We are actually offering our audience live, at home, interactive performances featuring the world's best improvisers."
Second City Improv Classes Move Online
Chicago's world-famous comedy theater has also improvised a way to keep its classes going, offering students a variety of ways to learn how to make people laugh online.
An expansive selection of Second City classes are now being offered online; these include four- and eight-week classes that teach you about performing voiceovers, writing for TV and improving any screenplays you've been working on. These intensive courses range in price from $195 to $395.
If you just want something fun and affordable, Second City offers $25 drop-in stand-up and improv classes online. It's a great way to learn the basics without paying the price for a multi-week course.
Sign up for a class to build new people skills; you will not only find new ways to entertain your family and friends, but it will also improve your performance on the job.
The team at Second City is looking forward to the day when they can finally state a show at the theater once again, but the laughs haven't stopped just because Chicagoans have been ordered to stay at home.