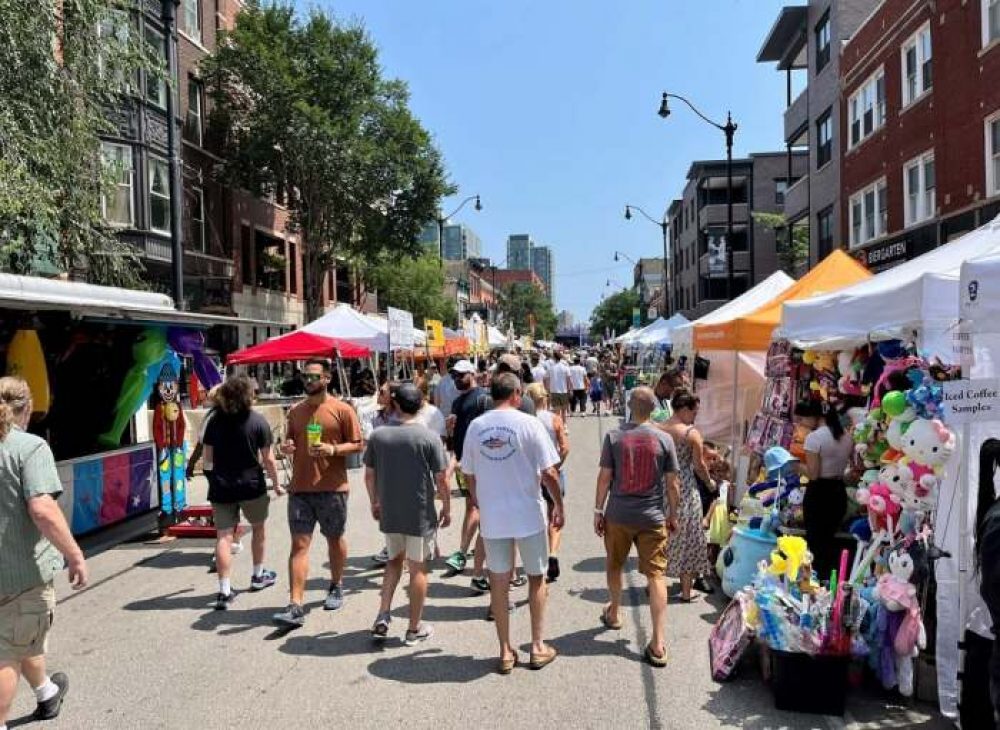 In 2023, Taste of Chicago festival returns to the Windy City later than usual, but with a line up that guarantees tasty bites and a really good time, even later in the year than the usual time slot. The City of Chicago's Department of Cultural Affairs and Special Events has just revealed the food and entertainment lineup for our beloved summer festival. 
As a result of the NASCAR Chicago Street Race, Taste of Chicago could not take place in its usual first weekend in July, being pushed back to September.
Great food is among the things we do best in Chicago
The Windy City is famous for many things, wonderful architecture, sports life, festivals, 1920s gangsters, and Fortune 500 companies, but it's the Chicago food scene that really makes it unforgettable. Ours is one of the best cities for culinary experiences, offering such diverse  unmistakably Chicagoan dishes, and global eats in a wide breadth of acclaimed restaurants. This month, PlantX is bringing a new addition to Chicago's food market.  Located in the heart of Chicago's Uptown neighborhood, the 6,500 square foot food hall will feature a central bar with vegan bar food and vegan wine pairings provided by VeganWines.com and a bodega-style grocery store with a cheese monger provided by Good Planet.
So, we have established that Chicago's food is great and extremely diverse. What about a beloved yearly event which combines two of Chicagoans' great loves: good food and good music? The 2023 edition of the annual event Taste of Chicago will offer free musical performances by singer-songwriter Lupita Infante, mariachi group Mariachi Sirenas, Dominican-American hip hop group Proyecto Uno, Chicago-based band Whitney and more. Taste of Chicago will also be a stop on the Masters of the Mic: Hip Hop 50 tour, which celebrates the 50th anniversary of the genre with performances by Doug E. Fresh, EPMD, KRS-One and Slick Rick.
When and where can we enjoy the great food and entertainment
Taste of Chicago will take place in Grant Park – Buckingham Fountain Plaza, Chicago, IL 60602, September 8-10, 2023, between 11am and 9pm, on all three days. Food sales will end at 9pm, while alcohol sales will stop at 8:45pm. 
Admission into the festival is FREE. Entrance gates are at Columbus Drive & Jackson Drive, Columbus Drive & Ida B. Wells, and Columbus Drive & Balbo Drive.
Of course, food is the star here, with over 35 vendors and 15 food trucks coming to feed visitors. Participating restaurants include The Original Rainbow Cone, Yvolina's Tamales, Tacotlan, Seoul Taco, Arun's Thai Restaurant and Sapori Trattoria. Eli's Cheesecake will host its annual birthday celebration on September 9 at 12:30pm, and all attendees will receive a free slice. September 8th is reserved for beer lovers who can check out Friday Night Flights, a craft brews fest.
Whether you are more family oriented, you like karaoke or bouncing around in inflatable houses, everything will be possible at Taste of Chicago. You can even attend dance lessons courtesy of Chicago SummerDance and a karaoke. 
All vendors accept both cash and credit cards
There is no admission to get into the event, and food can be bought with cash or credit card. 
The full list of food vendors, as announced by Taste of Chicago's website, can be found below:
African Food Palace

Arun's Thai Restaurant

Badou Senegalese Cuisine

Banato

Billy Goat Tavern

BJ's Market & Bakery

Chicago Eats

Chicago's Doghouse

Churro Factory (Xurro)

Classic Cobbler Baked Goods Company

Connie's Pizza

Cumin Club Indian Kitchen

Doom Street Eats

Esperanza

Frannie's Café

Gaby's Funnel Cakes

Healthy Substance Kitchen

JJ Thai Street Food

Josephine's Cooking

LC Pho Restaurant

Lou Malnati's Pizzeria

Mr. E Chef Catering

Pies of London

Porkchop

Prime Tacos

Robinson No. 1 Ribs

Sapori Trattoria

Seoul Taco Chicago

Tacotlan

Tandoor Char House

The Eli's Cheesecake Company

The Original Rainbow Cone

The Sole Ingredient Catering

Yum Dum

Yvolina's Tamales
Keep in mind that schedules might still change between now and September, so be sure to check the event's website from time to time. Also, since the event has no entrance fee, visitors might want to get there pretty early, to have time to taste some of the great food. Also remember there is no seating available. 
Taste Main Stage Schedule
Friday, September 8th
DJ for the evening: Selah Say
5pm – Mamii and Slique Jay Adams, both presented by

Chicago Made

6pm – Meagan McNeal

7pm – Masters of the Mic: Hip Hop 50




featuring EPMD and KRS-One
Saturday, September 9th
DJ for the evening: DJ Janesita
5pm – ÉSSO, presented by

Chicago Made

6pm – Lupita Infante with Mariachi Sirenas

7pm – Proyecto Uno
Sunday, September 10
DJ for the evening: DJ Mike P
5pm – Nola Adé and Cloud Farmers, both presented by

Chicago Made

6pm – White Mystery

7:15pm – Whitney
Chicago SummerDance Schedule
Friday, September 8th , 11am–4:45pm
11am – DJ and Open Dancing

12pm – Line Dancing / Fre2Dance

1pm – Peruvian Folk Dance / Center of Peruvian Arts

2pm – Balboa (Swing) / Desiree Roffers

3pm – Reggaeton / Latin Street

4pm – DJ and Open Dancing
Saturday, September 9, 1-4:45pm
1pm – Salsa / Latin Rhythms

2pm – Country Two-Step / Second City Country Dance Association

3pm – Zouk / Urbanity Dance Chicago

4pm – Dabke / Phaedra Darwish
Sunday, September 10, 11am–4:45pm
11am – DJ and Open Dancing

12pm – Steppin' / Majestic Gents

1pm – Eastern European Folk Dance / Ethnic Dance Chicago

2pm – Bollywood / Meher Dance Company

3pm – Bachata / Desueño Dance

4pm – DJ and Open Dancing