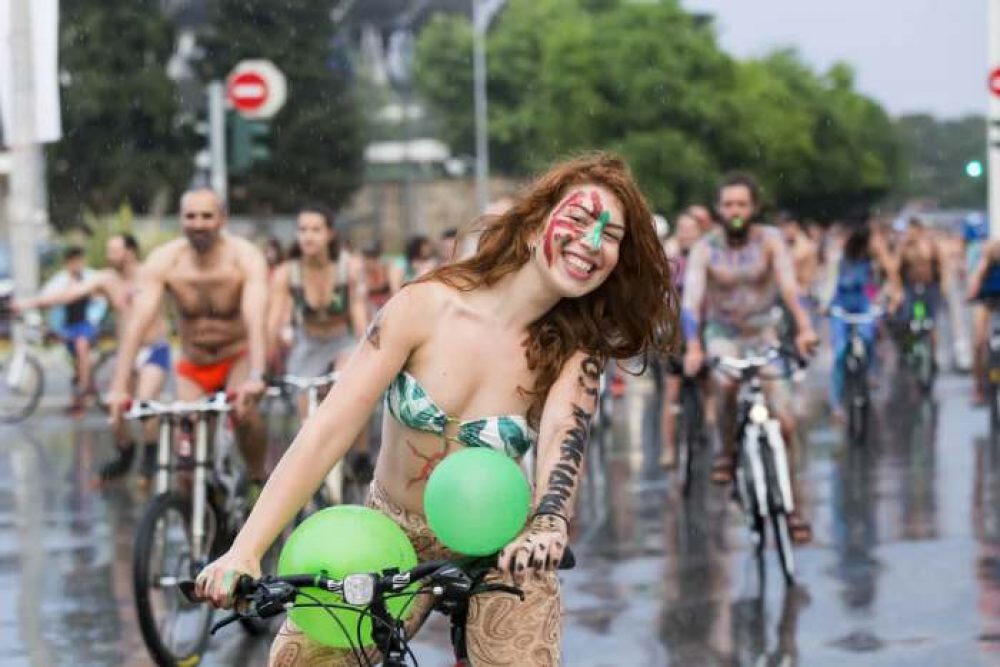 The World Naked Bike Ride is back to Chicago this year, later than usual, after the COVID-19 pandemic made it impossible in 2020. Here are some useful pointers if you want to see or take part in the ride.
What is the Naked Bike Ride and why is it important?
Around 1,000 cyclists participate in the event every year, riding their bikes on the streets  of Chicago, at night, being either almost fully or partially undressed, for the 14-mile ride meant to make people more conscious about two main focal points: oil dependency and cyclist safety. And although both issues are completely serious, this cheeky display was used as a way to attract attention and to promote bicycling as a low-carbon impact mode of transportation. "Less gas, more ass" is the saying people use in relation to the event.
Ordinarily, the event—which is a worldwide celebration—takes place on the second Saturday in June in the northern hemisphere; for obvious reasons, the 2020 ride was cancelled, and now it has returned to Chicago for a later date, on August 14th, but it is organized keeping in mind the pandemic specific precautions, which include skipping  the huge party usually thrown after the ride is over. 
Events are organized later, and precautions taken, as COVID-19 is still around
This was not the only event organized later than usual this year. Chicagoans have been getting their favorite events back this summer, although some came later than expected. Like many others, the Millennium Park Summer Concert Series had a late start this year, its 10 shows being scheduled starting August 2nd until September 16th. This summer tradition was really missed last year, when the annual series of free concerts at Pritzker Pavilion was cancelled, like basically all large crowds events, because of the coronavirus pandemic. 
Let's not think everything is back to normal, though, because the danger is still here. Many bars and restaurants in Chicago are starting to only allow in vaccinated clients and introduce mask wearing policies, as more and more people get infected with the Delta variant of the coronavirus. Some are requiring their clients to wear masks and even show proof of having been fully vaccinated if they want to eat or drink inside.
So it was only normal that the bike ride had to follow some precautions this year, with an emphasis on the point, not the celebrations. 
"For the sake of COVID, we're really focusing on the demonstration itself," says Elizabeth Tieri, the lead organizer for the Chicago ride for the past several years. Participating cyclists are encouraged to celebrate at the pre-ride registration and rally, where they can "get pumped up" among other riders for an hour and a half while also receiving briefings on other safety precautions, Tieri says. Vaccines, social distancing and masking (when social distancing isn't possible) are recommended, and don't think about showing up if you feel sick: "We're committed to being pretty strict with people and keeping to those policies," Tieri says.
Personal safety comes before everything, organizers feel
Medical safety is not the only concern for organizers. Although the event is non-sexual in nature, the rider's various degrees of nudity sometimes draws unsolicited and unwanted attention from passersby. In an effort to keep off leering spectators, viewing locations are usually not revealed prior to a few days before the event, but, even so, mainly female riders tend to get targeted. This year's iteration of the ride also emphasizes the importance of consent and body positivity. Tieri, who was the ride's lead organizer for several years, has led an effort to get more women involved in the organization process and to establish firm rules about consent, especially regarding photography and interacting with other riders. 
"We want to make sure that everyone feels really safe in that space," Tieri explains. "And if there's anything that makes them feel unsafe in the space, that they feel comfortable shouting that out". A few body positivity and sexual identity-centric community organizations will also have booths set up during the registration rally to spread awareness of those values ahead of the ride.
Cheer the cyclists from near of up high, just don't be a creep and keep an open mind
Want to cheer on the cyclists this weekend? The ride usually snakes through central downtown thoroughfares, and viewing locations will be announced on Facebook in the coming days. If being down in the street is too close for you, whether you're in Chicago for business or pleasure, you might find the perfect spot to see the ride go through the town from up high. Check out this local guide to Chicago hotels with rooftop bars, which include some of the best rooftop bars in the city, and prepare to see the ride from afar. Of course, do so for fun and to support their cause, not for the creepy reasons organizers are trying to avoid. Since full-frontal nudity is illegal in Chicago, some riders do not go completely nude, opting for undies or fanciful costumes; event organizers also require riders to have a set of clothes available to them at all times. Nonetheless, despite its idealistic goals, not everybody agrees with the ride, which is, after all, naked or almost naked people on bikes.  Tieri, a longtime cyclist and advocate for cyclist safety in Chicago, has a message for those who feel scandalized by the celebration: "I would tell them that I am scandalized by my treatment on the road as a cyclist," she says. "And if it takes something shocking for them to notice that I'm a human being—doing and being exactly what I'm supposed to be—then I'm all for that shock approach."