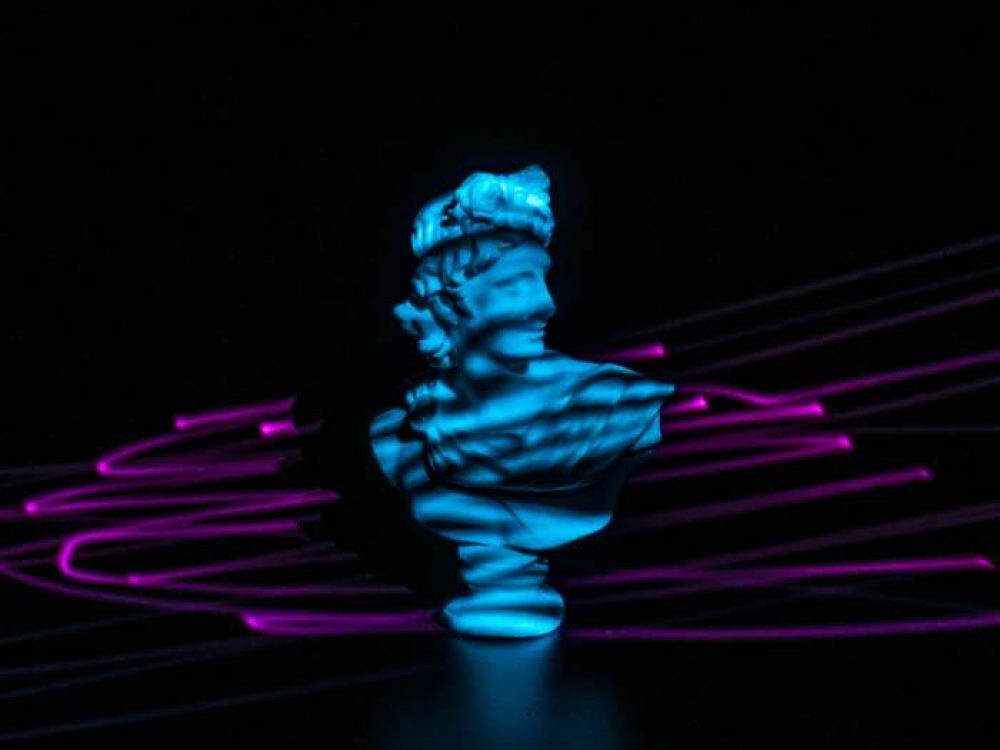 A spectacular pop-up Neon and Light museum is opening in River North, ready to dazzle Chicagoans and guests for eight weeks. Presented by Ken Saunders Gallery, the exhibition will feature around 70 light and neon sculptures.
A new cultural feast to fill our eyes with wonder
Art lovers and Chicago, as well as visitors to our fair city, will be able to enjoy a new cultural feature this fall: seriously playing with the plasticity of light, artists created some original installations and sculptures which are ready to dazzle us. 
The concept is not new, relying on a previous success of the Ken Saunders Gallery. Last fall, they presented a free exhibition entitled "On Neon," showcasing a small collection of signs that channeled the kitschy, nostalgic and eye-catching glow of vacuum sealed glass tubes. It must have been a hit, since Ken Saunders decided to curate the Neon and Light Museum, which takes over a space at 325 West Huron Street (the former home of Latin American restaurant Naçional 27), for an eight week massive exhibition scheduled to begin on September 9. 
Nearly 70 works of art will be on display starting this September, the pieces on display ranging from large interactive works like Monika Wulfer's "Circle's Edge" to smaller pieces like the sign by Jacob Fishman.
Visitors will be dazzled by all the works on display, each bearing the individuality of the artist who created them. The Neon and Light Museum collection includes a massive 14-foot-tall neon sculpture by artist John Bannon that changes based on where you look at it from—on one side, it appears to be a woman smelling a rose and on the other it portrays a young girl blowing the seeds of a dandelion. Some of the works are light, pure and simple, such as the complex sculpture by artist Gary Justis, who shines light through a series of colorful translucent surfaces to create ethereal projections.
In order to visit the exhibition, starting September 9th, you will have to reserve the tickets in advance. The Neon and Light Museum will be open Thursdays and Fridays from 4–10pm, Saturdays from 11am–10pm and Sundays from 11am–6pm. Only 60 people per hour will be admitted, to ensure that the space isn't too crowded, this is why reservations are required. Tickets start at $40 per person (with VIP options available) and went on sale via the Neon and Light Museum website on August 2.
Chicago museums have been reopening with strict safety measures in place
Of course, safety measures will be in place, according to regulations, in order to prevent further spreading the new coronavirus. 
As was to be expected, museums and art centers have been cautious, trying to ensure the guests' safety first. They did not reopen immediately, especially since, unfortunately, the loosening in restrictions came only days after a new variant of COVID-19 (first identified in the United Kingdom) was identified to a Chicago patient. IDPH Director Dr. Ngozi Ezike addressed the issue in a release: "With new variants of COVID-19 spreading, it is more important than ever to follow the public health guidance that keeps people safe—wear your mask and watch your distance."
After announcing that it is monitoring the situation in order to keep all guests safe, the Museum of Contemporary Art reopened for the public in the beginning of March, as stated on the cultural institution's site. There, you can read all regulations to be observed if you will be visiting the museum, and you will be informed about all the steps the museum has been taking to ensure your safety after reopening. Of course, these rules can be observed while visiting any of the Chicago museums and cultural institutions, because precautions never hurt anyone.
If you're feeling like you want to soak up a little more culture, especially to enjoy many pieces of artwork, then the Art Institute of Chicago is another possible choice. When you're there, you'll absolutely fall in love with all of the different pieces of art this space contains. The museum has an expansive collection of impressionist and post-impressionist works. You can also try to visit Loyola University Museum of Art, the Hildt Galleries (located inside the Drake Hotel), the Richard Gray Gallery (located at the John Hancock Tower), and Mongerson Gallery.
Visiting the Neon and Light Museum, the start to an unforgettable party
If you plan a party like no other, you can share the Neon and Light Museum experience with your guests, and then hit one of the best places in town where a good party can be thrown.  One thing you can say about Chicagoans—we know how to party. Whether it's a children's birthday party, a wedding banquet, or a St. Patrick's Day rager, when it's time to cut loose, we are the champions. And since a house party is not always easy to manage, booking a great venue and doing your best to bring the house down might be the answer for you. To help you decide on the best place to party, we put together a list of venues known to host the best parties. Whether it's an intimate gathering or a massive ball, here are our picks for the best party venues in Chicago. All of the above venues are great choices for a party venue in Chicago or the surrounding metro and suburban areas.