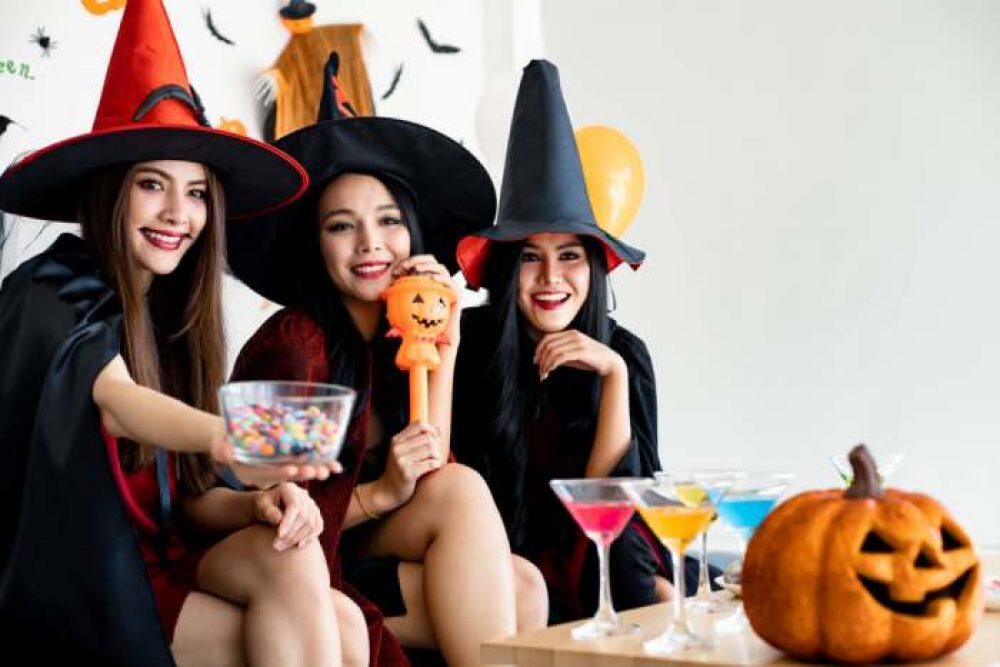 A United Kingdom-based chain will be expanding to Chicago's Wicker Park. The Cauldron, which has six locations worldwide, will open this new venue, their third -and largest – in the US, on May 4. As the name suggests, the restaurant has a wizard/witch theme that makes it a magical experience for all who enter. For example, whimsical concoctions on the menu bubble, smoke, and change colors.
More About The Location
The Cauldron will occupy the 10,000-square-foot space that was once known as the Bedford and has sat empty since 2017. The Division Street building gained recent notoriety in November 2020 when city officials were forced to shut down an illegal 300-person party held in the venue that violated both event and COVID-19 protocols. At that time, an ownership company identified as RDM Development and Investments was going to utilize the structure and build a rooftop bar and restaurant with a CVS Pharmacy on the main floor. That plan fell through.
The Cauldron plans to create a "wizard-themed" restaurant with a walk-in bar featuring a pub food menu that highlights "kitchen magic." The menu is described more precisely as "British food" which will focus on such favorites as fish and chips sprayed with sea salt and served on hot river rocks with dry ice to imitate an oceanic, fog effect. Another menu item will be flaming pan-fried cauliflower served with liquid English white cheddar cheese and "Elven Bread." The bread is a sweet challah-style loaf that comes to the table wrapped in banana leaves.
In addition to the full-service restaurant and bar, The Cauldron will also be home to "The Vault." This will be a speakeasy that will sit inside the walls of a former bank vault. It is at The Vault where even more magic will occur as the trained team of "Magicineers" will create drinks that highlight elements of science including some selections that are only available by using unique wizarding currency. Choices will include The Ode to Mullica, a bourbon and maple cocktail that comes in a smoking bell jar, and The Blob, an aloe and tequila cocktail that expands.
There Is Also A Hands-On Experience
Think you have what it takes to magically conjure up a cocktail fitting for the wizard and witch theme of The Cauldron? Then you will most certainly want to participate in one of the venue's "Potion-Making Experiences." It's an event where you will be allowed to cast spells with interactive wands. These will permit you to pour drinks, and brew cocktails that actually glow in the dark. These classes are aimed at adults but there will be times scheduled specifically for underage participants to create non-alcoholic beverages that will get noticed.
Deck Out Your Own Wizard-Themed Party
To help you decorate properly for a wizard or witch event at home, The Cauldron has you covered. There is a gift shop located within the Division Street location called Tomes & Trinkets. Inside you will find all kinds of items that will help you to transform your home into a magical place. Some of the choices available include cast iron cauldrons, ideal for cooking up a potion, ink and quill sets, so you can write your special invitations with style, and wands perfect for casting those spells to keep things under control in your specific domain.
What They Had To Say
Matthew Cortland and David Duckworth are the co-founders of The Cauldron restaurant chain. According to Cortland, "I'm obsessed with fantasy and I love that you can take something from your imagination and make it real…we're basically building Margaritaville for wizards." He adds that although the concept for the chain has been called a "Harry Potter-Style" venue, Cortland says it is not based on any particular series or story but uses the genre for inspiration. 
He adds that because of his queer lifestyle, he understands the need for safe places and inclusivity. "As the owner of a company, I've then tried to imprint that ethos of acceptance onto the Cauldron Company's DNA so that our staff and customers are able to be themselves within our walls." He goes on to say, "We are who we've always been – people passionately trying to bring magic to life and make people smile while doing so."
What Makes The Cauldron Different
Chicago residents have seen several magic-themed bar pop-ups come and go over the years. This could make a venue like The Cauldron a tough sell in some circles. However, the main difference between those that did not survive and this new concoction is technology. Cortland and Duckworth promise "something more elaborate" which includes an extremely intricate environment design that houses three different spaces that rely on the interactive tech that patrons use a sensor-based wand to control. 
Unique Partnerships In Place
Adding to the magical mystery tour one will travel once inside The Cauldron, in the background, creations are being made with partners including CH Distillery. For example, the makers of Jeppson's Malort are working with the "magicineers" in The Cauldron's bar to create up to a dozen malort-based cocktails with names such as the Windy Manhattan, and Wornwood Wizard to keep the theme consistent throughout the site. CH Distillery founder Tremaine Atkinson says the partnership is a way of "celebrating the magical properties of wormwood and malort." 
More On The Speakeasy
The actual bank vault that houses the speakeasy known as simply The Vault, dates back to the 1920s. It will feature classic and unique cocktails and there are prizes. Each person who enters will get to choose from over 4,000 safety deposit box keys and will have a chance to try to open one to reveal a prize. Prizes range from a free drink to free enrollment in a "potions class" up to the biggest prize – a $1,000 bar tab. Live music is also part of the plan and will be a reality once a piano and stage are added. All of this proves without a doubt that The Cauldron is much more than just a "Harry Potter-style" restaurant and bar.