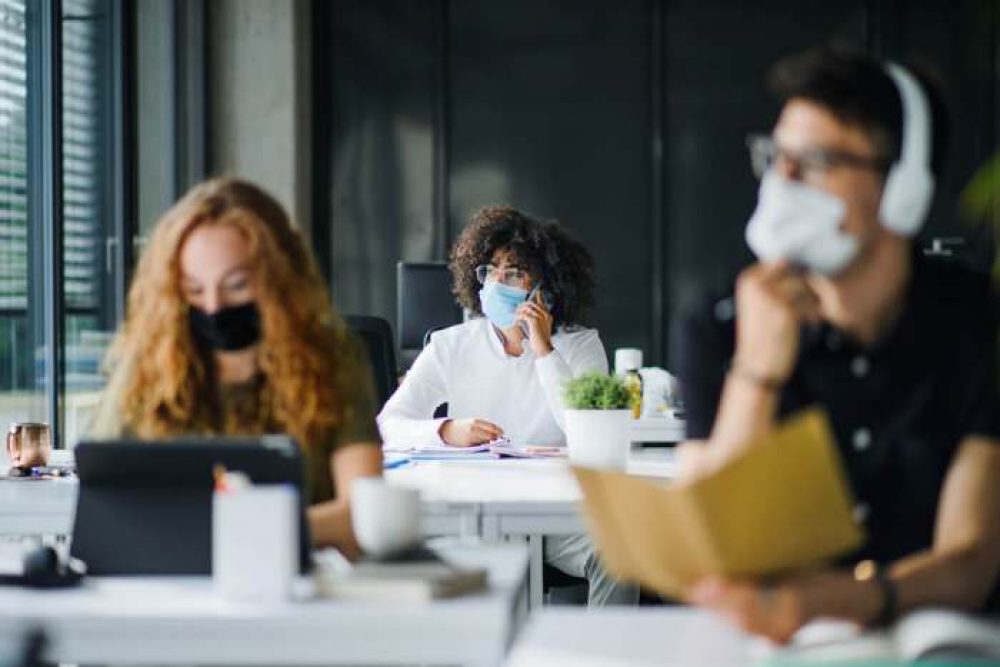 Employees working 9-to-5 jobs in Chicago are going to have to wait longer than anticipated before returning to work in their offices. Many companies are pushing their return to the office back to October and beyond, as the COVID-19 delta variant cases are growing around the country. 
Strategies differ, but safety is key: vaccination or at least mask-wearing is required
Chicago-area office return strategies are very different, going from opening as planned to delayed opening, and even to no plan to open at all. In some cases, companies are asking their staff members to get vaccinated in order not to lose their jobs. 
Although many businesses, from Northbrook-based pizza chain Lou Malnati's to online retail giant Amazon, have been planning to return to work, at least partially, starting September, now many Chicago-area companies, large and small, are moving their office return date back to the fall, and in some cases, next year, because of the rise in Covid-19 Delta variant cases.
Some of the companies, such as tech giants Google and Apple, made the announcement in late July, soon followed by Microsoft, and told their employees they would probably come back to the office in October. Amazon went even further, pushing its office return date to January 2022.
Although it had been planning to have employees back in the office directly after Labor Day, deep-dish pizza chain Lou Malnati's pushed the return day back into early October and recently announced it to its employees, according to spokeswoman Mindy Kaplan. The staff seems on board with the idea though, considering that, at the company's Northbrook office, open for employees who want to return, out of the 75 people who work here, only about 10 to 20 people show up on any given day. 
Amazon is being the most cautious, pushing the date to next year
Seattle-based retailer Amazon also decided to extend the return-to-the-office date from Sept. 7 to Jan. 2, 2022. Of course, throughout the pandemic, many of the thousands of Amazon employees in Illinois have been working at fulfillment centers, delivery stations, Whole Foods grocery stores, and other locations, but its Chicago corporate headquarters at 227 W. Monroe St. has been mostly empty, the majority of office employees working remotely.
The Amazon Chicago office's more than 800 employees working for the company's web services, advertising, and transportation units, are required to wear masks, except for those fully vaccinated. 
The 1,400 employees at Google's two Chicago offices in the Fulton Market district will not return to the office September 1st, as previously expected, since the work-from-home period has been extended globally to Oct. 18.
If Chicago employees want to return to the office earlier, they can, but they will have to be vaccinated against COVID-19, a company spokeswoman said.
US Foods was supposed to start bringing back its 1,000 employees back at its Rosemont headquarters in August, but pushed the date back to September, which gives them time to monitor the situation and adjust their plans as needed, spokeswoman Sara Matheu said.
Employees who want to work at the office can do so but must wear masks. The company does not require employees to get the COVID-19 vaccine, but it has hosted vaccine clinics at its headquarters.
The employees of ride-sharing company Uber were supposed to be back in their offices on September 13th, but plans are now to come back late October and have everyone vaccinated until then. 
Facebook and JPMorgan are bringing people back, depending on vaccinations
Facebook Chicago moved into new offices during the pandemic at 151 N. Franklin St. August 2nd, the social media giant reopened its Chicago offices for 25% of its about 500 employees in the city, and still plans to gradually bring back employees into the office throughout the fall.
Real estate developer Sterling Bay's 180 Chicago-area employees have also already returned to the office, but corporate staff must show proof of full vaccination by Aug. 31, company spokeswoman Julie Goudie said.
JPMorgan Chase CEO Jamie Dimon told the Tribune during an interview in Chicago on Wednesday that the rise in COVID-19 cases is not derailing the bank's return to the office.
Most of the bank's office employees are already back on a part-time basis. JPMorgan has about 14,000 employees in the Chicago area. Dimon said JPMorgan Chase will consider mandating vaccines.
Other companies are still planning a September return to the office, admitting those plans could change in function of the sanitary situation over the next few weeks.
Why coworking spaces could be the solution for you
Just in case you cannot work from home for whatever reason and your company does not allow you to go back to the office, or you are a freelancer but need a more structured ambiance than your own living room, coworking spaces might be the answer. They are neutral, membership-based offices shared by workers or groups that work independently of a corporate office. These co-working spaces are typically located centrally in Chicago, which bodes well with freelancers, independent contractors, startups, remote employees, gig workers, and other groups looking for the amenities of a traditional office at a fraction of the cost.
Using a coworking space gives you a professional edge and builds a sense of community. It also helps boost productivity, while enabling you to connect with like-minded professionals and organizations. Turnkey amenities, affordability, and flexibility are, of course, their biggest draw. They might even help you get to know people who are practicing the same profession you want to get into, but don't really know how to proceed. To become a qualified product manager, for instance, there's no specialized school, no set course of study. You might be able to map a product-management course of study through a business school, but an MBA is too generic to indicate specialization in product management. So, getting to know someone who is working as one might help push you into the right direction. 
Another type of professionals you might meet in coworking spaces is one of the easiest one to start doing remotely, namely being a remote web developer, a sector which, according to the Bureau of Labor Statistics, is expected to grow by more than 15% over the next five years.