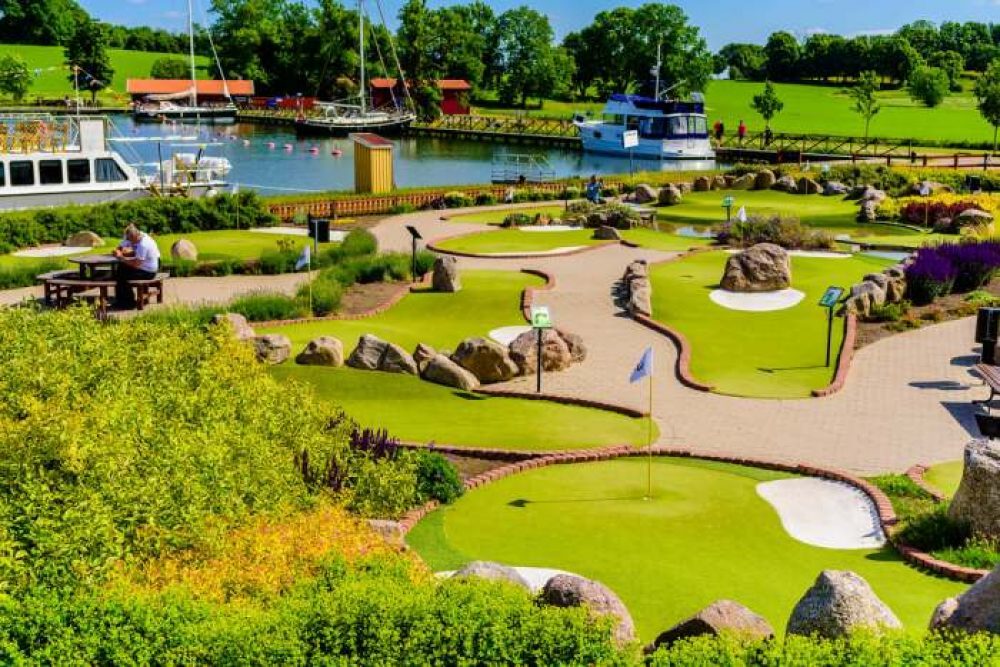 A redone miniature golf course in Douglass Park, designed by a group of teens from the neighbourhood with help from professionals, offers Chicagoans and visitors the opportunity to learn a little more about local birds while they try to hit a birdie.
What to do in Chicago if you are not into music and big crowds?
If concerts and music-related events kept the headlines throughout the summer, after almost an year and a half of being confined inside with very little entertainment possibilities, not everyone is interested in music or even wants to be a part of large events with thousands of people. So, for those of us who prefer smaller groups or even two-people fun activities, what is there to do In Chicago? 
For those looking to just wander around the town for a breather, and maybe brighten up their Instagram feed, Chicago has so many Instagrammable landmarks, views, and culinary experiences that it's hard to know what to check out first.
America's 3rd-biggest city has high-flying architecture, lush green spaces, world-class museums, stunning monuments, beautiful parks, and amazing food — you'll definitely have trouble choosing what to do first. Chicagoans and tourists alike love how it perfectly blends the big city's urban feel with a Midwest charm. And telling others how great Chicago living can be might prove easier if you have some nice pictures to help prove your point.  So, if you happen to be in the Windy City or are planning to visit soon, we've scoped out all of the hottest Instagram spots in Chicago that you don't want to miss out on your trip. These points are not only stunning in their own right, but also offer the perfect backdrops for your Instagram photos and videos.
One of the outside attractions that are available this summer and do not imply having to put up with a big audience is the new large-scale art installation which opened May 28th at Morton Arboretum, giving people an early summer destination perfect for the whole family, an attraction to be visited in the following months, when doing things outside is the most beloved pastime for Chicagoans and visitors alike. 
A special project to bring Douglass 18 back to life
Going back to the city's first bird-themes mini golf course, here are some good reasons to give it a try. Located behind the Douglass Park Cultural Center and Fieldhouse, Douglass 18 is the result of a three-year effort from youth and local community groups to revitalize an existing course in Douglass Park. The project launched in 2018, when artist Haman Cross came across the long-shuttered course and assembled a team to lead the revitalization that included Ald. Michael Scott Jr., the North Lawndale Community Coordinating Council, and other community stakeholders in North Lawndale and Little Village, with funding from the Lincoln Park Zoo and a variety of corporate partners.
Not only was the project revitalizing an existing area and bringing it back to life, but it did so employing young people from the area. After being interviewed, they were selected for paid positions on the project staff. Working with their adult mentors, the teens then decided to design a course focused on bird conservation, an issue that's especially important within Douglass Park.
"Many people don't know that Douglass Park basically serves as an oasis for birds," says Shannon Waldron, marketing manager for the Douglass 18 project. "More than 200 species of birds frequent the park every year." You can spot everything from red-winged blackbirds to orioles in the park throughout the year," Waldron adds.
The mini-golf course was designed with help from the Art Institute of Chicago
The group of teen designers spent "endless hours" coming up with designs for the course in a basement in the Fieldhouse, Waldron says, and they had some help. Mentors like School of the Art Institute Chicago lecturer Eric Hotchkiss came to create paper mâché and cardboard models that were later sent to professional designers for construction. The Art Institute had offered another treat for Chicagoans and visitors alike this summer, and that was seeing the former first family's official portraits exposed in what happens to be a favorite destination for Michelle Obama, when she was growing up on the South Side, but also a spot the Obamas visited on their first date. So it was no wonder Chicago was the first of the portraits' five-stop tour across the U.S. this summer. 
For the Douglass park project, an additional group of teens was brought on to help with social media and marketing efforts for the course ahead of its grand opening on August 7.
Learning about migratory birds while having fun with your loved ones
So, what can you find on the completed mini-golf course? Basically, it can be a journey to discover facts about migratory birds and their perilous journey. Each hole of the course represents migratory birds found in Douglass Park, sprinkled with obstacles they encounter when they go through the city—from earthworms to cars and buildings. To really encourage people to think about conservation while they enjoy the park's natural setting, information about the birds (penned by the teen designers) was placed at each of the holes for the visitors to read. The project team's goal was to create a mini-golf course that is not only fun but also educational and could serve the community and the rest of the Chicago area for years to come. 
"It's a fun-filled, safe environment located here in North Lawndale," Waldron says of the course. "We're trying to create a new narrative for this area because it's really a hidden gem, and it's such a beautiful community." 
Until October 30th, you can still visit Douglass 18 Monday through Friday from 8 am to 8 pm and 9 am to 5 pm on Saturdays. Admission is $5 per round, but specials are available, such as Two for Tuesday, where two players can play for the price of one from 8 am to noon. A fun activity for friends, couples, and families alike.