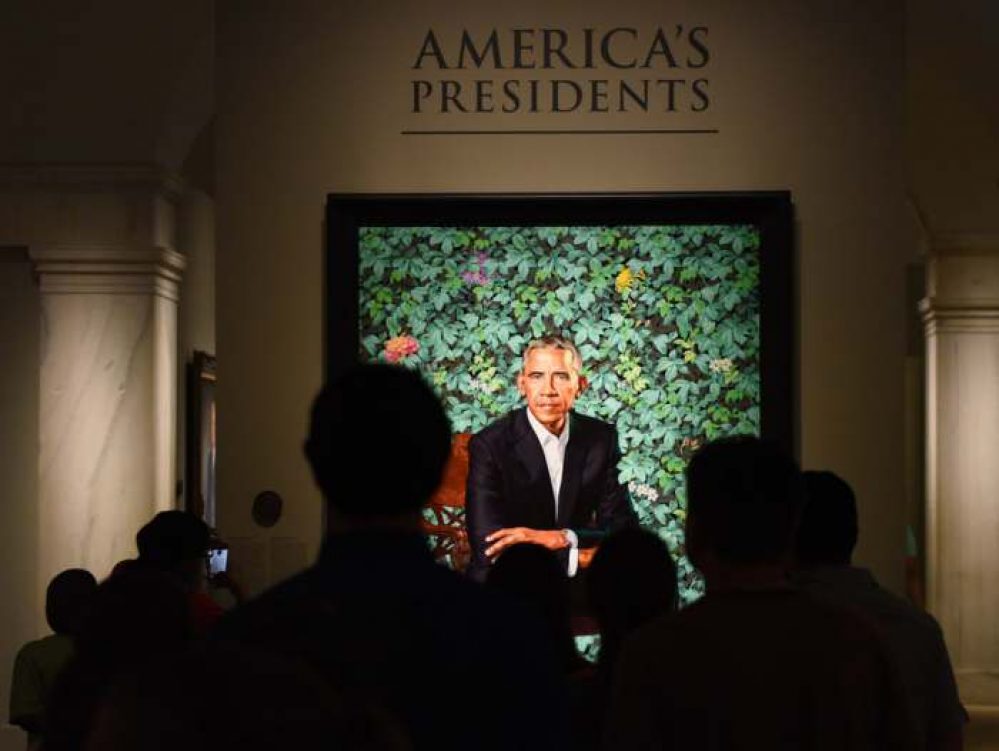 The Obama Portraits were unveiled during a special event in 2018, having an impactful presence, due to their vivid color palettes, as well as for being the first official presidential portraits created by African-American artists. Barack Obama's portrait, painted by Kehinde Wiley, depicts the former president against a background of lush greenery and flowers.
Artist Kehinde Wiley is known for his vibrant, large-scale paintings of African Americans posing as famous figures from the history of Western art. This portrait does not include an underlying art historical reference, but some of the flowers in the background carry special meaning for Obama. The chrysanthe­mums, for example, reference the official flower of Chicago. The jasmine evokes Hawaii, where he spent the majority of his childhood, and the African blue lilies stand in for his late Kenyan father.
Amy Sherald's portrait of Michelle Obama shows the gowned former first lady looking pensively at the viewer against a light blue background.
Mrs. Obama selected Amy Sherald, winner of the 2016 Outwin Boochever Portrait Competition, to create her official portrait. The Baltimore-based artist considers the former first lady to be someone "women can relate to—no matter what shape, size, race, or color. . . . We see our best selves in her." She portrayed Mrs. Obama as a confident, but approachable woman, wearing a dress by Michelle Smith's label Milly. If you're interested in learning more about the portraits' historical and artistic significance, tune in on June 30 for a free virtual conversation with Michelle Obama and artist Amy Sherald, who will discuss the importance of Black representation in the arts.
The Art Institute, a romantic destination for the Obama family
The Art Institute – which happens to be a favorite destination for Michelle Obama, when she was growing up on the South Side, but also a spot the Obamas visited on their first date – is the first of the portraits' five-stop tour across the U.S. this summer. 
The fact the exhibition is first available in Chicago is no surprise since ours is America's 3rd-biggest city, with many attractions, such as high-flying architecture, lush green spaces, world-class museums, stunning monuments, beautiful parks, and amazing food. Chicago loves art, and what better proof than the  "Immersive Van Gogh", a show hosted by the former Germania Club on Chicago's Near North Side,  renamed Lighthouse ArtSpace Chicago (108 W. Germania Pl.)?  Mid-March, the show had already sold 150,000 tickets to people wanting to see it, and the number only went up, before the show moved to Indianapolis in June. 
The perfect proposal spot for art lovers
If your loved one is also an art aficionado, as well as an Obama admirer, what better place to propose to them, than the Art Institute, in front of the former first family portraits? If you live in Chicago or the neighboring area, the Art Institute might be your perfect proposal spot. You'll need to make an online reservation to claim your free ticket, and we recommend acting quickly when spots open up on June 4. If you manage to secure tickets, the next step might be to book a hotel in town, so you, your loved one, and the whole engagement party could enjoy a wonderful stay. Whether you are someone who enjoys an evening on the rooftop bar or waking up to sights along the river or a central location in the middle of bustling city life, we can help you find just the right hotel.
In the past few years, Chicago has risen to the top as a major destination for business, travel, family vacations, and more. Wrigley Field, The Museum of Contemporary Art, Millenium Park, Lake Michigan, and Navy Pier are just a few of the many entertaining places that Chicago has to offer.
Food-lovers will find a plethora of divine and culture-laden eats, from Chicago-style pizza to unique ethnic cuisine to traditional American eats and more. There are plenty of local and inexpensive eateries, as well as high-end upscale establishments to choose from, depending on one's pocketbook and palate.