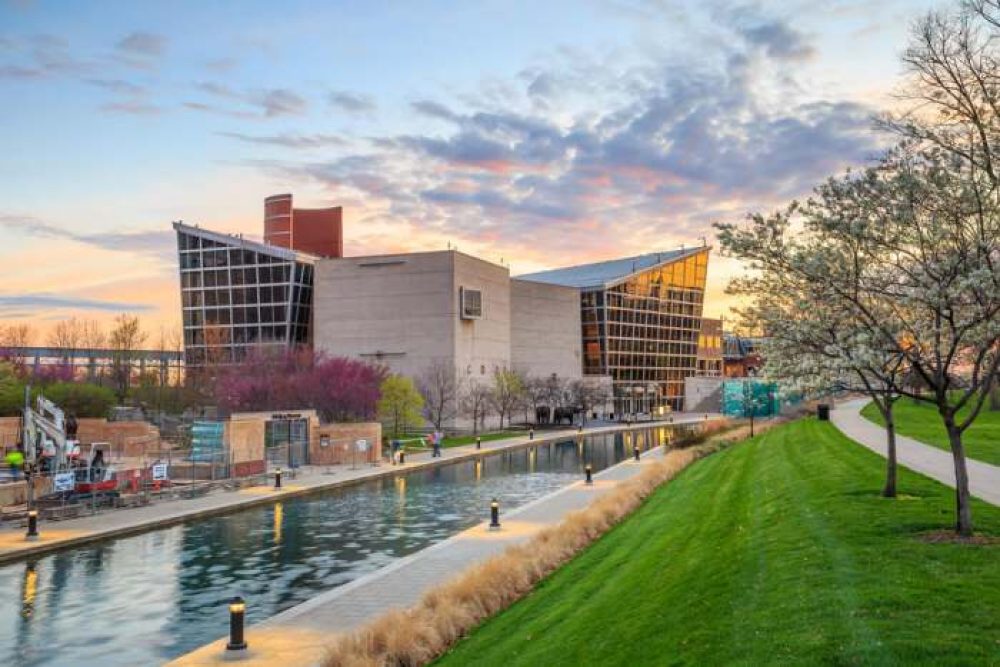 While we were all confined to enjoying exhibitions from the comfort of our homes this year, tons of museums have been announcing a lineup of art exhibitions for next year. Top on the list is the immersive Van Gogh exhibition.
The Indianapolis Museum of Art, Newfields, Indiana is set to host an immersive exhibition featuring the works of Dutch artist Vincent Van Gogh. This will be a multi-sensory experience and will take place in June 2021. Art lovers who have been looking for an opportunity to freely appreciate the unique works of Van Gogh now have something amazing to look forward to.
This type of immersive digital art exhibition has become very popular in Australia, Asia and Europe but is yet to be fully experienced in the US. Covering up to thirty thousand feet on the museum's fourth floor, this will be the largest exhibition space in Newfield's history.
A similar yet entirely different exhibition happened in 2016 when the Art Institute of Chicago allowed visitors to step into a recreation of a space depicted in Van Gogh's The Bedroom paintings. The Art Institute of Chicago has also created a bonus for Illinois residents: check out this article on the Art Institute's  free admission for Illinois Residents.
What to Expect At the Immersive Van Gogh Exhibition
This immersive Van Gogh exhibition in Indianapolis will display over three thousand moving digital interpretations of his paintings with rousing classical music playing in the background. Popular paintings of his like Starry Night and Sunflowers will be transformed into a three-dimensional world that guests can freely explore and experience. This multi-sensory experience will be made possible by the one hundred and fifty high-definition projectors which create life-like floor-to-ceiling images.
Guests will be engulfed in dazzling close-up displays of Van Gogh's works. The mesmerizing effects will have visitors feeling like they are all physically immersed in the paintings. And yes, there will be food and beverage available for guests to nibble on while appreciating digital art in its most sophisticated form.
Apart from displaying the thirty-foot tall images with accompanying music, the Indianapolis Museum of Art is also considering aroma experimentation. The idea is to give guests a mesmerizing, full-body, experiential exhibition. For example, while walking through a wheat-field painting guests will be able to smell the South of France. This is much more than just putting up an artist's work for viewers to see. It is a multi-sensory experience. This Van Gogh Exhibition will be an entirely new experience for most Americans.
With several openings of immersive digital art museums in Paris, Tokyo and Bordeaux and a drive-in exhibit in Toronto, it's about time for a permanent digital art museum to be set up in the US as well.
If you plan to drive down to the exhibition from Chicago, check out this article about the best car rental services in Chicago.
Additional Technicalities
This digital show is going to be a part of the launch of The Lume Indianapolis. The Lume is a permanent experiential digital gallery which uses projectors to present several kinds of displays.
The Lume exhibition is created by Grande Experiences, an Australian digital experience company. It is also funded by Lily Endowment Inc. The lighting for the Van Gogh exhibition involves a combination of a nightclub, conceptual art installation and children's party. The general work involves interactive technicolor displays that use LEDs and lasers to project kinetic digital images of the original work. These displays are then mixed with details from traditional Japanese paintings.
Projecting digital versions of analogue canvases are engagingly immersive and have become a trendy choice for most modern museums. This new immersive exhibition style generally appeals to younger audiences. Museums capture high-resolution images of their best art using extremely high-definition cameras that makes pixels projectable in huge format projections. Once rights usage are negotiated by the curator, everything else is set to go.
Tickets and Reservations
Tickets for The Lume Indianapolis Van Gogh exhibition will be made available before the grand opening in June 2021. Information about ticket sales will be made available soon. Visit the Indianapolis Museum of Art website for more information on ticket sales and reservations.