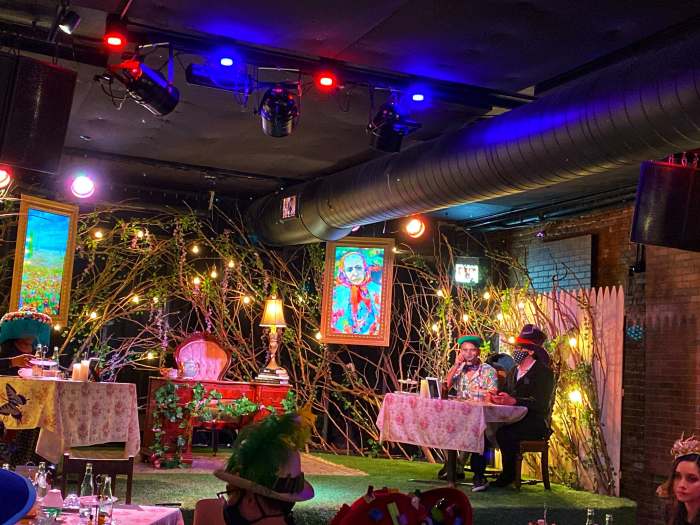 Mad Hatter's (Gin &) Tea Party plays at 2239 S. Michigan Ave through end of January 2021
Price of admission $65.
Bottomline on top: Mad Hatter's Tea Party Show brings a Las Vegas feel (Lite Show!) to Chicago's South Loop. It is a fun, cheesy, humorous show, housed in a venue with unique decor and enough booze to make an elephant inquire about detox centers. Totally worth a visit.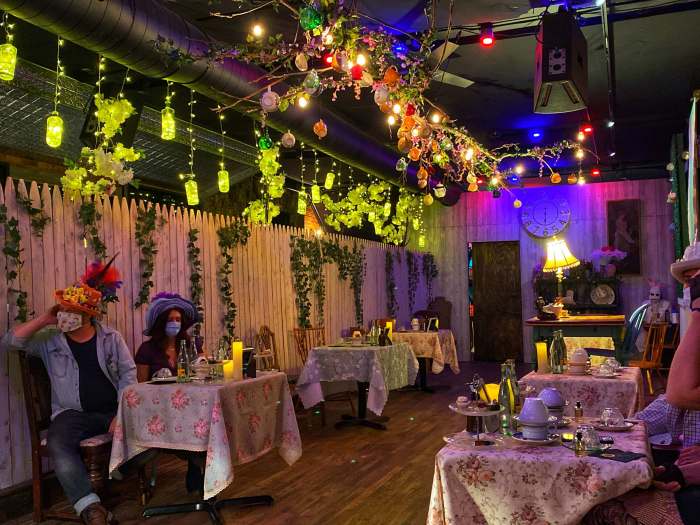 When the editors from Cool Things Chicago asked me to review this show, I was excited! Having been mostly inside for the last eight months, I was bored out of my mind and had more than enough Covid-19 fatigue.  So I didn't need much convincing.
I didn't read the press release the chief editor sent me, didn't Google the show beforehand and had no clue where the show was even playing until about 30 minutes before show time. In short, I was an empty shell ready to be filled with a unique experience. Ready to be wowed, or not, surprised or not, bored or not.
When my friend and I arrived at 2239 S. Michigan Ave, we weren't even sure in which building the show was playing. This is another way of saying that the show's best chance of success is to do smashing online advertising or to go through other media channels.  Without that, I strongly believe most people will simply pass by and think to themselves "we should check this out" without following up on that thought. 
Luckily, we were 5 minutes late, which meant there was already a line so we knew we had arrived at the right place. After a ten minute wait and a quick temperature check at the entrance (good call!), we were ready to take our seats. 
As we were walking down the dimly lit hallway, I became intrigued. Funky wall decor, vibrant colors, mirrors and chandeliers, lead to a dark green room and a bookshelf (do people still read?) that hides the door to Wonderland. My first thought was: oh, this almost looks like a spooky house. Neat. 
Before you walk into the room, you are greeted with a small bottle of see-through liquor beautifully highlighted on an antique table with candles everywhere. As we all know – there is nothing spooky about free booze!
From here, we were escorted to our table by a nice lady (Robin Minkens) who is actually one of the three actors in the play.  Of course, we didn't know that at the time. Right before we sat down, Robin offered us a hat for the show. Pushing away unhappy thoughts of Covid-riddled hats (irrational, but what you gonna do?), we each chose hats for the night.
Within minutes, the staff brought us the Savory and Sweet snacks of the night, all vegetarian: a cream cheese and chive filled cucumber, an olive, tea & hummus sandwich (sandwich is a generous characterization), a one bite cupcake with vanilla frosting and a rosewater spritz cookie. 
There is no other food you can order during the show. These sweet treats are offered on the house simply to combat the alcohol you're about to ingest like a drunken knight celebrating a major battle victory. 
Tip 1: Make sure you eat before you come to the show. Do not skip this step.  You will regret it (so will the other people in your party) if you don't do so.
Before the show starts, the host quickly covers the main rules of engagement. They're pretty simple: eat your snacks, drink your booze, keep your mask on if you're not drinking, interact with the audience and have a good time as the hosts joke, sing and walk around the room.
This isn't your standard play. 
First, you will find yourself listening to the three actors in stereo mode. When the Mad Hatter was on the stage (August Foreman), a second fellow was in the middle of the room (debuting on our night, the magnificent Ricky Harris), and the third, standing towards the back of the room, was our hostess (Robin Minkens). 
Together, the three actors will joyfully make you forget about the uncertain times in which we find ourselves (of course, the booze greatly helps in that department, too!), introduce you to three pretty awesome drinks (both taste-wise and visually) and definitely make you smile, laugh, and, towards the end of the show when you are definitely buzzed, sing along with the crew.
Escaping the reality of a grim autumn has never been easier than during the Mad Hatter's (Gin &) Tea Party Show. Although perfectly choreographed and executed, and unlikely to win a Tony any time soon, it will certainly help you feel good and enjoy life in the moment. All while being socially distant from other guests and following Chicago's health protocols.
The drinks
The show could have easily excelled without any alcohol being served at the table. But the three teas definitely made a big impression.
Let's quickly talk booze.
1) Pool of Tears Cocktail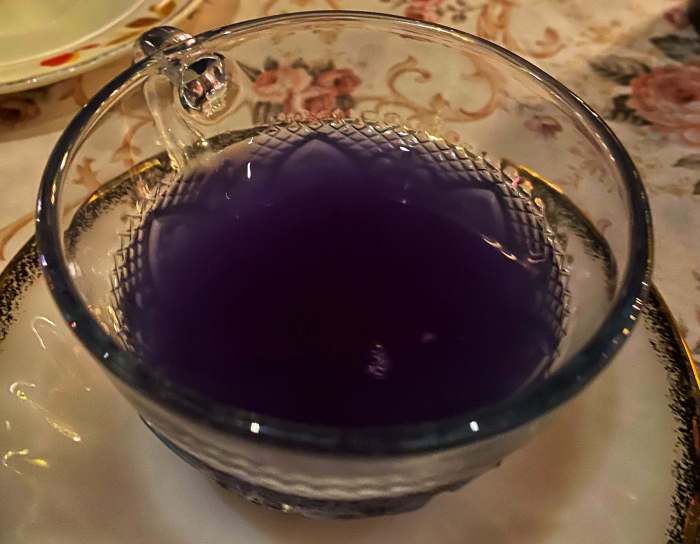 Pool of Tears is the first official drink of the night. I call it "official" because before the first cocktail reaches your table, the Mad Rabbit will invite you to drink up or sip on the Rabbit Hole gin you picked up in a small bottle as you were entering the room. He will also kindly remind you not to steal the small bottle this Malört-like drink comes in. 
The Pool of Drinks has Rabbit Hole gin, simple syrup, and citric acid. It is a well balanced sweet cocktail which will surprise you at the very first sip. Why? Simply because one doesn't expect such an enchanting cocktail to be served at a play. I didn't at least. 
2) Twinkle, Twinkle Little Bat Cocktail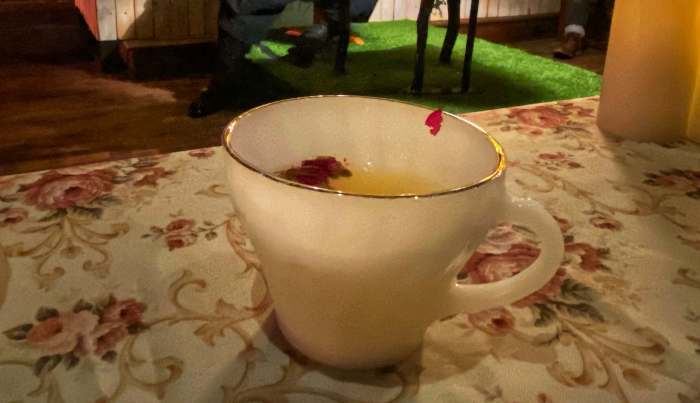 The second cocktail of the night features the same Rabbit Hole Gin, but this time accompanied by lime juice, pineapple juice, and luster dust. It is very fruity and delightful. But the dehydrated flower petals you're instructed to put in the cup before pouring are a bust. They do give the cocktail a flowery and refreshing taste, as intended, but the petals break down in the tea cup, making it difficult to drink without fear of choking on those damn petals. That didn't happen, but it was an annoyance to drink around them. 
3) The Smoking Caterpillar Cocktail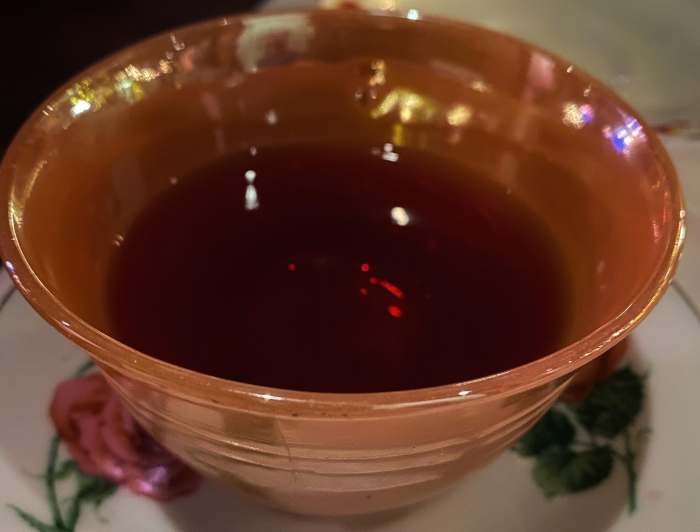 This cocktail is the "creme de la creme" of cocktails. It makes a stunning display and has a great taste with a smoky finish. As the evening progresses, the actors on stage are also stepping up their game singing, joking and, overall, having a lot of fun. Of course, it helps that you're on your fourth drink so your inhibitions are nearly all gone, awareness of Covid-19 restrictions has faded and everyone is feeling jolly and having a good time.  
The cast
Full disclosure. I have never heard of any of the actors who performed on the stage. In fact, two of them were making the rounds before the show and getting the guests familiarized with the concept of the show, offering hats, explaining how drinks work and doing small talk. So, originally, I thought they were just part of the staff.
When the show started, one thing was clear to me: the casting is outstanding. The chemistry, the lines, the tones, the acting and everything in between is simply stunning.
After the show I learned that Ricky Harris, the only gentleman in the show – and in my humble opinion the star of it – was debuting on stage. The regular cast included a different actor in that role for all nights except for the one we attended. In that performance, none of his actions even remotely suggested that this was his first time performing with the other actors.
His sense of presence, deep voice, snazzy looks and song delivery were amazing from start to finish. 
I also really enjoyed Robin Minkens performance as an excellent side-kick. Her voice, attitude and overall acting was worth every penny. She and Ricky probably accounted for 90% of all the laughs for the night.
Finally, August Foreman, the Mad Hatter, also put forth a good performance. But the combination of her tone, fast-paced talking and the slightly exaggerated enunciations of her lines, with few verbal cue variations, made her not as thrilling as the rest of the cast.
All together, the three of them put together a hell of a show.
A few peeves 
Three aspects of the show could be different. In chronological order they are:
Covid-19 references: I know this show is supposed to be timely and relevant to the world in which we live but, newsflash – anyone who comes to this show, especially during these trying times, wants to forget about Covid-19, not to be constantly reminded of it. The Covid-19 references got old pretty quickly and got annoying over time.
Lack of a menu: It was rather shocking to me that you couldn't order any additional food. Since this is basically a drinking marathon, the logistics of not being able to order any additional food seems poorly planned. I'm not suggesting that they put forward a Rebouchon-like menu. But really anything (e.g pizza) would have been really welcomed.
Get the fudge out: The show ends beautifully with a live rendition of Cyndy Lauper's song Time After Time. It's a great way to end the night. However, it's not so great that the Mad Hatter basically tells the audience right after the song to GTFO. It seems forced, abrupt and pointedly insensitive to the fact that the end comes quite soon after the third drink, a time when most members of the audience would not have even finished the third cocktail. It's mostly a lack of tact that the organizers should address. This quick and expeditious – pack up your stuff and go already  – is not how the show should end. 
The Verdict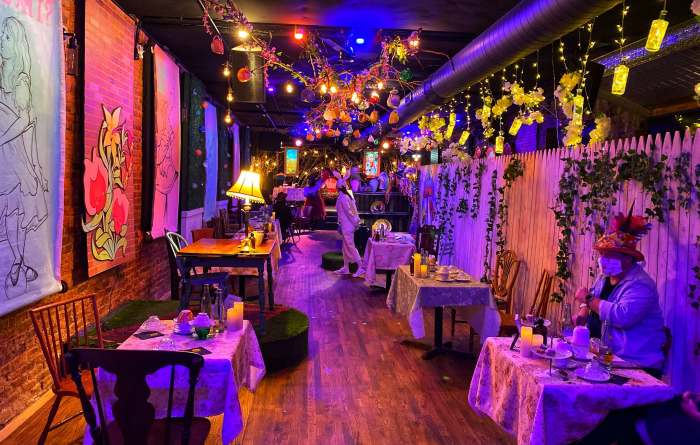 Mad Hatter's Tea Party Show in Chicago is a charming, visually appealing and unpretentious show. It's a great escape from the reality of everyday life, packed with great performances and, for many of us, accompanied by our best companion over the last ten months: good quality booze. It's quaint, it's sassy and it's fun. You should definitely go check it out before it's gone.
Looking for other things to do in Chicago this December? Check out: Tzuco (French-Mexican Infusion): A Vegas-Like Restaurant Experience in Chicago