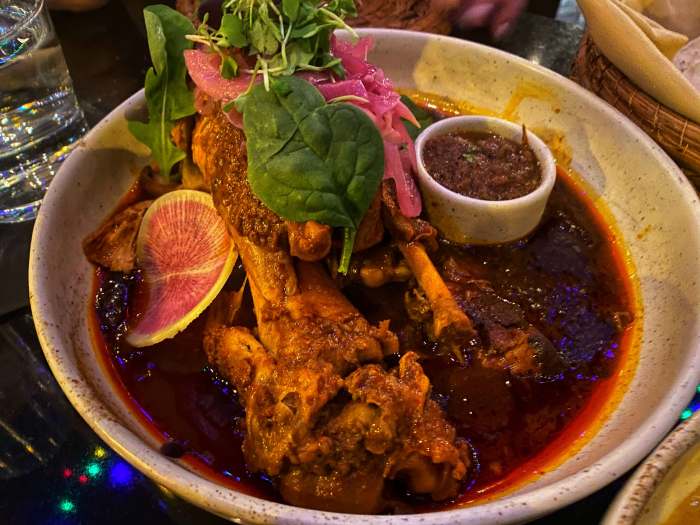 Address: 720 N State St, Chicago, IL 60654
Get home delivery via Grubhub
Book a table on Resy 
Price: $$$
Michelin-Starred Chef Carlos Gaytán's Tzuco restaurant redefines Mexican cuisine, with great ambiance, and amazing food that plays joyful tricks on your taste buds.  
We all know the story. 
A formerly undocumented immigrant from Mexico, Carlos Gaytán has become a household name chef across the country, previously featured on Top Chef and on the Lives With Flavor documentary. 
From 2013 to 2018, hundreds of thousands of people enjoyed the amazing cuisine of Chef Gaytán in the West Loop at Mexique, a restaurant that received its first Michelin Star right after it opened. But following a contentious divorce, the restaurant, owned by the chef's ex-wife, closed permanently. Needless to say, Chicagoans were left in shock when the news broke.
Last year marked Chef Gaytán's official return to Chicago with Tzuco, a new restaurant with a more ambitious menu and stunning decor, this time in Gold Coast instead of the West Loop.
Tzuco (pronounced ZOO-coh) is everything you'd expect from Chef Gaytán – and much more. 
Some of the dishes are out of this world. One dessert item hits the spot. And  the Tamarin's tale smooth cocktail should be down-right illegal, because there's no way you can stop after just one. 
Tzuco is one of the few lucky Chicago restaurants able to adapt to the restrictions posed by the ongoing pandemic. The covered patio and the numerous heaters placed strategically in close proximity to every outdoor table makes it so you can enjoy this amazing restaurant despite the rough winter ahead.
In a hurry? Check out our 57 second video review below:
What to drink @ Tzuco: Booze Selection
Let's talk about the drinks menu. And let's settle one thing off the bat. The drinks menu, albeit comprehensive, is not Tzuco's strength. Nor did we expect it!
Yes, the Tamarin's tale is a very tasty, perfectly balanced, smooth whiskey cocktail that even non-whiskey drinkers could enjoy. That said, many other drinks fall flat. Mexique, for example, was a disappointing find, edging towards being too bitter and a bit too spicy without getting a pleasant kick out of it. The El Grito, on other other hand, is an explosion of contradictory tastes, with each favor somehow canceling each other in a rather disappointing way. 
Even some of the authentic beer selections (Casa Humilde Tempestad Imperial Stout or Baja Blonde IPA) are rather subpar beers which are no match for the long – and proud – list of beers Chicagoans are used to due the plethora of microbreweries around Chicago. 
If you want to go the safe route, we suggest Tzuco's extensive list of wines and pure spirits. 
What to eat @ Tzuco: Appetizers  
Tzuco features an extensive list of appetizers, all meant to be shareable. In fact, some people may be surprised to find  more appetizers than entrees on the menu.
Let's start with the finest appetizers. 
These are the ones we tried out, and we're still obsessing over, days after we visited the restaurant.
Pulpo Enamorado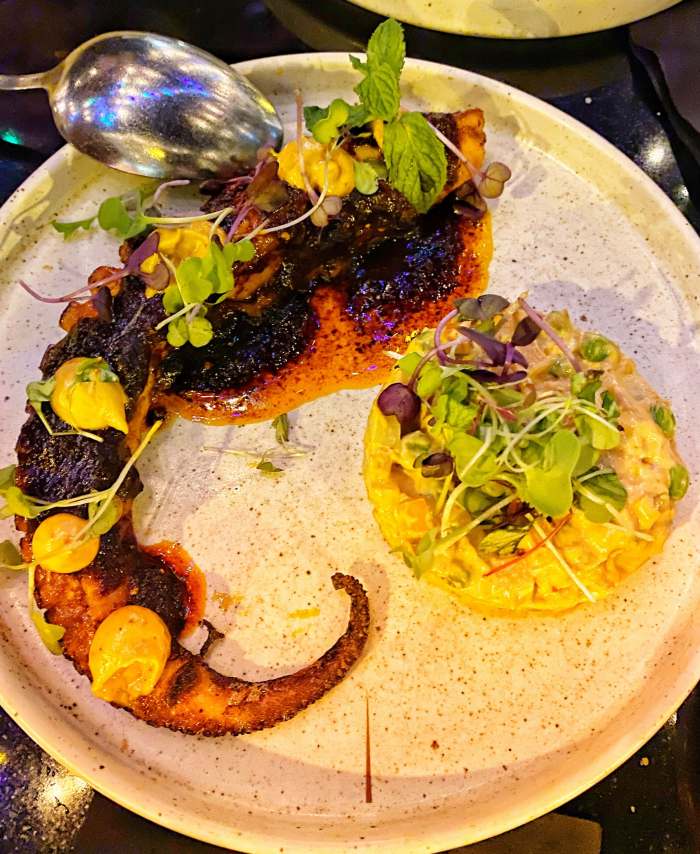 Pulpo Enamorado (Octopus in Love) is the one dish that you must absolutely try out. Even if you don't like seafood or octopus. Many restaurants around Chicago (you guys know who you are) have absolutely no clue how to cook an octopus. 
Carlos Gaytán doesn't only know how to cook an octopus.
He knows how to turn an octopus into an art form. Octopus in Love is a traditional dish from Acapulco, where the chef grew up, boiled for 45 minutes then roasted in a wood-burning oven for 5 minutes. It is crispy on the outside, soft and tender on the inside. He serves it with pico vegetables and a delightful tonnato aioli. 
And this dish doesn't only taste amazing – it also looks absolutely stunning. The colors are vibrant and beautiful. From the presentation to the taste – everything is simply divine.  
Mejillones
Another perfect dish on the Tzuco menu is the mussels appetizers, cooked with dried chorizo, pickled jalapenos and a super creamy dipping saffron beurre blanc sauce. Served with a generous baguette on the side, this dish, once again, hits every spot and entertains every taste bud in your mouth.
Pommes Frites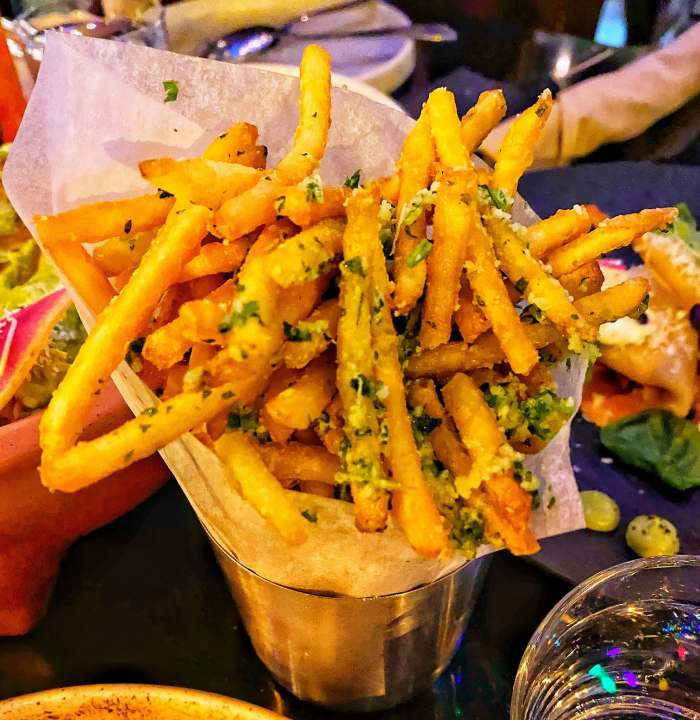 Carlos Gaytán's take on french fries can be served either as an appetizer (which we recommend) or as a side dish for your entree.
And let me tell you – these fries are perfect! Crispy fries (but not too crispy!) drizzled with a generous portion of parmesan cheese and finished off with just about the best freaking garlic butter in the world, the pommes frites are perfectly balanced. 
I honestly cannot imagine better fries.
Other appetizers
We've also tried other appetizers. 
But they were just A-OK, or downright unimpressive. 
For example, there's nothing really special about the Tuna Ceviche (picture below).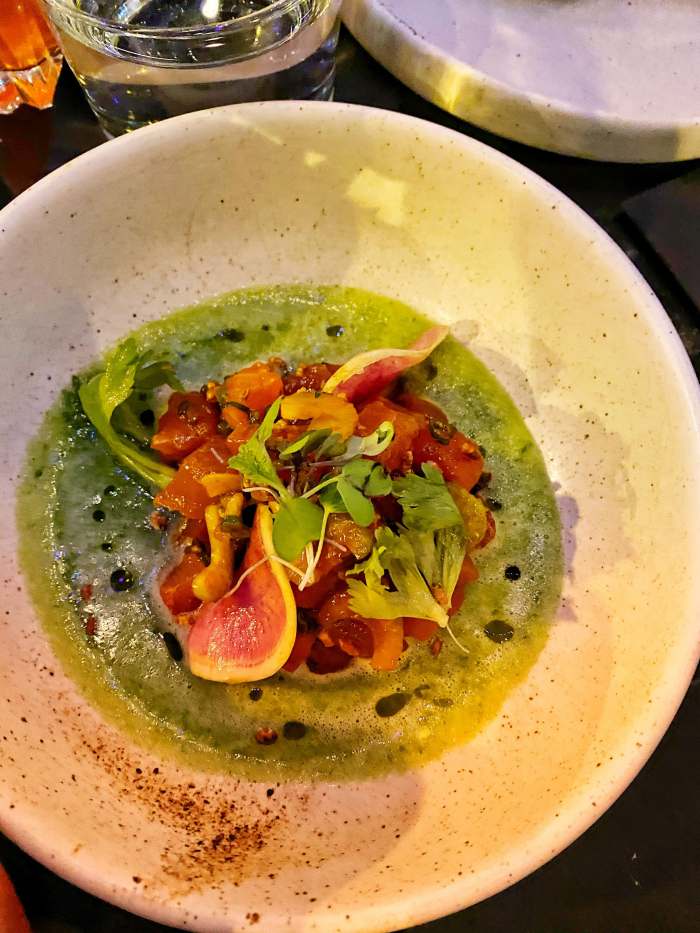 The guacamole seen below are fairly good, but there's nothing so tasty about them to be worth the $15 price tag. And that's despite the fact that that dish itself looks delicious and it's topped with dried, aged Huitzuco cheese.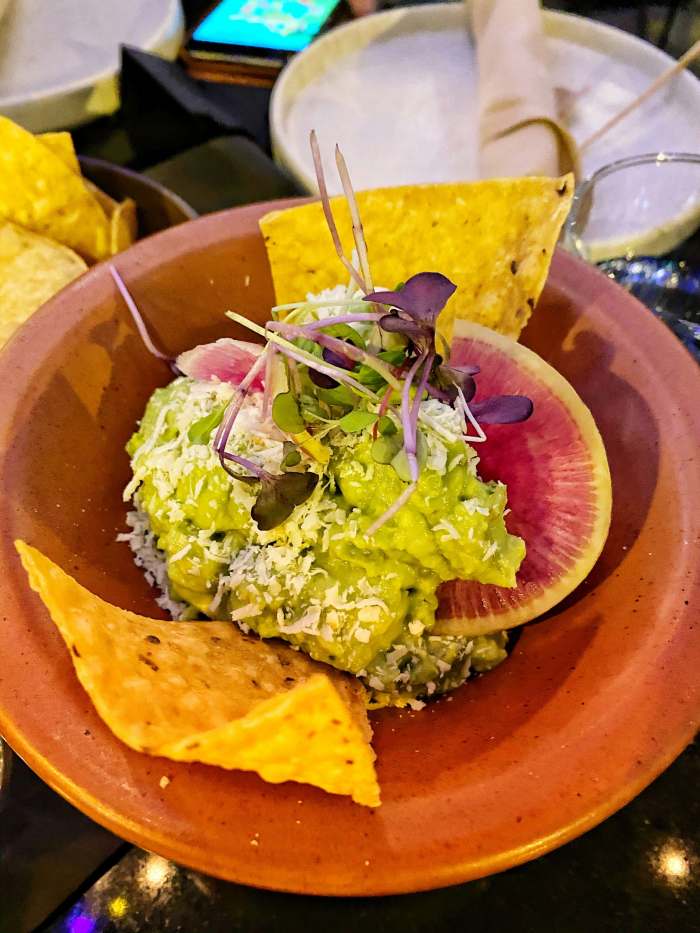 And Tetela, which is basically a fried corn dumpling stuffed with chicken tinga has an exceptional visual appeal to it, but the taste is average at best.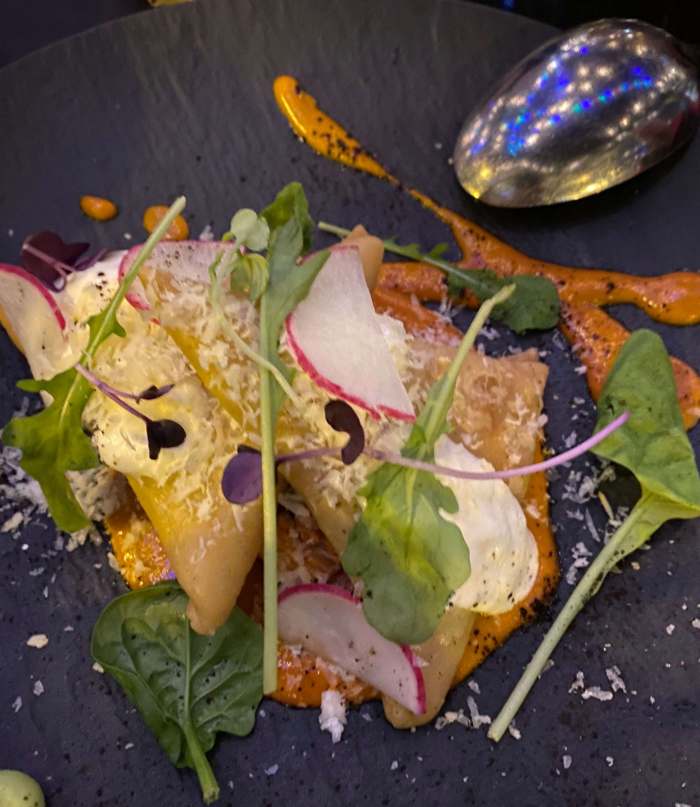 All in all, the guacamole, tetela and tuna ceviche – we're glad we tried them but we wouldn't order them again next time I come here (and trust me, there WILL be a next time).
What to eat @ Tzuco: Entrees  
Having tried out a LOT of the appetizers, and getting quite excited about the desert options, we ended up ordering only one entree for the table. And we clearly ordered the best one, in my opinion.
We went for the Cochinita Pibil, the chef's famous pork shank, and I can testify to the fact that we were not disappointed in the slightest. This also happens to be the most popular entree on the menu, our server told us. 
This amazing slow-roasted pork is supposed to be made exactly based on his mother's recipe. The pork shank is cooked to perfection. 
The meat comes right off the bone, and you get to make your own mini-tacos since the dish is served with a side of homemade tortillas (which, strangely, were not enough for the amount of pork served). 
Quick tip: if you order the pommes frites, add a few fries on top of the taco before taking a bite. Just beautiful! Also, kudos to the chef for adding the habanero pickled onions – we weren't expecting it, but it was highly appreciated.
What to eat @ Tzuco: Desserts  
Tzuco has quite a variety of dessert options – and we tried almost all of them. Bottomline on top: We were not impressed.
At least not with the taste. 
All the desserts were designed to make a visual impression.
The first item on the dessert menu is the Guanabana/ Aguacate. For the life of me, I have no clue why this is the first on the list. It was by far the most underwhelming of them all.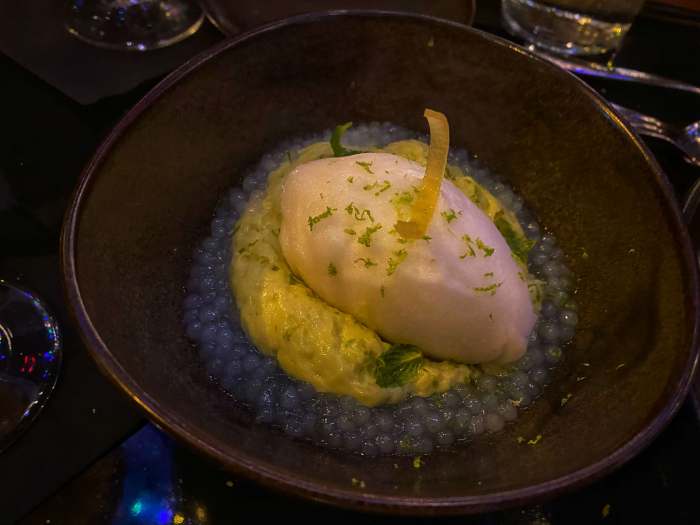 The Snowman looks great, visually. It definitely made other patrons' eyes turn around as it was brought to the table. But the mousse inside the white chocolate shell is a bit too textured and hard for a mousse cake.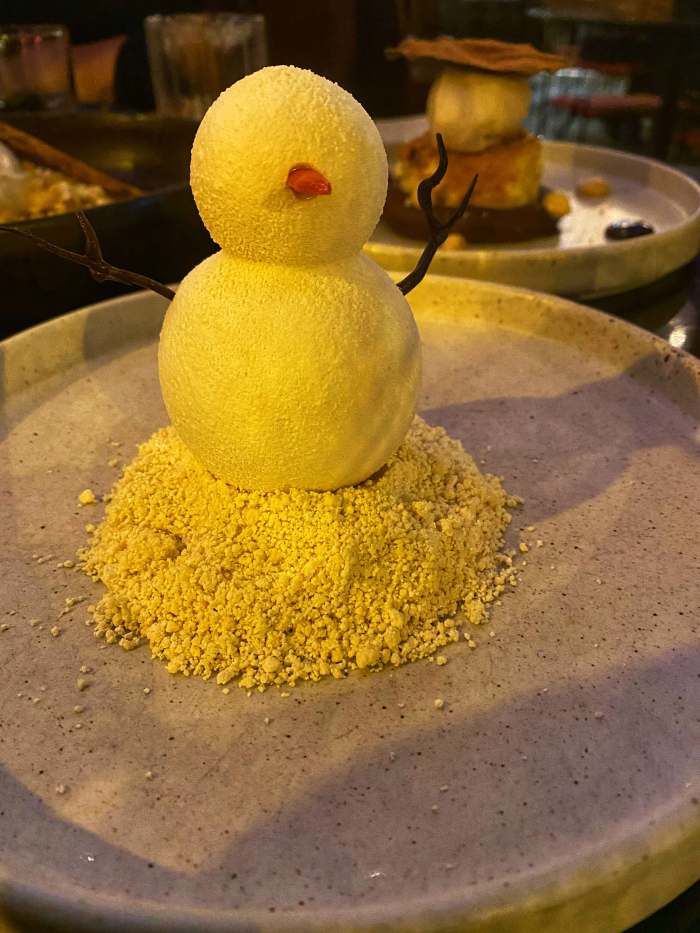 Arroz con leche was by far my favorite dessert item. Great pudding, very good ice cream and tasty white chocolate.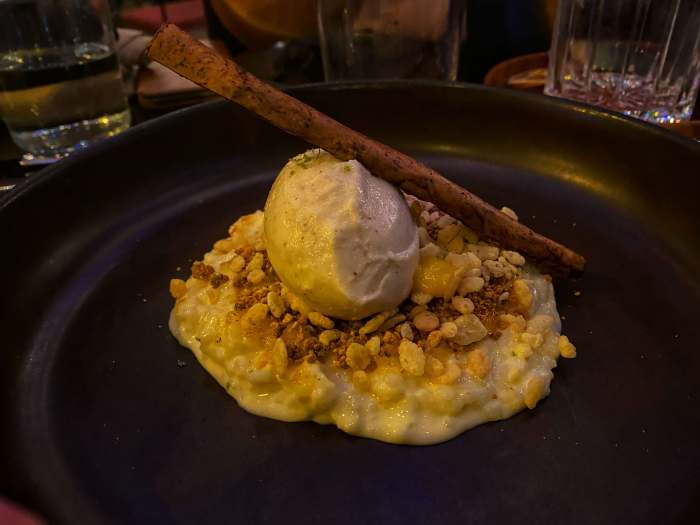 Finally, the gianduja, a sponge cake served inside of chocolate salted caramel leaves was a very nice final touch.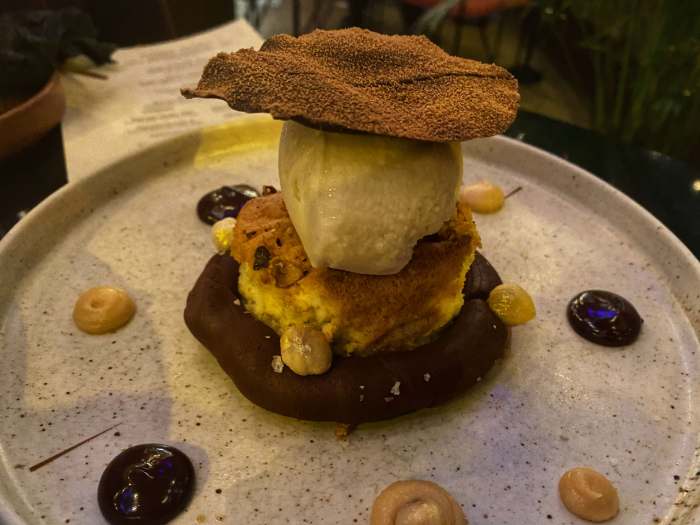 The verdict
Tzuco is one of my new favorite restaurants in Chicago. With a robust menu, great location, fantastic decor and decent drinks (at least the a-la-carte ones!), this restaurant should be on every Chicagoan's radar. One can only hope this new concept and experience from Chef Carlos Gaytán will be as popular as his previous Chicago joint. Or maybe even more so!
One last note – the price tag for all the dishes mentioned above was ~$310 before tip for 4 people.  
Looking for other things to do in Chicago this December? Check out: From Wonderland to Wonderfun: Mad Hatter's (Gin &) Tea Party Chicago Show Review