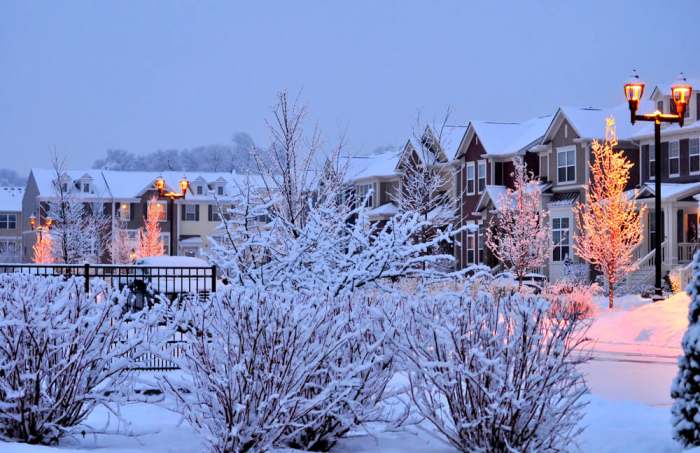 Who would have thought that COVID-19 would have a positive impact on real estate in the Windy City? In the past year, that has been the case for suburban Chicago as young professionals and families have left the city looking for more space to spend their time during the lockdown. When you think about it, you know, how cramped it can be in an urban setting where physical distancing is sometimes the real challenge, it makes logical sense to escape to the outskirts of the city where there is a lot more elbow room.
Let's Crunch A Few Numbers, Shall We?
Here's the deal. According to Chicago Business, home sales in the suburbs jumped 40-percent, and city sales dived dropping almost 7-percent in 2020. As impressive as part of that may sound, the 2020 total home sales number was 1,204 units. That's the lowest it's been since 2016 with city sales eating up 41-percent of the annual total and that is also down from 51-percent the previous year. Where the jump in suburban sales made an impact was in the overall market. You could say people moving to the outskirts saved the Chicago real estate market and we're not taking low-end properties, either. Stats from 2020 show that 2,922 homes sold for $1-million or more in Chicago and seven neighboring counties. That set an all-time annual record.
Dips in sales in several other neighborhoods over 2020 are still worth noting due to the kind of activity they hosted. For example, Lincoln Park, North Michigan Avenue, and Old Town all experienced decreases in sales. However, each of these areas did see sales of dozens of more homes valued at no less than $1-million compared to any of the top-selling parts of Chicago. Lincoln Park saw a total of 288 sales over the year making it the top-selling neighborhood and Winnetka became the top-selling suburb with 178 sales. Both of these figures are for $1-million or more homes only.
Where Are The Hot Neighbourhoods?
That is a fair question. Lake Forest saw the most action with sales in that lakeside community jumping by 69-percent in 2020 which included the sale of 149 luxury homes. Glenview cracked the top five with sales soaring 34-percent over the previous year with 110 sales and many of those were luxury homes. Wilmette and Hinsdale also sit near the top of that list of hot neighborhoods in 2020. The exodus to the suburbs has been credited to young families who were seeking upgrades. Industry leaders indicate that this is a common trend for this specific demographic which was probably supported by COVID restrictions that closed offices and urban amenities which created work-from-home opportunities.
Real estate broker John Lawrence pointed to the suburb of Riverside as having a banner year in sales. But he says that seems to be the case across the board. "The nice thing is that there are good things in all of our markets and that there's a different headline for each, but good news for all of them." Riverside saw 158 single-family home sales close in the first ten months of 2020 which is up from 103 in the same period a year before. Attached housing sales in Riverside increased almost 100-percent jumping from 11 units in the first ten months of 2019 to 21 units over the same period last year.
A Perfect Storm
Realtor Rory Dominick lives in and sells real estate in Riverside. In December 2020 she pointed out that sales during the year had been "unlike any other year since I started selling homes in 2005" and stated that it was far from unusual in 2020 to see homes garner three, four, and even five different offers. "I've heard of interested buyers knocking on doors to inquire about homes that are not even for sale" and says the unusual selling activity can be attributed to "an incredible increase in the activity of buyers coming from the city." Realtor Jeff Baker says sales in Riverside during the summer of 2020 was the busiest he has seen since he started working there in 2004. "You could put a house on the market on Friday and have thirty showings over the weekend." In the words of Dominick, 2020 was "the perfect storm of high demand, low inventory."
What Are The Young Buyers Looking For?
The simple answer to that question is that many of the young buyers moving to the suburbs were seeking to buy their first home. That meant any inventory priced between $400,000 and $600,000 moved extremely fast. Others moved to the outskirts because COVID-19 caused them to bump up their home buying timeline. With shutdowns impacting everything from work and play, many young city dwellers decided to make the move to suburbs where they could find green space to enjoy and relocate near schools planning for when their children reach school age. "We're seeing clients with young babies looking now," said one realtor in December 2020. "We didn't see that in past years." Plus, many buyers who were not quite ready to leave the city have found certain suburban neighborhoods that are still close to the city but offer a charm and personality that has acted as an attractant.
The Movement To The Suburbs Will Impact Prices
Real Estate agent Marina Carney states that an influx of buyers in the suburbs in 2020 "will drive prices up while leaving fewer options." While that may sound like bad news to some, for sellers in the neighborhoods surrounding Chicago, this is good news. That's because it means that with fewer homes on the market, it will push prices higher across all of Chicagoland. In a way, it becomes a win-win.
Summary
The Chicago area continues to be a busy business and cultural hot spot, even with the restrictions that have caused shutdowns and reductions of service due to COVID-19. Regardless, the Windy City, and the surrounding suburbs, offer many things to attract people seeking their escape from bigger cities to something a little tamer in comparison.