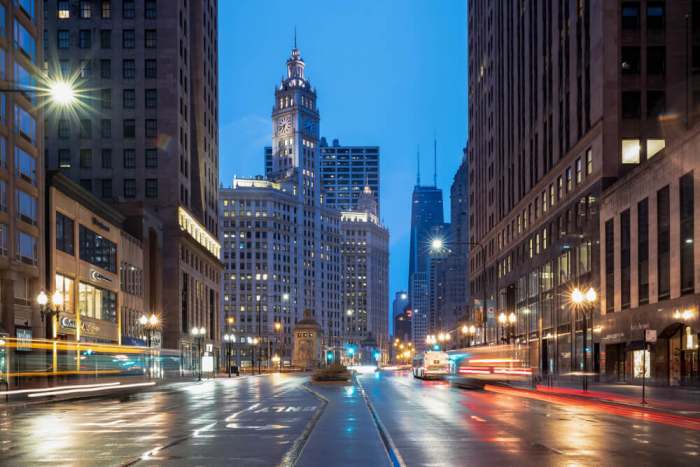 Looking for a local hot spot when you are in downtown Chicago? Well, you can't spend any time in the Windy City without at least visiting Michigan Avenue. There is a lot to see and do in this stretch of pavement and activity that is best known as the Magnificent Mile. Here's a look at why you should visit this portion of the city this winter.
Locals' tip: visit Michigan Avenue right now since it's almost empty (no tourists). You've never been able to enjoy a stroll on Michigan Ave as quietly and peacefully as right now. Check out the video below to see what we mean.
A Bit Of History
Michigan Avenue has a long, interesting history. The oldest part of the street is the section that borders Grant Park near the Chicago Loop portion of the city. The name Michigan Avenue came from Lake Michigan which was for many years just east of the street. That was until 1871 when the Great Chicago Fire destroyed much of the area and sections were eventually rebuilt. Before the fire, Michigan Avenue ran north to the Chicago River and south to the city limits. It was originally part of a residential area but by the 1860s, Michigan Avenue started filling up with large homes and expensive row houses.
The North and South Michigan Avenues were joined as one following the opening of the Michigan Avenue bridge in 1920 and six years later, Michigan Avenue was realigned to run between the water tower and pumping station. The change was made to address problems with automobile traffic in that area. The nickname of the Magnificent Mile was tagged onto Michigan Avenue in the 1940s by a local real estate developer. Today, this stretch of Michigan Avenue contains everything from office buildings and high rises to restaurants, high-end retailers, upscale department stores, and hotels.
What You Will Find Along Michigan Avenue
It isn't called 'magnificent' because it's boring and dull, that's for sure. In many ways, the Magnificent Mile is an iconic piece of Chicago that one must see to truly appreciate. It has a reputation that makes Michigan Avenue as significant to the Windy City as Rodeo Drive is in Beverly Hills and 5th Avenue in New York City. If you are looking for something to help you while away a day and evening in the city, then the Magnificent Mile is your best destination.
Culture
If museums and art are your fuel, then you will be able to get far more than your fill in and around the Mag Mile. You can tour such well-known sites as the Art Institute of Chicago, Loyola University Museum of Art, the Museum of Contemporary Art Chicago, Hildt Galleries (located inside the Drake Hotel), the Richard Gray Gallery (located at the John Hancock Tower), and Mongerson Gallery to name a few.
Food & Drink on Michigan Avenue
You can't say you have visited Michigan Avenue without stopping along the way for a bite to eat or something to sip. Your choices are many and include everything from soup and sandwich spots to fine dining experiences. For example, there's the Beacon Tavern, the Eno Wine Room (inside the Intercontinental Chicago Hotel), Frankie's 5th Floor Italian Restaurant and Pizzeria, The Grill on the Alley (inside the Westin Michigan Avenue Chicago), The Purple Pig, Shanghai Terrace (inside the Peninsula Chicago), the world's largest Starbucks  – the Starbucks Reserve Roastery – and M Burger Water Tower.
Historic Points of Interest on Magnificent Mile
Nothing puts perspective into the visit to a place filled with history than visiting sites that bring those stories to life. Along the Mag Mile, there are several historic points of interest to stop and see. They include Fort Dearborn, the Michigan Avenue Bridge, Tribune Tower, Chicago Water Tower, the Wrigley Building, and McCormick Bridgehouse & Chicago River Museum.
There are plenty of things to see and do along the Mag Mile if you are visiting with children or family members of all ages. They include such fun stops as the Disney Store, Chicago River Tours, American Girl Place, Chicago Sports Museum, Noble Horse Chicago Carriage Rides, and Hershey's Chocolate World.
As you can probably guess, you are not going to truly get the complete experience of all that Michigan Avenue has to offer in a short visit. You may end up having to spend a night or two and that's okay. There are many places you can bed down for the night with choices that should accommodate any budget. You can choose from the Four Seasons Chicago, Conrad Chicago, Westin Michigan Avenue, the Ritz-Carlton Chicago, the Omni Chicago Hotel, Four Seasons Chicago, and the Chicago Marriott Downtown Magnificent Mile to name a few.
Gourmet Shops & Upscale Shopping
We've mentioned food already, but if you have a craving for something more along the lines of a fast, gourmet snack, you have several choices including Dylan's Candy Bar, Ghirardelli Ice Cream and Chocolate Shop, Wow Bao, and Garrett Popcorn Shops.
Did we mention shopping yet? We did mention Rodeo Drive and 5th Avenue so if you are seeking some new threads, you can't go wrong with the classy options available to you along Michigan Avenue. Expect to see the big names here including Tiffany & Co., Saks Fifth Avenue, Neiman Marcus, Louis Vuitton, Gucci, Coach, Chanel, Brooks Brothers, and many more.
Upcoming Events
Looking for something special to experience while visiting the Mag Mile that doesn't involve shopping or eating? Here are a few upcoming special events.
January 12 to 24
The Journey
This is an immersive theatrical event featuring illusionist Scott Silven.
Runs to January 17
MCA Presents: The Long Dream
This major exhibition has been showing since November at the Museum of Contemporary Art.
Runs to January 18
Monet and Chicago
The Art Institute of Chicago has been featuring this exhibition since September and features artworks of Chicago by the impressionist artist Monet.
Runs to January 31
21c Museum Hotel Tours
The title says it all. Since October, scheduled tours have been offered.
Summary
Don't let the pandemic get you down. Instead of worrying about having to cancel your annual winter vacation, why not become a tourist in your own town this January? All you need to do is head down to the Magnificent Mile and check it out. You won't be disappointed and you'll have spots to take visitors to once COVID restrictions open up.