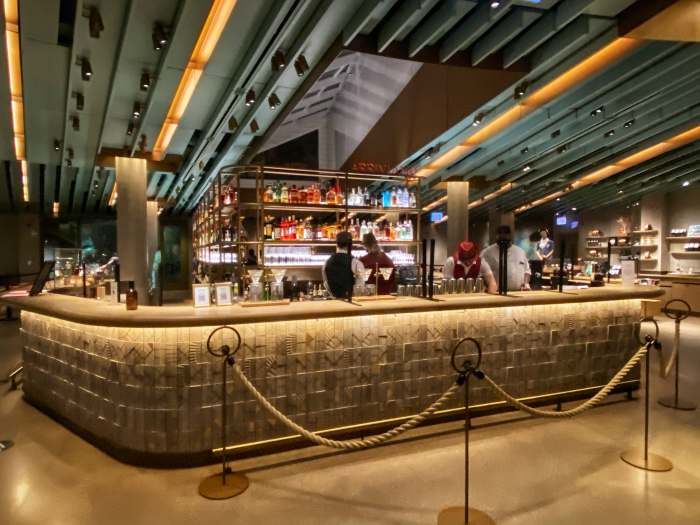 When you hear the name Starbucks, what comes to mind? You probably think about the quality of a steaming hot paper cup of Joe with a muffin and the occasional mix CD. What may not immediately enter your mind is that in Chicago, Starbucks has become a major tourist attraction. Think about that for a moment. The Windy City is filled with venues that attract visitors from around the globe. What would make Starbucks such a magnet if you can typically find one of their over 31,000 locations in one of 79 countries in the world? Well, the store in Chicago, which opened in November 2019 is the biggest Starbucks location to date. It has over 200 employees. It is called the Starbucks Reserve Roastery Chicago. Here is a look at this amazing Chicago attraction:
What Makes The Michigan Avenue Starbucks So Special
Let's do the math. This location is five stories high. It has a total of 38,000 square feet of space and offers views overlooking the Magnificent Mile. Plus, as the location of a massive Roastery, this Starbucks has a lot more to offer than just a pickup counter. Customers are encouraged to spend some time inside. They can do some exploring where they will encounter various food and drink offerings as well as a fair deal of merchandise that is Chicago-themed. That alone should tell you that this Starbucks is not just for the locals. A report produced by Placer.ai, a company that tracks foot traffic in the retail sector, indicated that close to 50-percent of the customers to the Starbucks Roastery had traveled over 30 miles to get to the huge coffee shop with more. In the words of Placer.ai writer Jocelyn Bauer, "This immersive experience is already showing indications it could provide a draw for out-of-towners looking for a new and engaging coffee experience."
Location, Location, Location
If you are not familiar with Chicago, the Magnificent Mile – often referred to as the Mag Mile for short – is an upscale portion of Michigan Avenue. Located in Chicago's Near North Side, the Mag Mile runs roughly from the Chicago River to Oak Street and is located adjacent to the downtown core of the city. The nickname for the area came about in the 1940s from real estate developer Arthur Rubloff of the Rubloff Company. It is home to the largest shopping district in Chicago and contains several well-known landmarks, restaurants, and tall buildings.
Then There's The Architecture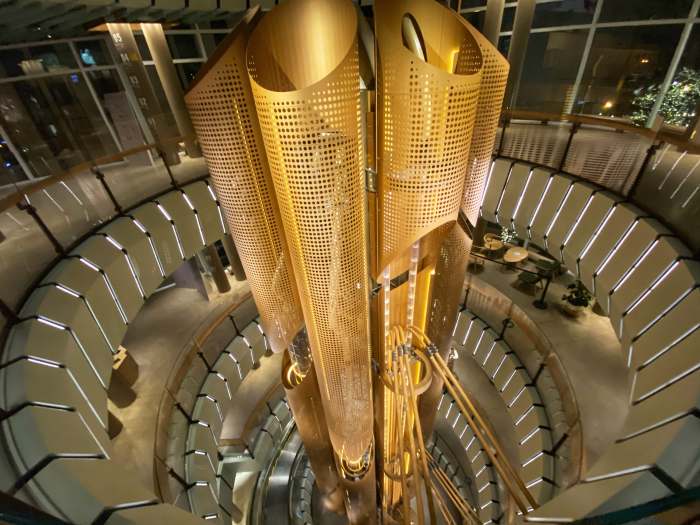 It was in September 2018 when general contractor Pepper Construction started to turn a Crate and Barrel store into a customer experience. The company had a year to complete the task which required a curved escalator – the first in the region – a complex wood ceiling inspired by rays of the sun and a 56-foot tall bronze-colored steel and aluminum coffee cask. But that was not all. The contractor also had to create a system using bronze pipes that would permit the transportation of freshly roasted coffee beans to multiple coffee bars located throughout the five-floor structure. This was made possible with the assistance of MEP engineer Ove Arup Chicago USA who designed a system where all of the mechanical, heating, and cooling elements used to support the process were cleverly hidden in walls and ceilings.
The Escalator And Ceiling Required Extra Considerations
The fabrication of the curved escalator took 18 months and required an additional month to ship to Chicago and an extra six months to assemble on site. According to Pepper project executive, Brian Peter, the escalator was made by Mitsubishi in Japan. "We actually had a guy go visit their shop in Japan and see what was happening and learn about their fabrication process so that we could make sure we had all the tolerances that they required with the structure ready." The walls and floors of the building had to be modified to support the escalator with an installation tolerance at 1/64th of an inch. Pepper's construction team plotted several hundred points on the ground with Mitsubishi to assist with guiding the escalator into place. As for the wooden ceiling, each piece had to be placed in a specific order and was completed by hand. It required the use of a laser positioning system and six months of pre-planning.
What You Will See When You Visit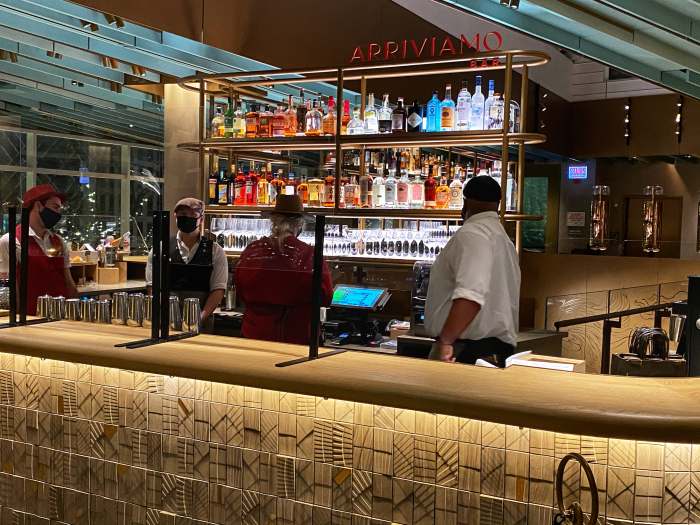 First things first. Expect a bit of a wait before you can enter. Because the Roastery is such a popular destination, you may find yourself in line outside the main entrance for up to an hour. You may end up in a line that will extend about half a block and you may also get lucky and discover no line and spend just a few minutes waiting to enter. The important thing to keep in mind is that once inside, the wait will be worth it. When you do get inside, don't be too surprised to find a few lines inside as well. However, the impressive operation will amaze you. From the curved escalator to the 56-foot tall cask that has eight copper tubes running from it to send beans to other locations within the building to the huge windows, a lot is going on. There's a retail area that will be abuzz with activity, wall art to gaze at, mingling people to navigate around, a clacker board, the smell of roasting coffee, and the excitement of visiting a unique structure that has been often described as a sensory overload. And there's food. Expect everything from cheese and charcuterie plates and gourmet sandwiches to pizza, snacks, and lattes plus everything in-between. The fourth floor features the Arrivimo Cocktail Bar where you can sip on espresso martinis, Roastery Boilermakers, and other favorites that will enhance the Chicago bar scene.
Summary
Starbucks has a huge presence wherever they are located. In Chicago, there are many locations – seven alone on the Magnificent Mile. So when the company opened its largest operation yet, it had to be spectacular. It had to feature things not available at any other Starbucks location in the Solar System. They accomplished that with the Roastery. In addition to eye candy inside and out, the five-story location serves much more than just coffee. Designed to be something other than your corner coffee shop, the Starbucks Reserve Roastery Chicago is a destination. So much so that you must include a visit in your itinerary the next time you are in the neighborhood or find yourself in Chicago on a business or pleasure trip.