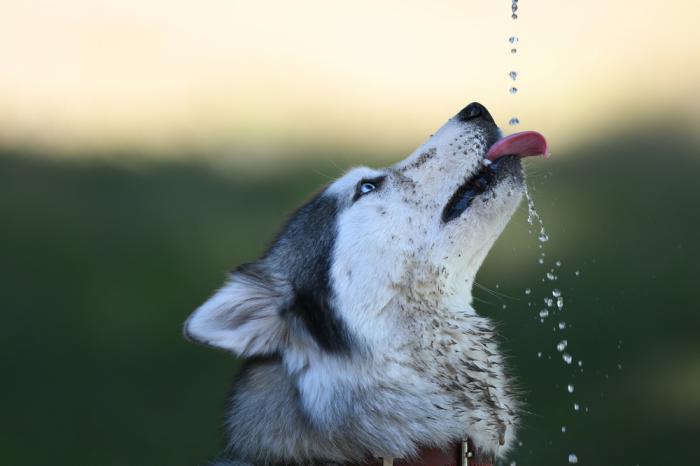 Staying properly hydrated is crucial for everyone, including our four-legged friends.
Veterinarians recommend that dogs should take between half an ounce and 2 ounces of water per 1lb of their body weight every day.
The best way to ensure your pooch is well-hydrated on your long walks, hiking, traveling or camping out in the outdoors is to invest in a quality dog water bottle.
Finding a portable dog water bottle that's lightweight, durable, and reliable will make your life and that of your furry friend super easy and hassle-free.
Not sure which water bottle is right for your dog? We've done the legwork, considered a variety of factors, and eventually rounded up the 20 best dog water bottles for 2021 and beyond.
Also, if you're looking for something for yourself, check out this guide to the best water bottles of the year.
Our Top Picks for the Best Dog Water Bottles Money Can Buy
Our team reviewed hundreds of dog water bottles to figure which are the crème de la crème.
To arrive at our decisions, we looked at a wide range of considerations, including material construction, ease of use, general quality, capacity, and consumer ratings. Let's get right on it, shall we?
1- Highwave AutoDogMug
Amazon
Best for one-handed use
The Highwave AutoDogMug is a leak-proof, BPA-free and food-safe plastic water bottle with a well-designed lid that conveniently functions as a drinking bowl. All you have to do to re-fill the bowl is to give the bottle a small squeeze. The same goes for draining the ball, ensuring no water goes to waste.
Stylish yet practical and compact, this dog water bottle is decidedly perfect for trips to the dog park, car trips, hikes, and long walks. Not only does it fit into most cup holders but the bottle also comes with a detachable Velcro strap, which means you can attach it to your belt, backpack, rucksack and more. It's available in six pet-friendly colors, including red, green, pink, blue, smoke, and purple.
Pros
Fits in most cup & bottle holders
Versatile lid that makes drinking easy for the dog
Non-toxic, BPA-free & compact design
Includes Velcro strap and belt clip
Cons
It's only available in 20-oz size
May need to constantly squeeze the bottle to keep water on the bowl
2- M&MKPET Dog Water Bottle
Amazon
Best for ease of use
M&MKPET Dog Water Bottle is essentially a handy water cup with a bowl head made from food-grade silicone. This innovative water bottle is BPA-free, lead-free, and FDA-cleared to boot. It's easy to dismantle, making maintenance and cleaning super easy and hassle-free.
Despite its unique shape and design, the M&MKPET bottle is fully leak-proof thanks to the silica gel seal ring that prevents any spurts. This compact gem is available in 12-oz and 18-oz version, making it ideal for hikes, walks, traveling, and other outdoor activities. The icing on the cake is that it comes complete with a convenient dispenser that you can just tilt to drain back the excess water for no-waste hydration.
Pros
It offers one-handed operation
Eco-friendly design with BPA-free & lead-free material
FDA approved, robust silicone design that's sturdy
Antibacterial for safer drinking
The lid can attach to larger bottles
Cons
It's difficult to completely press down the lock button
Not comparably durable
It may begin to leak after heavy use
3- TOPSOSO Water Dispenser for Dogs
Amazon
Best dog water bottle for value
The TOPSOSO Water Dispenser for Dogs is a simple, practical and yet impressively portable choice for a dog water bottle that's available in 20-oz and 10-oz sizes. This lead-free bottle folds out to open, and folds in to close, making operation smooth & easy. To fill the bowl, just flip the lid open and squeeze the bottle, allowing your dog to quench his thirst without any fuss.
The TOPSOSO water bottle boasts lots of other nifty bells & whistles, including a handy belt clip on the backside. It's compatible with standard water bottles, too. In addition to flip to open & flip to close operation, this pretty bottle is sold in one of four bright colors, namely pink, blue, green and yellow.
Pros
The TOPSOSO accepts standard water bottles for convenient refills
Flip-out, flip-in lid design makes hydration super easy
Comes with handy belt clip for easy travel and handling
Available in 4 stylish colors
Cons
The bottle is reportedly not very durable at the hinge points
Hard drops can cause the lid to break off
There's no mention of it being BPA-free
4- Anpetbest Dog Water Bottle
Amazon
Best for puppies
This beautiful dog water bottle by Anpetbest is uncannily similar in operation, design, and style as Gulpy Dispenser. Likewise, it boasts a BPA-free lid that doubles up as a drinking bowl for your four-legged friend. With a simple flip of the lid, it turns into a convenient cup ideal for cats, dogs, and other pets. Its 11-ounce design makes it perfect for travels, hikes and walks with small dog breeds.
Thanks to its lightweight construction, this leak-proof bottle is best for traveling. It's easy to maintain and clean, and don't forget that it features a handy fabric loop for lugging it around. The elegant bright blue lid design with bones and paw prints is attractive and fun, which means it will blend well with your outfit.
Pros
Features an easy-flip open design for
Lightweight, leak-proof, and comes with a fabric loop for easy transportation
Made from 100% non-toxic, BPA-free design
Beautiful and stylish design
It has a larger capacity of 22 ounces
Cons
It's no freestanding, meaning you'll have to hold it in place when your pet is drinking
Not as durable as its stainless steel counterparts
5- Kurgo Gourd 2 in 1 Dog Water Bottle
Amazon
The best 2-in-1 dog water bottle
Kurgo Gourd 2 is a truly sleek-looking water bottle ideal for both dogs and human use. It is compact and lightweight enough to toss into your tote bag, purse or backpack; making it perfect for travel. This versatile 24-ounce water bottle comes with an 8-ounce bottom bowl for your dog. Just detach it from the top, pour some water, and let your pup or Fido have his drink.
Dishwasher-safe, BPA-free, and PVC-free, Kurgo Gourd 2 is the ultimate water bottle ideal for dogs and outdoorsy people who love to travel, run, jog, hike or walk. It is available in three stylish colors, including grass green, coastal blue, and barn red.
Pros
It's a sturdy & safe water bottle that's BPA-free and PVC-free
Dishwasher safe for easy cleaning
Available in three sleek colors
Versatile, providing water for you and your four-legged friend
Cons
The handles are said to break easily
May not fit in most cup holders
The bowl is sometimes hard to undo
6-
Ethical Pet
Portable Water Bottle for Dog
Amazon
Best portable dog water bottle
The OllyBottle travel water bottle comes in 1-liter and 600ml sizes, both of which include lids that double up as drinking cups. Though it's a bit on the small side for large dog breeds, the trough-style drinking bowl makes it easy for the pet to lap water from the bottle.
The larger 1-liter version holds plenty of water, making it perfect for long hikes, walks, and traveling. With a familiar design, you may be able to share this bottle with your furry-friend. The patented design is stylish, and the bottle itself is dishwasher safe, easy to fill as well as clean. Above all, the bottle is crafted from Eastman Tristan plastic which is not only BPA-free but also sturdy.
Pros
Extra-long cup for easy drinking by all types of dogs
Easy to clean, fill, and maintain
Dishwasher safe
It's versatile and perhaps usable by both humans and pets
Cons
The bottle's screw cap is susceptible to cross-threading
Might drip some water once the dog is finished drinking
The Tristan plastic may be prone to cracking
7- Portable Pet Water Bottle by Lixit
Amazon
The best lightweight dog water bottle
The Lixit portable dog water bottle delivers just the right amount of hygienic and safe drinking water to your pet. This travel companion is made from lightweight, food-safe silicone, and comes with a reversible flip-to-open dispenser that enables your dog to quench his thirst in the most hygienic manner.
With a leaf-vein modern design, this allows the bottle to deliver safe drinking water in the most flexible and efficient way. It is lightweight and fitted with antibacterial properties, making it ideal for those long trips and travels with your pet friend. Its construction material is non-toxic, BPA-free, and phthalates-free, which is why it's one of the safest dog water bottles out there. It's simple to use, too.
Pros
Has a belt clip to attached to a carabiner
Made from safe, non-toxic materials
It's leak-proof and lightweight, making it easy to carry around'
Sturdy construction guarantees higher durability and stability
Leaf-vein design for easy water dispensing
Cons
Available only in a 20-ounce size
Not easy to disassemble
8- Water Rover Bowl and Bottle
Amazon
Similar in some way to an espresso port filter, this is another great choice that incorporates a drinking bowl into the bottle unit itself. Its operation is intuitive and mess-free – just undo the stopper and tilt the bottle to pour water into the dispenser. Any excess water can be tipped back into the water bottle, avoiding unnecessary wastage.
The design comes with a sturdy clip for hands-free operation. The mouth opening is large enough so you can fill the cup in no time. It's available in four quality sizes, which include small (offering 8-ounce capacity), medium (15 oz.), large (26 oz.), and extra-large (26 oz. with a 5.26' bowl). You can get in any of the nine assorted bowl colors, including light blue, dark blue, green, orange, purple, and pink
Pros
An excellent choice of sizes for all sorts of activities
Available in nine bright bowl colors
Comes with a belt clip for hands-free handling
Leak-proof even when the bottle is tipped
No-waste design
Cons
Can grow molds if not washed regularly & properly
Some quality control problems noticed on some units
It can leak if threads aren't done properly
9-
Guardian Handi Drink Portable Dog Water
Amazon
The best dog water bottle for pups
This inexpensive option is a combo of a well-designed water dispenser attached to a 20-oz bottle. Just flip down the drinking vessel when it's time for your pup to quench his thirst. The flip leaf is made from 100% food-grade silicone and creates a small bowl that you can squeeze water into, making dispensing a breeze.
The bottle stopper is also crafted from food-grade silicone and fitted with a tight-fitting seal to prevent accidental spills, leaks or spurts. Considering its size and design, this bottle is best for small to medium dogs, as well as cats and other smaller pets. It's compatible with most standard 30/38mm water bottles for easy refills. This lightweight, compact bottle is excellent for hiking; evening walks, or long trips. Good thing, it comes with a belt clip so you can attach it to your backpack or waistband.
Pros
Flip-down silicone vessel for hassle-free dispensing
Easy to clean and refill
Offer robust leak protection
Winner of Reddot Design Award
Cons
Some bottles have been reported to leak when closed
Slippery especially when wet
Not great for large dog breeds
10-
Yicostar

Dog Water Bottle
Amazon
Best dog water bottle (overall)
The H2O4K9 is undoubtedly one of the most sought-after dog water bottles right now and with good reason. The bottle comes with a lid that doubles up as a drinking cup. This snazzy bottle is crafted from food-grade stainless steel. It can hold up to 25 ounces of fluid, meaning the capacity is large enough to keep your pooch hydrated for hours.
There's also a 9-ounce version if you're looking for a bottle for a small dog or short activities. This lightweight pet-friendly bottle boasts leak-proof design, BPA-free lid construction, sturdy hinge points, and clip loops that work alongside a carabiner for long walks, hikes, and camping out. Plus, it can fit snugly into your car's cup holder.
Pros
It's recyclable, making it an eco-friendly choice
Available in a variety of colors – yellow, pink, red & green
Offers a large capacity
Has a versatile design with a lid that can act as a bowl
Cons
It may dent if it drops on a hard surface
Improper storage can lead to rusting
11- VIVAGLORY Dog Water Bottle
Amazon
Best dog water bottle for walking
This 20-ounce water bottle is large enough and best for traveling, hiking, and long walks with your dog. It can also be an excellent water bottle for your hamster, bunny, cat, or other pets, as well. The stand-out feature is that it's made from a non-toxic blend of BPA-free plastic and 100% food-grade silicone, which makes the bottle not only safe and durable but also eco-friendly and biodegradable.
Like most bottles of its kind, VIVAGLORY's equipped with a reversible leaf bowl for convenient hydration. The upper part of the bottle is detachable, easy to wash, and the tight neck accepts all 30/38mm standard water bottles. The tight seal makes sure the design is leak-proof, which means you can throw anywhere in your purse, bag or car.
Pros
Easy dispensing via reversible leaf bowl
Tight-fitting seal for leak-proof transportation
Safe and non-toxic construction with BPA-free plastic and food-grade silicone
It has highly compatible neck design
Easy to operate
Cons
It can be difficult to refill
Not exactly ideal for smaller dog breeds
Available only in 20-ounce capacity
12- Guardians the Original Pup Cup Kit
Amazon
Best dog water bottle for value
If you need a water bottle that holds a little more fluid than the Gourd 2 by Kurgo, then you might want to seriously think about this beauty from Guardians. This kit brings together a 32-oz Nalgene bottle and the original Guardians PupCup. This FDA-approved combo kit accepts other water bottles of the same diameter such as Hydro Flask.
BPA-free, latex-free, and toxic-free, this made in the USA bottle is a true gem that helps you and your loved pet stay hydrated for many hours on end. It's dishwasher-safe and super easy to disassemble for hassle-free maintenance. The simple yet compact design makes it effortless to fill and drain both the bottle and the pup cup.
Pros
It's dishwasher safe and easy to detach
Integrated with a large capacity Nalgene bottle for increased compatibility
Pouring and refilling water is effortless
It's latex-free, BPA-free, irritant-free, and made from FDA-approved material
Cons
Only compatible with water bottles sizes 32 ounces to 40 ounces
A bit slippery when wet
Removing the pup cup can be sometimes challenging
Choosing the Right Dog Water Bottle – What to Consider
Not all dog water bottles are cut from the same cloth. That's why you must keep the following factors in mind to pick that one that fit your lifestyle and meet your dog's hydration needs:
Material Make: Choosing a strong, durable material is important if you want a bottle that will withstand heavy use and give you more mileage for your top-dollar. BPA-free plastic and stainless steel are sturdy and present no health concerns for your pet, which is why they are the most common materials for a portable dog water bottle.
Stainless steel bottles look great, pose no health risk, and are dishwasher safe, not to mention long-lasting. Nonetheless, they can pick up the heat much faster, which is why they are not ideal for hot weather.
Plastic water bottles, on the other hand, are cheap and typically easy to clean, with the vast majority being dishwasher safe. Some dog owners may be a little hesitant because of the rising concerns over toxins in plastic bottles.
Size and Capacity: As we mentioned earlier, a healthy dog should drink at least 0.5 ounces of water for every pound of body weight. That means an average beagle (which weighs roughly 10lbs) should take at least 5 ounces of fluid every day.
What size is best for your dog comes down to the weight of your dog, the season, and other special preferences. For instance, you might want to pick a bottle that will fit into your car's cup holder for convenient travel.
Drinking Cup Feature: I know what you're thinking: how the heck will my dog drink from a water bottle? A good dog water bottle should come with a dispenser, flip-out cup, bowl, or a delivery system of some kind. This way, your pooch can happily lap up the water from the bottle.
Different bottle designs come with different sizes and shapes of the drinking cup feature. All the same, don't skimp on this feature; making sure the cup is the right match for your preference and dog's needs.
Water Filter vs. No Filter: If you are looking for a camping or travel-friendly dog water bottle, go for one with a built-in filter, which not only improves the taste of water but also helps increase its quality and safety.
Insulation Quality: When temperatures soar past 90 degrees Fahrenheit or deep well below zero during those chilly winter months, it's best to have a well-insulated water bottle for your pup.
Extra Features: There are a lot of features that can be added to a dog water bottle to offer a truly superior thirst-quenching experience for your pet, as well as make your job as the owner easy.
Some additional features to look out for may include carabiner clips so you can effortlessly attach the bottle to your backpack. Make sure it's leak-proof, freeze-proof, and easy to refill.
Parting Shot: Which Dog Water Bottle is Right for your Pet?
Taking into account several factors, especially convenience, durability, effectiveness, and capacity, the H2O4K9 is a class apart from the rest. And it helps that the dog water bottle can also help you quench your thirst on the go.
With its eco-friendly stainless steel construction and BPA-free lid design, the H2O4K9 is a water bottle that looks great, does good, and makes you feel amazing about your purchase. It's rugged, all without compromising on the aesthetics. If you don't want to share the bottle with your dog, you can always check out our review for the best water bottles for hiking.
If you are looking for something for your young pup, you won't go wrong with Tuff Pupper PupFlask Jr. It's fairly leak-proof, earth-friendly, and the dispenser works like a charm, particularly for smaller size dogs. It also scores big points when it comes to portability and price.
At the end of the day, consider a water bottle that's durable, easy to clean (preferably dishwasher safe), leak-proof, lightweight, easy to fill, and crack-resistant. It's all about getting as much mileage as possible from your purchase, all without bending on quality, safety, and value.
---
YOU MIGHT ALSO LIKE: