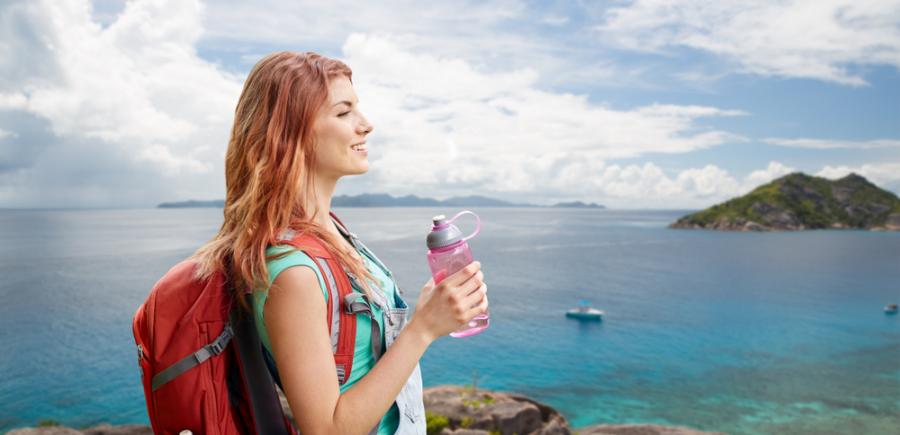 Hiking is the ultimate activity for the lovers of the great outdoors. It can help you get up close to nature, break some sweat, and stay fit. However, hiking can be quite taxing on your body, especially if you are doing it on hilly terrain. You will lose a considerable amount of body water through sweating, which is why you need to hydrate properly before, after and throughout your hike.
Whether you're a veteran hiker or a rookie, it pays to have the right water bottle for hiking before you hit your trail. That's why we've put together a review of the 8 best water bottles for hiking. 
Before we delve right in …
Choosing the Perfect Water Bottle for Hiking – What to Consider?
There are several attributes of the best water bottle for hiking, but here are the most important ones:
Medium-High Capacity – Any water bottle with a capacity lower than 18 fluid ounces (half a liter) is a big no-no for hiking. On the flipside, one with a capacity larger than 32 fluid ounces will bog you down during your hike. So, choose one with a capacity that falls between 18 and 32 fl. Oz.
Insulated – Insulation is an absolutely crucial feature if you want your fluids to remain cold or hot during your hike. This is especially important for summer and winter hikes.
Wide Mouth Opening – If you're planning to refill your water bottle for hiking frequently, be sure to choose one with a decent mouth opening. The same goes if you'll be carrying something like smoothies or chunky soup.
Lightweight is Great – It's a no-brainer that you don't want a water bottle that will strain your hands during hiking.
Durable – Collapsible water bottles are usually ideal for hiking, but are they durable? If this is an issue for you, a stainless steel water bottle should be your go-to.
8 Best Water Bottles for Hiking
(1) Kool8 
Best Water Bottle for Hiking in 2023
Chicago's own Kool8 company has everything going for it – it comes in a sleek, modern design that'll simply knock your boots off. Kool8 is double-wall insulated to keep your hot drinks hot and cold drinks chilled, making it a perfect hiking water bottle for both summer and winter hikes. We absolutely love that 20 percent of the profit from each Kool8 water bottle purchase goes to a good cause. What's even better is that the bottle is not only BPA-free but also fully eco-friendly and long-lasting to boot thanks to its stainless steel construction.
What to Love about Kool8?
Fully Vacuum-Insulated: It comes with incredible insulation to keep your drink cold or hot as you like it.

Love Tea? Kool8 is pre-fitted with tea infuser so you can enjoy your fave tea flavors on your hike.

Eco-Cool: Break a sweat and stay hydrated while saving the planet

Socially-Conscious: When you buy it, you'll make a difference in someone else's life.

Durable & Strong: Industrial-strength of stainless steel design means no more wear & tear, chemical corrosion or scratches. Kool8 will look sleek and like-new, seeing you through many hikes.

Great Color Choice: You can choose from green, red, grey, blue, pink (and more coming)
Downsides?
We can't seem to put a finger on any drawback that comes with buying Kool8. It's just that Holy Grail of the best water bottle for hiking.
(2) YETI Rambler (18 Fl.oz, www.yeti.com)
Amazon
Featuring 18/8 stainless steel construction, wide opening, and screw lid, Yeti Rambler is a durable water bottle that's designed for hiking. There's also a 32 fl.oz but quite heavy for some hikers.
What to Love about Yeti Rambler?
Durable

Fairly good insulation

The wide opening means hassle-free refills and cleaning
Downsides?
It's a slightly heavy water bottle – not for every hiker though it is still one of the best water bottles for hiking, in our humble opinion.
(3) CamelBak Crux Reservoir
Amazon
If you are looking for a bladder water bottle with a huge capacity, CamelBak Crux Reservoir is your best bet. It's available in either 70 or 100 fluid ounces. The water bottle itself is leak-proof, self-sealing and comes with anti-microbial tech for utmost sanitation.
What to Love about CamelBak Crux Reservoir?
Extra-large capacity

Large bite valve for easy sipping

Antimicrobial technology
Downsides?
No insulation

Might seem tacky if not handled well
(4) Klean Kanteen Classic 
Amazon
Hiking means sweaty hands or slippery gloves. With Klean Kanteen Classic, that's a thing of the past with anti-slip outside cover for great grip. Even better, it has double-wall vacuum insulation, which means it can keep drinks cold for up to 90 hours in hot weather, and keep beverages hot for up to 24 hours in cold conditions. It's also fairly affordable and comes with a screw cap complete with a handy loop for attachment. The wide opening is great for effortless refilling making it one of the best water bottles for hiking this year.
What to Love about Klean Kanteen Classic?
Large Capacity: 32 fluid ounces is plenty enough for at least an hour hiking

Easy handling: Has a carabiner and a loop for easy attachment

Great Insulation: Double-walled insulated for great results

Durable: Well-built and will last long
Downsides?
It has a fairly narrow opening which makes it hard to clean it

Not exactly a looker like Kool8
(5) Hydro Flask Wide Mouth 
Amazon
This water bottle has gained traction with hiking enthusiasts – and with good reason. Hydro Flask Wide Mouth has a large capacity yet functional and lightweight. It boasts TempShield technology eliminating condensation and the need for a heavy bottom cap. It can keep beverage cold and hot up to 24 hours and 12 hours respectively. Its price might be out of the range for some buyers, though even if it deserves its spot on our list of best water bottles for hiking. 
What to Love about Hydro Flask Wide Mouth?
Large capacity (32 ounces)

Industrial Strength – It's resistant to abrasion and durable construction

Easy to Handle thanks to its slip-free finish

Compatible with several different lids

Great insulation-to-weight ratio

No heavy bottom cap thanks to TempShield technology

Easy to clean and refill thanks to its wide mouth design
Downsides?
It's quite expensive
(6) CamelBak Chute
Amazon
Chute Vacuum is a water bottle that has become a darling of mountaineers, hikers, and backpackers alike. It comprises a sophisticated look, trendy design, great grip, and wide opening.
What to Love about CamelBak Chute?
Lightweight with sophisticated & functional cap

Trendy design

Anti-slip material on the outside

Easy cleaning
Downside?
Not particularly good insulation quality
(7) Nalgene Tritan
Amazon
Don't let the plastic construction deter you from buying this water bottle. It comes in three high capacity variants – 14,16 & 32 fl.oz). It's also BPA-free, safe to put in a dishwasher, and humongous mouth opening.
What to Love about Nalgene Tritan?
Eco-friendly

Can carry plenty of beverages for hiking

Dishwasher-safe and wide-mouth opening for easy cleaning
Downsides?
Lacks insulation – only for short hikes
(8) Contigo AutoSeal Fit Water Bottle

Amazon
Expect this vibrant-looking water bottle to keep your drinks hot and cold for up to 10 hours and 29 hours respectively.
What to Love about Avex FreeFlow AutoSeal?
AutoSeal Technology means no accidental spills

Robust design

Push-button operation

Commendable insulation
Downsides?
Due to its highly sophisticated construction/design, it is highly likely to malfunction
Interested in exploring more water bottles? Also check out our article on: 10 Best Water Bottles: EcoFriendly, Light & Modern
You Might Also Like: