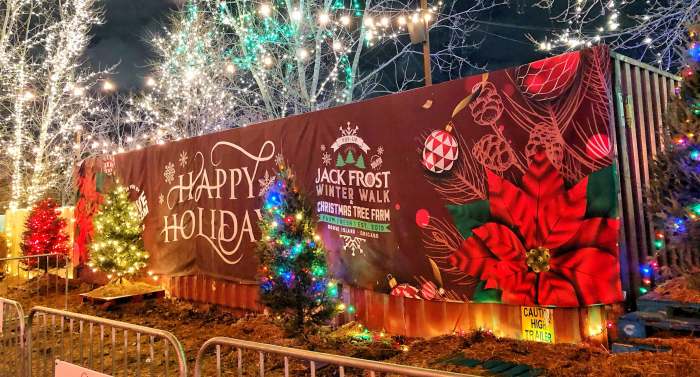 Location: Old Town, Chicago at 1455 N Elston Avenue
Admission ticket prices start at $23/ person. Book here.
Last day: January 2nd 2021
Jack Frost Winter Village is the fresh breath of air (literally, since it's all outdoors) we, Chicagoans, have been looking forward to in order to forget about the tough times we currently live in.
The primary purpose of this pop-up is seemingly to sell Christmas trees. In fact, with the top tier ticket ($160, allows four guests in), you even get your own 6-foot tree.
But for most Chicagoans, who usually buy their Christmas tree at HomeDepot, Lowes or Ace Hardware, this is just an amazing excuse to get out of the house, take awesome pictures and have a little bit of fun.
What to expect at Jack Frost Winter Village in Chicago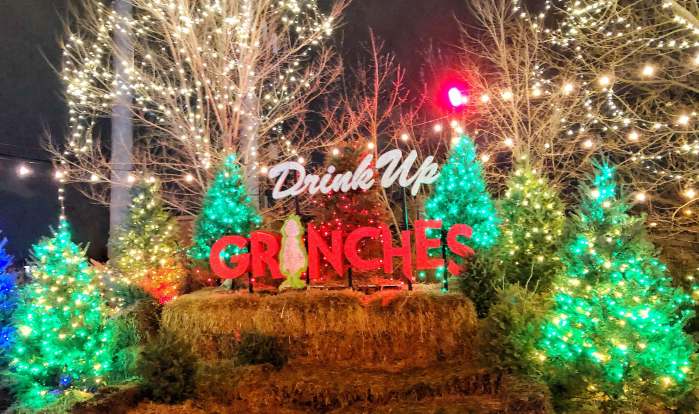 After all, you can get some drinks on site and even partake in some tasty doughnuts.
And the best part? Kids under 4 enter here for free. 
Note that when you get your tickets online, you have to select the time you wish to enter the park. In theory, you have to enter the park within 15 minutes or your allotted time. That's because of Covid-19 regulations which restrict every Chicago business from allowing too many people on the premises. So be mindful of that and plan accordingly.
Technically speaking, you are expected to wear your mask at all times and no drinks or food is allowed in. 
That said, let's be clear. We spent one hour in the park and I can testify that no one, and I mean NO ONE, wore their masks at all times. 
Sure, most people wore their masks in between the super Instagram-friendly attractions, but once folks were posing for that much wanted picture, all bets were off. 
There were also very few staff members on site: some at the entrance, the doughnut shop, the part of the park where you buy a tree, and, of course, the funny Santa Claus you can take socially distanced pictures with or of.
Jack Frost Winter Village in Chicago: Totally Worth It!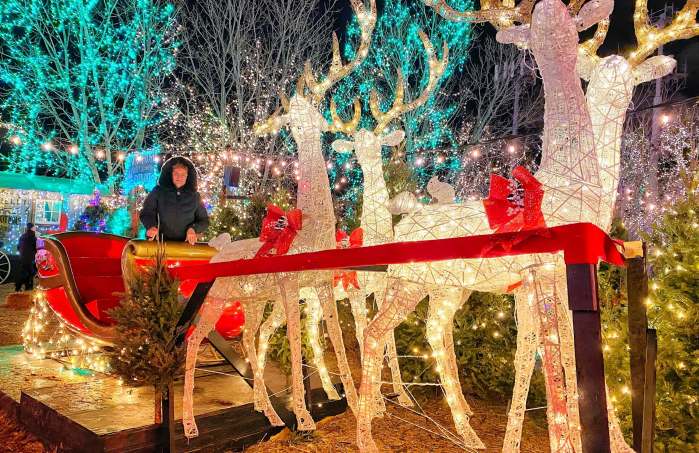 For people living in Chicago, this is definitely an attraction you won't want to miss. It's kids friendly, adorable and fun. 
The Christmas carols, both traditional songs and modern ones (Hello Mariah Carey) are blasting through the speakers and reminding us of the holiday spirit. 
But to me, the most important thing was that feeling of normalcy which I haven't experienced in a while. Maybe it's because this pandemic has taken a toll on me, or because I've actually self-isolated myself like crazy this year, that visiting this park was, for lack of a better word, amazing. 
And to be clear, at $23/ person, this is probably one of the most affordable holiday attractions in Chicago.
The other thing I didn't mentally prepare for is how big of a space 2 acres is. Like, I get it, conceptually, that 2 acres is a lot. But when you actually wander around, from one prop to the other, you feel the burn As such, especially if you have children, I strongly suggest you plan for the full 1.5 hours to get through the entire park.
Last but not least, check the weather forecast beforehand. When we got there, it was quite chilly, in the high 20ies. This location is open rain or shine and the tickets are non-refundable. Trust me, walking around in the high 20ies (and probably high 30ies for that matter too!) is literally no walk in the park.
This place is awesome. Find the time and enjoy it. You won't regret it. But even if you did, too bad, the tickets are, after all, non-refundable. 
Jack Frost Winter Village in Chicago Cool Pics
Check out the Christmas Tree by the main entrance (you can't miss it)

Don't miss out on the Polar Train. It won't take you anywhere, but it keeps the dream alive.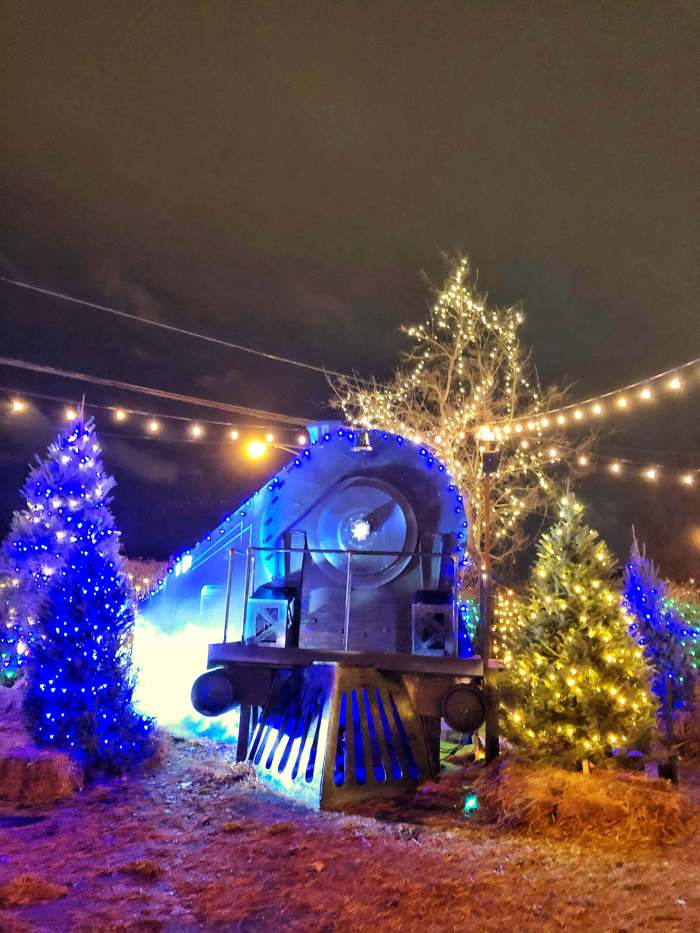 Santa Mail? It's a bit too late now, but make a note for next year.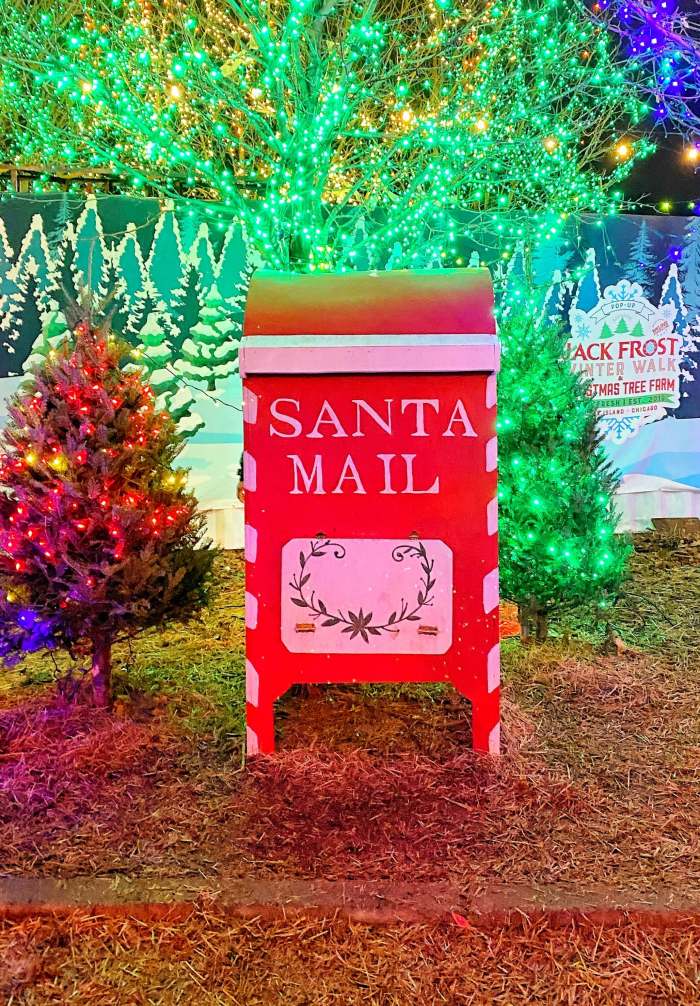 Say Hi To Santa. Or talk to him. And he'll definitely take pose for a picture so don't be shy.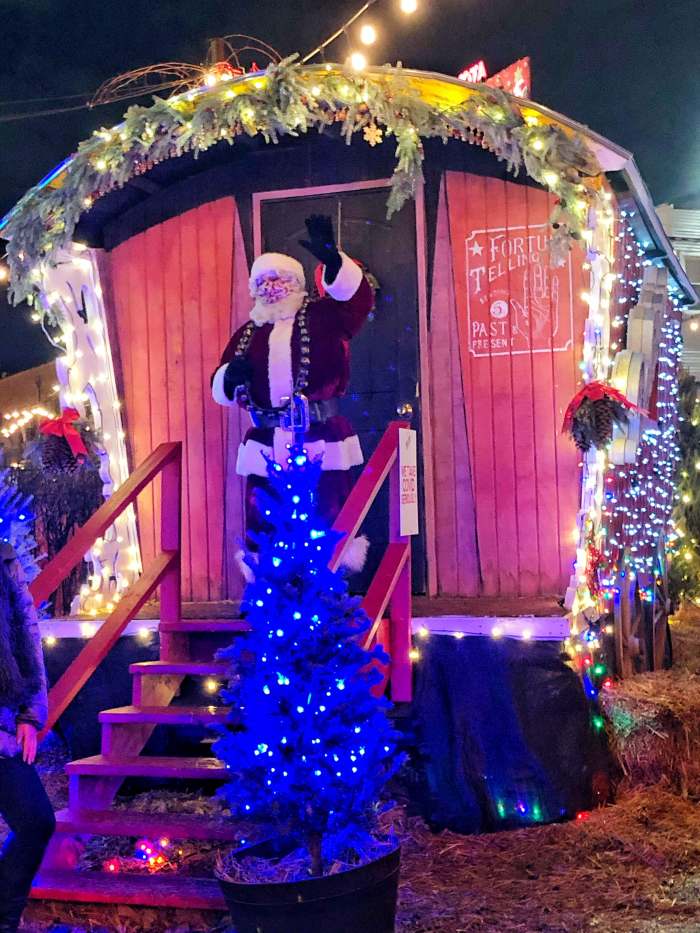 Looking for other things to do this December in Chicago? Don't miss out on having a wonderful dinner at Tzuco restaurant or the  Mad Hatter's Adult Drinking Show