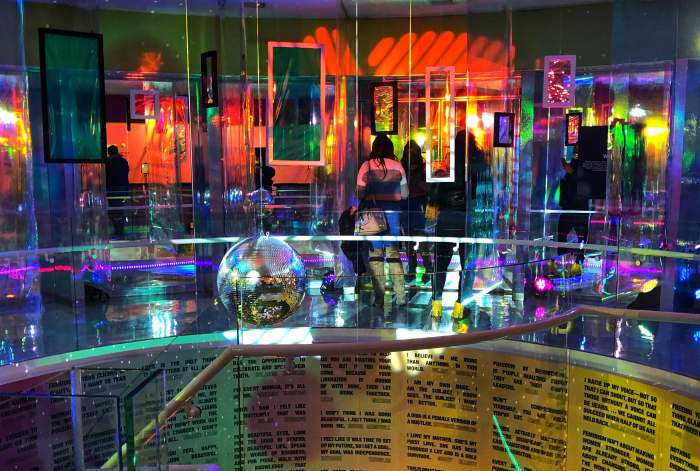 Location: 114 S State Street
Price of admission: $35.85
Book tickets here
The exhibit is open in downtown Chicago through January 31st. Amazingly, you can take off your mask when snapping that unforgettable Instagram photo. 
Dionna and Danyelle Gray, two African American marketing managers in Chicago, assisted by creative director Emily Dahlquist and co-producer Ashley Wolve bring you the magic of Womanish, a glamorous, colorful and lively exhibition you won't want to miss.
Cool fact: the exhibit was originally scheduled to run only until October 4th 2020. Due to increased demand, it has been extended four additional months.
Womanish is a 5-story pop-up exhibit with over 16 interactive spaces designed to explore, celebrate and contemplate womanhood.  
On each floor, exhibit attendants patiently introduce you to each section, telling you what it represents and what you should expect. Overall, this makes the entire experience significantly more meaningful and entertaining. 
In a hurry? Check out the 1 minute video below of Womanish Experience in Chicago.
Exhibits at Womanish in Chicago
At first glance the exhibit is pretty unassuming: standard temperature check at the entrance, and a ticketing area designed like a 1950s diner (dubbed Delish) without the delicious deep fries and cholesterol-inducing doughnuts.
And it only gets better!
This is advertised as a 5-story exhibit. However, the basement has only one room with a huge flashy "Magic" sign and the restroom. The first floor includes the lobby and Publish, an area featuring powerful quotes from amazing women along with a cocktail area. That leaves only the beautifully laid out upper three floors for the exhibit proper. 
When you get off the elevator on the top floor, you are immediately immersed in an unexpected 1980s disco zone called Vanish, designed to elicit new perspectives by allowing visitors to wander through the holographic realms of imagination.  
When you have gone through this circular exhibit, you begin the next part of the tour: three separate and colorful exhibits totally worth the trip. From three pink plush chairs, you can take that memorable Insta pic.  You then proceed to a "proper" salon area where you can make-believe you are applying some makeup and even wear a blue wig, or simply admire the paintings by various African American artists.  This area has a lot to offer.
Next is a nice yellow room with this message on the wall: "Tell me to smile and I'll scream". A mannequin with a yellow wig is carrying a tray of lemons.  You can see a table set with a yellow cake decorated with a sad face. This part of the exhibit represents the many chores women are expected to perform,along with the accompanying struggle and responsibility. This section is designed to push against our society's attempts to define and assign certain roles to women.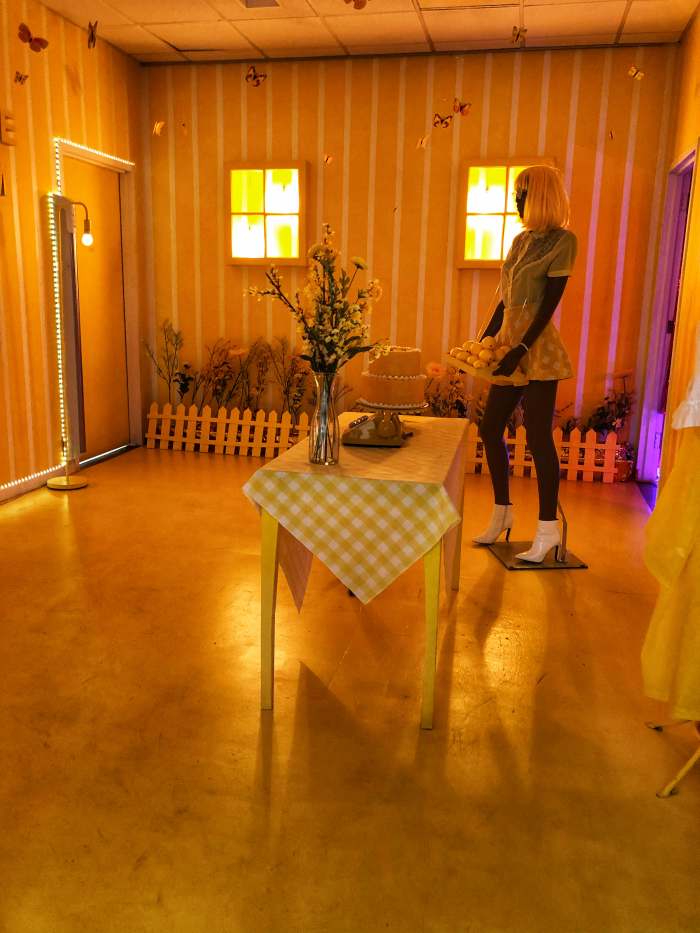 Adjacent to this room is the Moodyish room, a dark, blue bathroom with a beautiful light installation made to create the feeling that it's raining inside. Next to it is a small pink room with a big white plush bear.  Hearts and flip phones hang from the ceiling. 
Take the stairs or the elevator to the floor below, where you will find three options. The main area on this floor is dubbed Childish and is designed to celebrate the inner child hidden within each person. You can swing on the swings, take a ride in some cars, draw on a wall or participate in a lemonade stand.
Leaving the lobby area, you enter Paidi$h designed to remind visitors that women, and particularly women of color, are paid less than men. The main attraction here is an oversized $20 bill in neon light with the image of Harriet Tubman, the American abolitionist and political activist. The $20 bill to honor her life and contributions to society was supposed to roll out this year but it was delayed.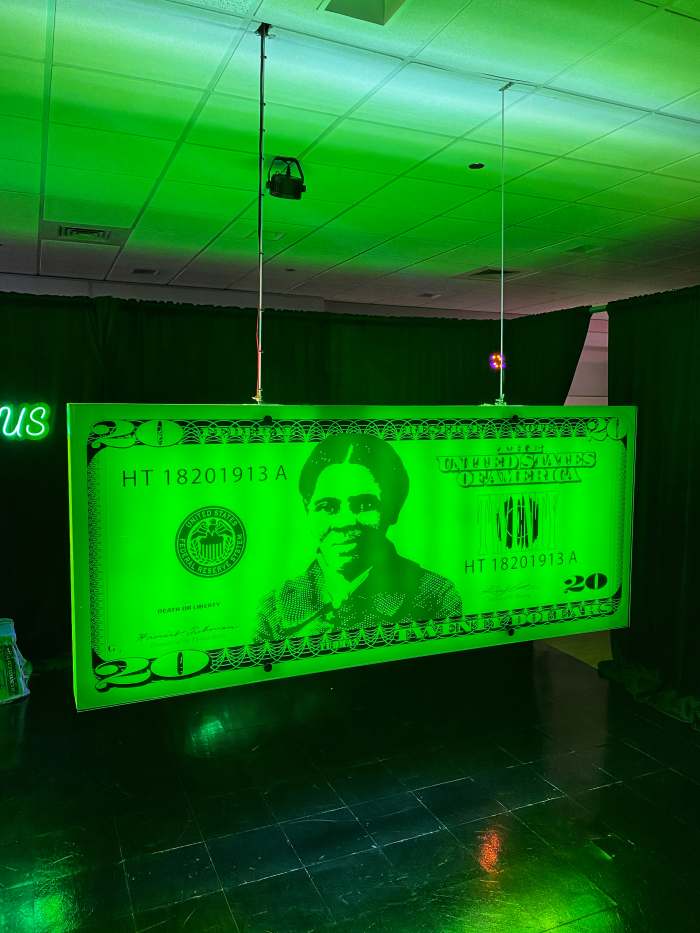 The final exhibit area on this floor is the Consumish room highlighting the inequality between men and women in essential products.  Here, we are reminded that products geared towards women are usually 30-40% more expensive than the same products produced for men (e.g., soap, perfumes, etc.). In a similar vein, the same product costs more if it is packaged in a color preferred by women (e.g., a blue versus a pink baby bottle).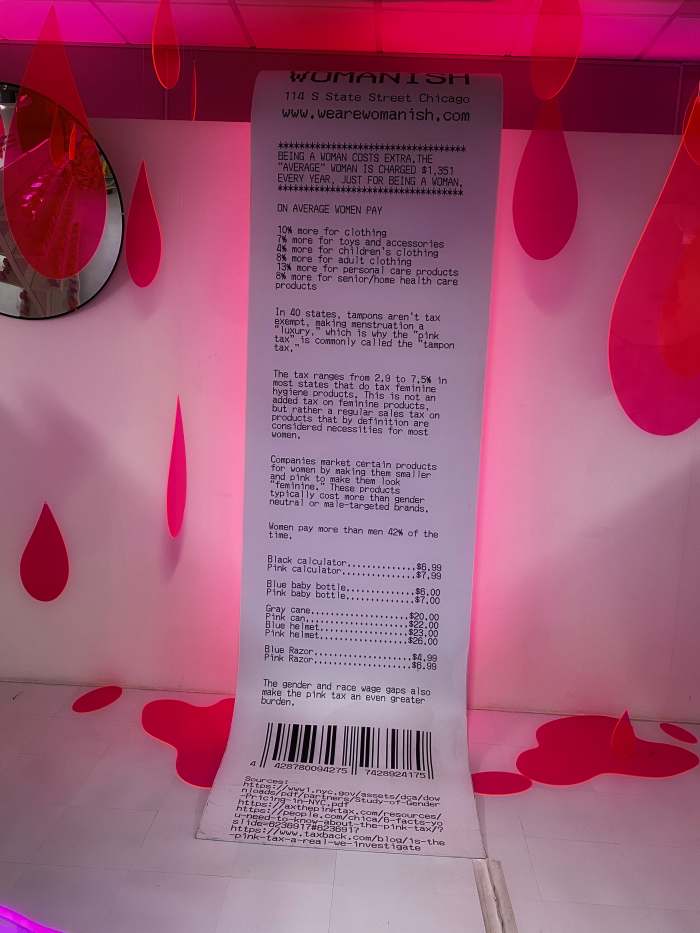 This room also informs visitors of the incredibly high price paid by women for products to manage their menstrual periods over a lifetime (a figure claimed to be a staggering $11,400). 
An oversized receipt highlights this preferential pricing treatment across a variety of product categories.
Don't miss the attractive wall mural collage and the opportunity to take a picture of yourself in the pretty mirror hanging on the wall. 
The final floor of the exhibit (2nd floor) is called Censoredish. Using different fruit props, the exhibit showcases how women's freedom and sensuality are often censored and codified in such a way that they are often thought of as "less than".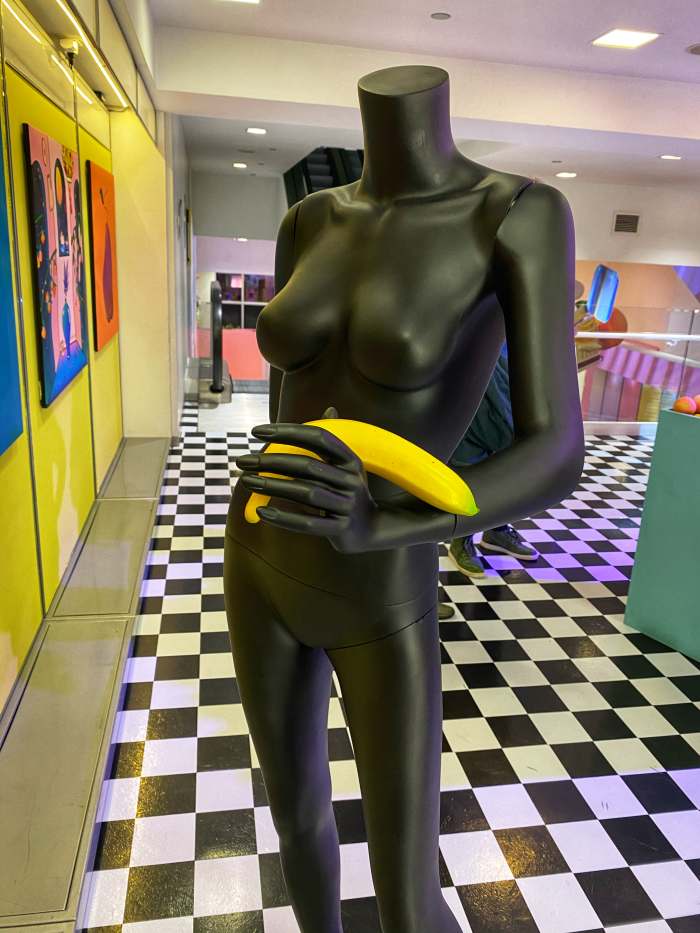 A mesmerizing combination of visual stimuli, memorable quotes and chilling stats, Womanish is a powerful expression of what women are as well as what they ought to be. Stoic, fun and unapologetic, this pop-up should be on every Chicagoan's bucket list this season.