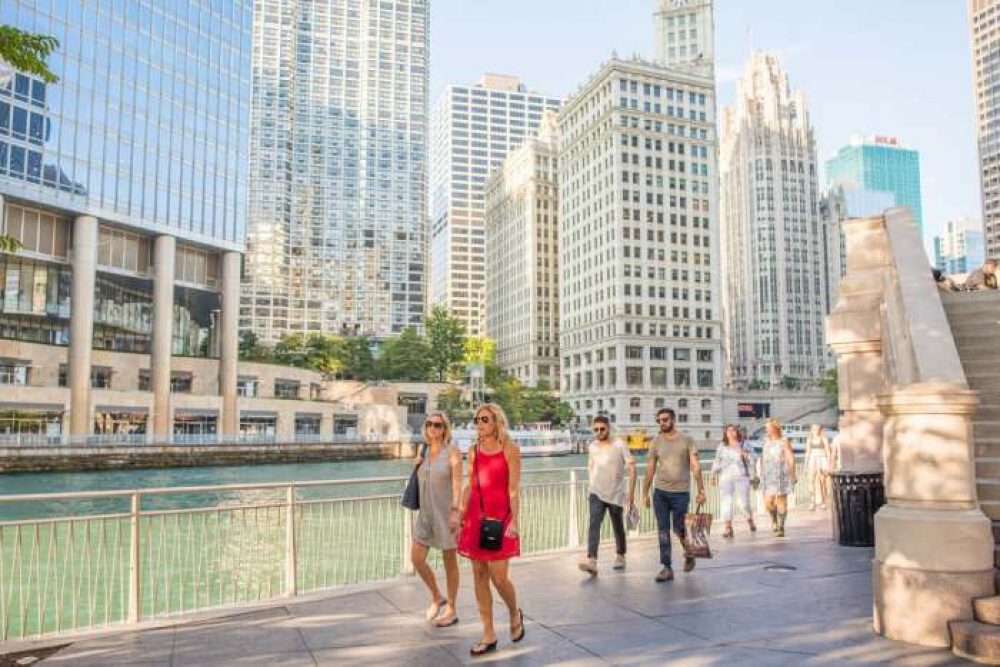 The latest Time Out Index survey results placed Chicago 2nd in the 2022 top of the world's very best cities to live in and to visit, for the second year in a row. In 2021, Chicago had ranked the second most beautiful city in the world (and the first in North America) by 27,000 Time Out Index survey voters from all over the world. 
What makes a city great to live in or visit
Every year, Time Out asks over 20,000 citydwellers from all over the world about life in their cities. They have to give information about everything that makes a city great, from the local food, drink and culture scenes to how friendly people are, how affordable each city is and how well one can live there. Based on those results, Time Out assembles a ranking of the world's greatest cities. In 2022, the accent was put on those qualities which make a city not only the best to visit, but also to live in. According to the result, Chicago ranked the second best city in the world, after Edinburgh, Scotland, and we could not be prouder. 
After two years of partial or total restrictions because of the COVID-19 pandemic, 2022 really brought back some of the Chicago entertainment staples, and people, both locals and visitors, want to spend time outside, enjoying the best this city has to offer. 
Chicago – the funnest city in the world
In case you don't already think our Windy City is great – in which case you already know why that is – there are many reasons ours is deemed a wonderful city to either live in or visit.  From this year's data, it looks like Chicago is the place to be if you want to enjoy yourself.  The Windy City, the most beloved Midwest metropolis, was voted the funnest city in the world this year, which means there are so many fun things to do here.  Chicago has plenty of entertainment opportunities: summer festivals, outdoor events, art exhibitions and things you can do for three,  either for the young and carefree, or more family oriented. If you like movies, music, arts and crafts, sports or games, nature and spending time outside, you will always find some new adventure to go on with your loved ones. If you are a local, you probably already discovered the main attractions, but if you are visiting, even for a day, we are here to help you choose the best passtime in Chicago. 
Culture aficionados seem to also like Chicago as a valuable destination, 95 percent of respondents gave high marks to the city's art and culture scenes, where it is easy to find something new to admire, whether regular exhibitions or new, immersive experiences that change the way we see art.
96 percent of locals rate Chicago highly for food and drink
Either you are the type to go to your local beach on a sunny Saturday afternoon, or open a path through crowds during street festivals, you will find something to do each weekend, and even on weekdays. If you prefer street food, Chicago is the best place to be in, but be careful, restaurants, especially the high end ones, will require advance reservations to get in.  
The food is no joke for city dwellers everywhere, and people seem to have already found out Chicago has one of the best food scenes in the world. A whooping 96 percent of locals rate Chicago highly for food and drink, thanks to the city's diverse great dining options. If fancy dinners are your go to for a good time, Chicago has everything you might want. The MICHELIN Guide has added four One MICHELIN Star restaurants to Chicago's list of starred eateries, as well as seven new Bib Gourmand recipients, highlighted for their particularly interesting value. In total, 23 restaurants are on the list, including Alinea, led by chefs Grant Achatz and Douglas Alley, which has earned Three MICHELIN Stars and has maintained its exceptional level of quality for 11 years, since the first edition of the MICHELIN Guide Chicago in 2011. You can try the country's first-ever Michelin-starred Filipino tasting menu or explore top-tier Mexican food, the choice is yours, Chicago has food for every taste, enough to keep even the pickiest gourmands happy. 
Chicago the fourth-most resilient city in the world
Of course, no city is perfect, and Chicago has its problems, the same all big metropolis, such as New York, for instance, face. But if you're trying to decide where to live and you can't get New York's reputation out of your head, here are 5 reasons to choose Chicago over NYC.  We will not pretend Chicago does not have issues, including violence, disinvestment and a transit system affected but the staffing shortages of the post-pandemic era. But the city is trying its best to fight for a better future, with the aid  of community groups, activists and mutual aid workers – all this prompting readers to vote Chicago the fourth-most resilient city in the world. 
If you want to find more about the other cities readers ranked best in their preferences in 2022, Time Out's ranking of the best cities in the world for 2022 has all the info you'd need to know.