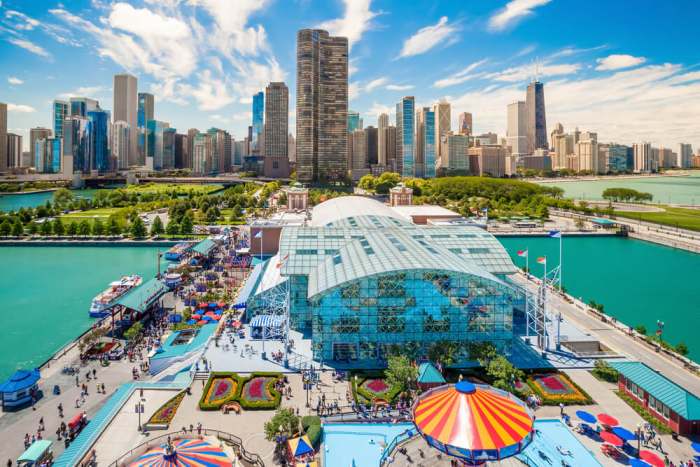 Chicago's iconic lakefront destination and nonprofit institution Navy Pier  will partially  reopenon Friday, April 30th, restoring public access to select outdoor spaces and attractions, while maintaining strict public health and safety precautions. 
The Guest Services Desk will answer all your questions
As part of this initial phase, the following will be open and accessible to the public: Navy Pier parking garages, Polk Bros Park, Peoples Energy Welcome Pavilion, North and South Docks, Pier Park (including select rides and attractions, like the Centennial Wheel, Pepsi Wave Swinger and Carousel), East End Plaza, tour boats and cruises, the new Sable hotel, and select restaurants at limited capacity (per government guidelines). 
Navy Pier will be open from 10 a.m. to 8 p.m. from Sunday to Thursday and 10 a.m. to 10 p.m. on Friday and Saturday during this phase, but hours may vary per establishment. 
If it's your first time visiting Navy Pier, you might want to make a first stop at their Guest Services desk. The biggest, fully staffed customer service desk is located right at the entrance of the pier between Bubba Gump Shrimp Co. and Giordano's. Whether you need directions, recommendations or whatever question/concern you might have, Guest Services should be your go-to at Navy Pier. 
Navy Pier has been temporarily closed since Labor Day 2020
Last year, the shutdowns never seemed to end, but summer fun wasn't completely canceled in Chicago, since Navy Pier Summer Programming was still on. After the summer was over, with COVID pandemic still going strong last fall, Navy Pier has been temporarily closed to the public since Labor Day to limit the financial impact and implications of the ongoing coronavirus pandemic on the nonprofit organization and the nearly 70 small and local businesses it houses.
"Following Navy Pier's longest closure in recent history, we are anxious to reopen our spaces and safely welcome guests back to the Pier," said Navy Pier President and CEO Marilynn Gardner. "We recognize the critical role Navy Pier, as a key economic driver and cultural anchor for the city and state, plays in leading our community out of the devastation from the pandemic. With mass vaccination rollouts now underway, we are eager to help guests safely reconnect to Chicago and its most treasured experiences, and remain committed to helping revive the city and region."
An Instagrammable location just right for a proposal
For those looking to brighten up their Instagram feed, Chicago has so many Instagrammable landmarks, views, and culinary experiences that were partially available during winter, but now that Navy Pier is reopening there are even more spots to take great pictures, by day and by night. 
To celebrate its reopening, the Pier will host a special 10-minute fireworks show every Saturday in May at 9 p.m. until Memorial Day Weekend. The first fireworks presentation on Saturday, May 1 will be dedicated to healthcare professionals and frontline workers in honor of their hard work, sacrifice, and dedication to helping our community navigate the ongoing pandemic. Guests are welcome to enjoy the display from the Pier's open areas.
Restaurants and attractions that will be open as part of the initial reopening phase include Billy Goat Tavern, Giordano's, Harry Caray's Tavern, Margaritaville, Odyssey, Offshore Rooftop and Bar, Shoreline Sightseeing, Seadog and more. In addition, Sable at Navy Pier—the new 223-room, Hilton-operated hotel on the Pier—and its Latin-inspired restaurant, Lirica, opened in March and will continue to accept reservations. Pier Park will also resume operations on select rides and attractions, including the iconic Centennial Wheel, Pepsi Wave Swinger and Carousel. 
If you plan to propose to your significant other, doing so on the world-famous Navy Pier Centennial Wheel and maybe planning it so you admire the fireworks afterwards is a fun way to pop the big question. Pick a nice day and take your time heading to the wheel. You'll have plenty of places to eat and things to do before and after you propose.
Safety measures and plans to uphold regulations
The opening of new rides will follow in the coming weeks. Both of Navy Pier's parking garages will also resume operations at a $29 flat rate until Memorial Day Weekend. The rest of the Pier, including interior spaces, food experience, retail shops and other select attractions will reopen sometime in May, along with Navy Pier's free community programs. The full reopening date is to be determined based on state and city guidance.
Upon reopening, guests can expect the same level of heightened public health and safety measures as last summer. In addition, Navy Pier has gone above and beyond to ensure that its safety practices are of the highest standard. The organization recently earned the GBAC STAR Facility Accreditation, the cleaning industry's gold standard accreditation for outbreak prevention, response and recovery, from the Global Biorisk Advisory Council, a division of ISSA—The Worldwide Cleaning Industry Association. The accreditation involved a comprehensive 20-element review process and thorough evaluation of the Pier's facilities, cleaning procedures, staff training practices and more.
Navy Pier has also partnered with NTT Corporation, City Tech Collaborative and a consortium of other leading technology and design partners to implement a Smart Solutions pilot program, a data-driven approach to enhance Navy Pier's safety measures and the guest experience. This innovative program will allow the organization to monitor the amount of guests and traffic across high-traffic zones on the Pier and alert staff members when a certain space or area is approaching its maximum capacity. Navy Pier employees would thus be able to make necessary adjustments to ensure social distancing practices and other safety protocols are observed.