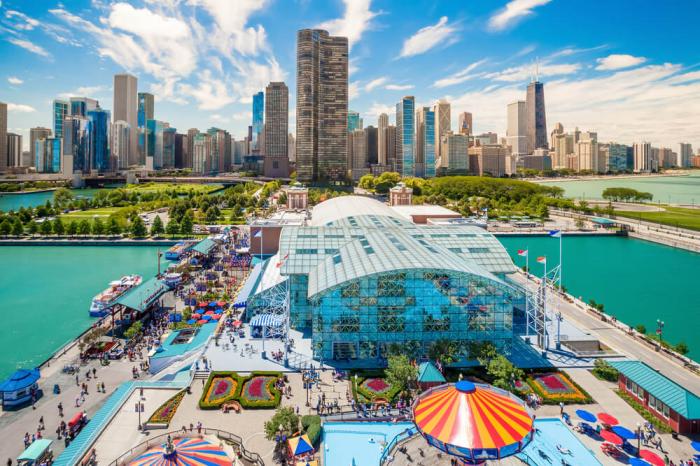 The shutdowns never seem to end, and the event cancelations keep on happening. But we're happy to announce that summer fun hasn't been completely canceled in Chicago: Navy Pier Summer Programming is still on.
Each year, Navy Pier hosts a solid line-up of wholesome summer activities and events good for anyone who wants to have a good time with their friends or their whole family.
Earlier this summer, some parts of Navy Pier reopened to the public, allowing Chicagoans to once more enjoy a drink on the rooftop at Offshore, dine at a restaurant, or take a ride on the Centennial Wheel.
Masks and social distancing were put in place during the partial reopening of Navy Pier attractions; so it's not surprising that the same safety measures and guidelines are in place for Navy Pier's summer programs.
"For the fourth year in a row, Navy Pier invites Chicagoans and their guests back to our treasured lakefront for an exciting lineup of summer events," said Michelle T. Boone, Navy Pier Chief Program and Civic Engagement Officer. "Now more than ever, our city and our people deserve a safe and comfortable place to experience free and festive public programs in a scenic and beloved setting. We're honored to be a nonprofit civic space where we all can connect and experience art, music, culture, and joy together once again."
Changes at Navy Pier You Can Expect
Everyone making the trek to enjoy the Navy Pier summer schedule of concerts and events should expect changes, including an audience capacity that's smaller than usual. Also, everyone attending these events will be required to wear a face mask and maintain a social distance of six-feet from others.
Just like many venues around the city that are trying to make their events COVID-19 compliant, Navy Pier has placed hand sanitizing stations at key points around the venue. Likewise, it's increasing its schedule of sanitizing surfaces and spots that are frequently traversed and touched by the public.
Like other highly-popular places around the city, like the Lakefront Trail, the public can also expect to "social-distancing ambassadors" strategically placed throughout the venue. This move is to enforce social distancing and mask requirements.
Navy Pier Fitness Programs
For anyone wanting to get out and dance after the extended stay-at-home orders, the Wave Wall Wax DJ series happens every Saturday through the end of August at the Wave Wall Platform. You can catch the beats and evening spins from 5 pm to 7 pm.
If you need to burn off more calories than dancing will do, the Navy Pier Summer Fitness Series is the place to be. From 6 pm to 7 pm Tuesday evenings in Polk Bros Park, fitness enthusiasts can enjoy the Rush Hour Workout, which includes a mix of barre, boxing, sculpting yoga and HIIT. After a short 30-minute rest, jump right into Sunset Yoga for an hour, from 7:30 pm to 8:30 pm.
Free Navy Pier Concerts
There are plenty of concerts for music lovers to enjoy at Navy Pier this summer. The weekly music series, Live on the Lake, features local and regional live music acts on Saturdays from 2 pm to 11 pm and on Sundays from 2 pm to 8 pm in the Miller Lite Beer Garden through September 7th.
Celebrating the Latinx music community in Chicago, the LatiNxt Music Festival plays on July 24th and 25th from 5:30 pm to 11:30 pm. Rounding out Navy Pier's cultural music lineup, the Chi-Soul Festival takes place on September 18th and 19th.
Family Fun at Navy Pier
For those who enjoy family fun, Water Flicks features family-friendly movies Monday nights from 6:30 pm to 8:30 pm in Polk Bros Park from July 6th to August 24th.
With the support of the Old Town School of Folk Music, Wiggleworms is a children's music series to entertain the little ones with live performers on Friday mornings from 10 am to 11 am from July 10th to August 21st.
For all the exciting Navy Pier events this summer, click here.
You Might Also Like: