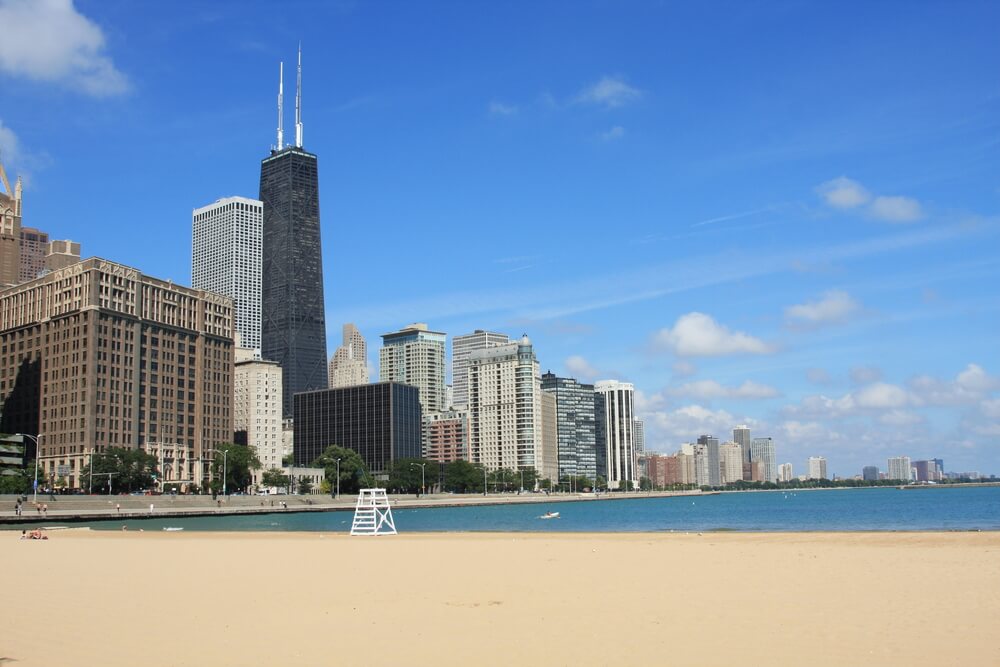 If you haven't already experienced the scorching hot days of a Chicago's summer, be forewarned, there are even hotter days coming. Despite the risk of heatstroke, Mayor Lori Lightfoot has declared that Chicago's beaches won't be opening "any time soon." However, while Chicago's beaches are closed to the public until further notice, splash pads and cooling centers around the city will be open to provide some relief from the brutal summer heat.
Mayor Lightfoot reasoned that both the beaches and public pools are places where people like to congregate and could spread the virus. The mayor said, "the challenge with the beaches, and with swimming pools is that they are rife for congregating and not social distancing." For those reasons, she said, "we don't see the beaches opening up anytime soon."
The Pandemic Shutdowns Continue
Given the situation in faraway states like Florida, Arizona, and Texas, the Lightfoots's decision to keep swimming pools and beaches closed somehow seems logical to some. However, this is disappointing, after Dr. Allison Arwady, commissioner of the Chicago Department of Health, said that beaches would probably open up after the Fourth of July weekend.
Unfortunately, the oppressive heat in the city is something that residents and visitors alike must face. The city's response to closing the beaches has been to open several cooling stations, mobile cooling stations, and to reopen splash parks to the public.
The Chicago splash parks will be open Tuesday through Friday, with park district employees enforcing social distancing. Chicago's Department of Family and Support Services has also opened up cooling stations with social distancing rules to ostensibly ensure safety.
In addition to the usual cooling centers, a few just for seniors have also been opened; this is to avoid the risk of transmitting the coronavirus to a more vulnerable population.
Chicagoans Take Cooling Into Their Own Hands
Many Chicagoans are taking their own measures to keep cool; they are ignoring the city's shutdown and going to the beach anyway. Some are also opening up fire hydrants, creating their own, neighborhood cooling stations.
City officials have been cracking down on people who dare to go to the beach, in part, due to the fact that there are no lifeguards on duty. Likewise, the Chicago Fire Department has warned the city's residents that opening fire hydrants poses a hazard when they can't be closed again. Also, drivers can't always see neighborhood children playing in the water.
Other Ways to Keep Cool
There are a few simple things you can do to stay cool that won't run up your electric bill.
Stay in the shade when outside and use fans inside your home to keep cool. Also, an above ground pool is a smart way to keep your cool; from a simple, inexpensive kiddie pool, to a larger, more elaborate above-ground pool, there is a pool for every budget.
Simple things like choosing light-colored, loose-fitting clothes can also keep you cool. Furthermore, cotton and other natural fibers will keep you cooler than synthetics.
You can also fill a spray bottle with water and keep it in the refrigerator for a quick cool down. You can also keep your moisturizers in the refrigerator.
Instead of cooking a hot meal inside, go for a backyard barbecue. You can also try light, cool summer meals of salads, hummus, fruit, nuts, and cheese.
Pull your hair off your neck, and you can also pour some cold water into your baseball cap, and quickly put it on your head.
Don't forget your pets; bring your pets inside, or make sure your animals can escape the summer sun and heat outside. Also, make sure your pets have plenty of water.
The brutal summer heat won't last forever, and Chicagoans are advised to stay hydrated during these dog days of summer.
You Might Also Like: