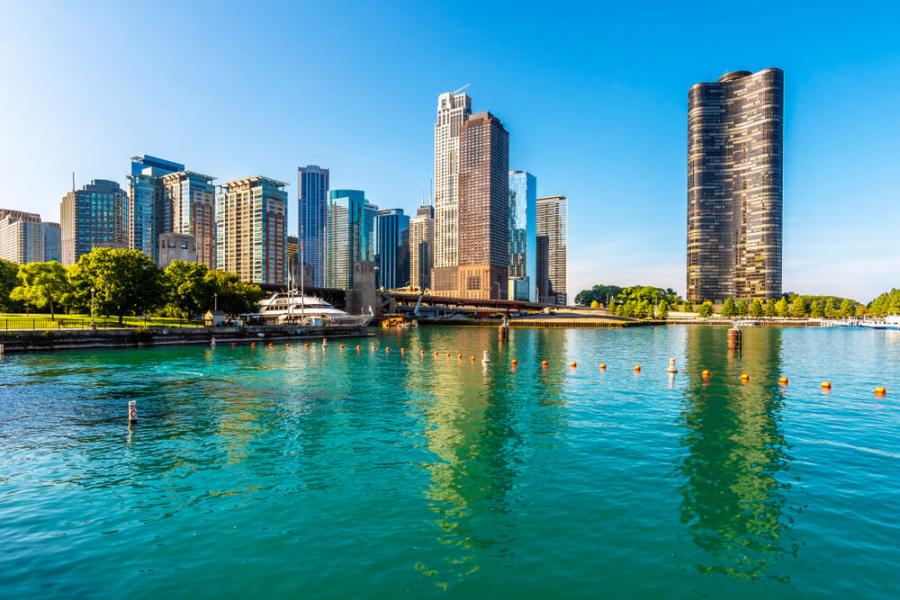 Mayor Lori Lightfoot has announced Chicago's Playpen will remain closed for the summer.
The popular boating enclave near Ohio Street Beach will remain shut, even as the city's other attractions begin to reopen in the coming months.
Lightfoot announced the city's beaches and lakefront will hopefully open towards the end of June. People will be allowed to boat – but congregations on boats will remain strictly off the cards.
She added: "Sorry, folks, the Playpen is not gonna be open this summer."
Illinois Governor J.B. Pritzker had previously allowed people in the state to use boats for fishing during the lockdown, providing they stayed two to a boat. When the state entered Phase 3 of its reopening plan on May 29, the rule was changed to allow 10 people in a boat.
Lightfoot, however, is taking a slower approach to easing lockdown in Chicago. She announced on Friday that the city wouldn't be ready to enter Phase 3 until sometime in early June.
The Playpen won't be the only Chicago attraction to remain closed in Phase 3 – bars, lounges, playgrounds, and large venues will also remain closed.
Almost all events across the city have been canceled due to the virus.
Lightfoot is expected to release details on reopening some parts of the city next week. She said openings would be 'incrementally' increased with time, depending on adherence to the rules.
Some of the businesses expected to reopen include:
Libraries
Real estate services
Office-based jobs
Childcare centers
Retail stores
Restaurants and coffee shops (outdoor dining only)
Personal services (hair salons, barbershops, and tattoo parlors)
Lightfoot added that some businesses may be given the go-ahead to reopen later in Phase 3, including gyms, museums, youth activities, and religious services. There has been no word yet on when schools will reopen their doors.
The city is currently on track to reopen as the number of COVID-19 infections continues to fall. Lightfoot warned, however, that the city would 'remain in phase two if those numbers take a different turn'.
In a press conference last week, she said: "Moving from phase to phase will only happen if we have a clear set of criteria based on the health and science of this disease.
"And these include declines in case rates, having sufficient testing and contact tracing to track and limit COVID-19 spread, as well as adequate support systems for vulnerable populations, and assurances our healthcare system can handle the very real possibility of a case surge as we have seen in other parts of the country."
Here's the specific list of criteria Lightfoot wants to reach before Phase 3 of Chicago's reopening plan is launched:
A declining rate of COVID-19 cases over 14 days, based on a 7-day rolling average.
Stable or declining rates of COVID cases resulting in hospitalization
Stable or declining rates of COVID cases resulting in death
A declining rate of emergency department visits for COVID-like or influenza-like symptoms over a period of 14 days
Ability to test 4,500 people for the virus daily
Positive test rate of <15%
Large hospital capacity citywide – <1800 beds for coronavirus patients in ICU, <600 beds for other coronavirus patients, and access to <450 ventilators. Chicago opened the first 500 beds at the alternative treatment site McCormick Place last month and has continued to make more beds available since.
Lightfoot added: "Make no mistake, our road to Phase 5 will take time. Our reopening process will be like slowly turning a dimmer switch and not flipping a lightswitch."
She said she was pleased Chicago was ready to take the first step to reopen and told businesses they needed to be prepared to do so.
You Might Also Like: