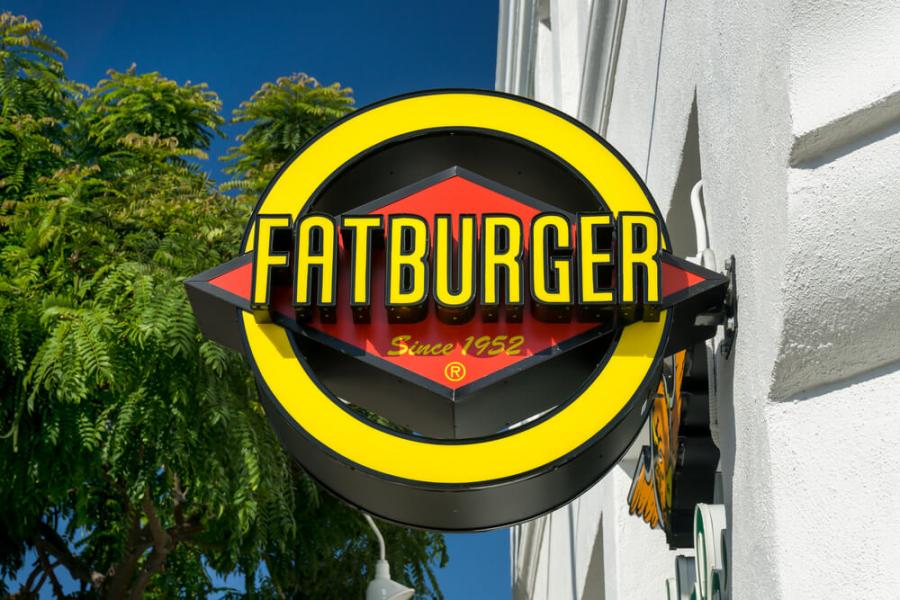 After a nine-year absence, the iconic Los Angeles burger joint, Fatburger, returns to Chicago. The is "Last Great Hamburger Stand" is famous for its popularity among rappers like Biggie Smalls, Tupac, Notorious B.I.G., and Ice Cube. Fatburger gained international notoriety after Ice Cube sang about the hamburger stand in his hit song "It Was a Good Day."The Notorious B.I.G. also expressed his admiration for Fatburgers in the song "Going Back to Cali".
Sadly, the coronavirus shutdown has eliminated the well-deserved fanfare celebrating the chain's return to the Windy City. Right now, they're only open for delivery via a River West ghost kitchen located at 850 W. Superior Street.
Fatburger plus Buffalo Express Equals Fantastic
The Fatburger ghost kitchen is in collaboration with Buffalo's Express, another FAT Brands franchise, said FAT Brands CEO Andy Wiederhorn.
The thing that makes Fatburger fabulous is the customizable burgers; in addition to beef, patty options include soy, turkey, and the Impossible Burger. You can pile on custom ingredients like cheese, bacon, and chili. They also specialize in 100% vegan cheeseburgers. Add to that Fatburger's unique seasonal menu items, such as cranberry turkey burgers and pumpkin spice milkshakes. Finally, there is an excess of the best fries, onion rings, milkshakes, and a lot more. To round it out, host restaurant Buffalo's Express centers on some of the world's best Buffalo wings.
Chicagoans curious about the L.A. burger chain are cordially invited to see what all the fuss is about. Fatburger is open for delivery through third-party companies UberEats, PostMates, DoorDash, and Grubhub. Fatburger and Buffalo's Express are open 11 a.m. to 10 p.m. daily.
For now, Wiederhorn won't commit to opening a Fatburger with its own dining room, but he thinks there are opportunities for more ghost kitchens around Chicago, as well as traditional franchise locations.
Not Chicago's First Encounter with Fabulous Fatburger
This isn't Chicago's only encounter with Fatburger; in fact, rapper Kanye West signed on as a franchisee in 2007 to open ten locations. West managed to open two by 2009, one in Beverly and another in suburban Orland Park. However, within two years, the deal fell apart, with corporate closing one restaurant and buying back the other.
Kanye West isn't the only celebrity Fatburger owner; others have included Janet Jackson, Magic Johnson, Montel Williams, Queen Latifah and Pharrell.
Bay Area rap legend E-40 was an early franchisee, securing the Northern California franchise agreements and launching several restaurants around the San Francisco Bay Area throughout the early 2000s.
A Long History of Fantastic Burgers
The Fatburger history dates back 73 years to 1947, when African American entrepreneurs Charles Simple and Lovie Yancey opened Mr. Fatburger in Los Angeles. However, in 1952 when the couple split, Yancey dropped the "Mr." Ms. Yancey retained sole ownership of Fatburger until 1990, when she sold her interest in the company to a British record producer for $3 million. By that time, Yancey was 78. However, she did retain the original restaurant on Western Avenue as well as the La Cienega Boulevard location. Ms. Yancey died in 2008.
The company began to sell franchise opportunities in the 1980s and began to expand beyond California in the late 1990s. Currently, the company has U.S. locations spread throughout 10 states, with Texas as the latest. Fatburger now has locations in Dallas, Austin, Houston, and San Antonio.
Fatburger also has locations around the world in 19 countries including Japan, the UK, Canada, Malaysia, Egypt, Dubai, Saudi Arabia, Bahrain, China, Fiji, Kuwait, Tunisia, Pakistan, Oman, Qatar, the Philippines, and even Iraq. In some international locations, the All-American menu has been tweaked to conform to local tastes and customs.
You Might Also Like: