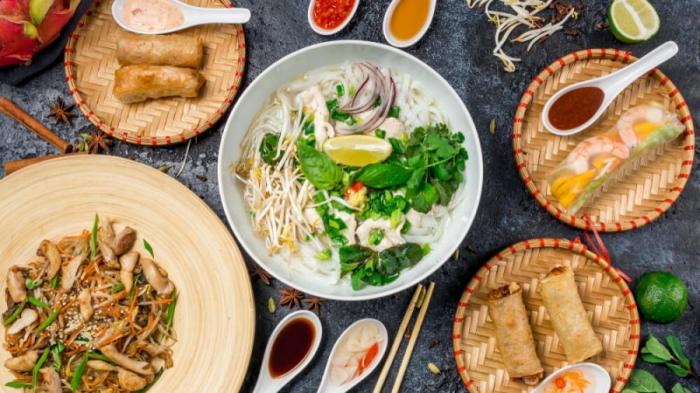 Chicagoans can now get Vietnamese and Ethiopian take-out in one stop. The owners of Demera and Saigon Sisters have teamed up to introduce their cultures and cuisines to each other's customers. Now, diners can pick up delicious Ethiopian takeout made at Demera at Saigon Sisters restaurant in West Loop. Likewise, diners can pick up Vietnamese takeout made at Saigon Sisters at Demera's in Uptown.
It's an unusual partnership that Demera's Tigist Reda and Saigon Sisters' Mary Aregoni hope will continue to grow. The two women are determined to keep their independent restaurants alive during the coronavirus shutdown. Not only that, but they're also determined to come out of this pandemic even stronger.
 A Virtual Culinary Tour of Ethiopia and Vietnam
The duo is billing the promotion as the first-ever virtual culinary tour of Ethiopia and Vietnam. Demera has been serving Uptown Chicagoans for 12 years and is acclaimed as among the best Ethiopian restaurants in the city. Reda's restaurant has introduced many Chicagoans to the spongy bread called injera, and the savory delight of Ethiopian cuisine. Saigon Sisters opened ten years ago, with various locations around Chicago, serving a wide variety of Vietnamese delights, including banh mi. The unique partnership allows local diners to try food from the two restaurants without having to drive across town.
Reda and Aregoni have known each other for quite a few years, initially meeting at a small business program run by Goldman Sachs. They became friends, and have even traveled together, including a trip to New Orleans. Aregoni has also hosted pop-ups to help Reda expand her brand downtown.
Adversity Makes the Friendship Stronger
During the pandemic and resulting shutdown, the two have leaned on each other. They've talked over the restaurant industry's future over a good meal and a glass of wine. They've also talked over topics such as the federal Payment Protection Program. Finally, they've discussed their personal futures; they've wondered how many customers will be allowed on Demera's dining patio, or if the city will close down Lake Street to allow for outdoor dining in front of Saigon Sisters. There's a sense of trust in their common experiences. "It's really nice to have someone else going through the same thing that you're through," Reda said.
Two Immigrants Make Good on the American Dream
Reda immigrated from Ethiopia and Aregoni was born in Vietnam, spending time in a Thai refugee camp before arriving on US soil. Both women have had similar challenges to marketing their native cuisines to Americans. While it took a lot of hard work, in the end, both women have been quite successful.
Unfortunately, the COVID-19 shutdown has hurt both restaurants, but both women are hanging in there, and both restaurants handle takeout and delivery well. In fact, Aregoni says the shutdown has given her the chance to experiment with both new recipes as well as marketing. With more people stuck at home, Aregoni is getting more responses from social media food posts, including a post featuring a sumptuous fried chicken banh mi. Right now, social media is giving her valuable feedback on her recipes.
The partnership between Saigon Sisters and Demera has allowed the friends to combine their customer bases to launch the promotion. Both women have around 8,000 email contacts, which means they can each reach twice as many potential customers. "We're not big-name chefs, we don't have a big restaurant, we don't have a forum," Aregoni points out. "We have to do this all on our own."
Family Meals are on the Table
Both restaurants have a la carte for takeout and delivery, however, for the cross-promotion, they're offering family meals serving two to three people. This is because family meal takeout is more cost-effective for the restaurants. That's very important while their restaurant dining rooms remain shutdown.
Saigon Sisters and Demera are also selling pantry goods, embracing the general store model made popular in town by restaurants like Bar Biscay and Fat Rice.
They're offering unique pantry items bursting with an international flavor. For example, Reda makes her own Ethiopian-style honey wine farmer's cheese, as well as awaze, a type of chili powder that's fabulous with hot wings. Saigon Sisters are packing the pantry with fish sauce, pho spice packet, and shrimp paste, as well as delicious Thai coffee.
Reda and Aregoni want to expand the partnership, including other restaurants. Aregoni wants to include Garifuna Flava into the partnership. Garifuna is located in Chicago Lawn, serving up Latin and Caribbean fare. "We share culture, and food," Aregoni says. "We all have similar backgrounds."
Both Saigon Sisters and Demera have stalls inside Chicago's French Market; unfortunately, as the Chicago Tribune notes, the future of food courts is uncertain. But new opportunities are sure to arise, and these two tough immigrant women are in it for the long run.
You Might Also Like: