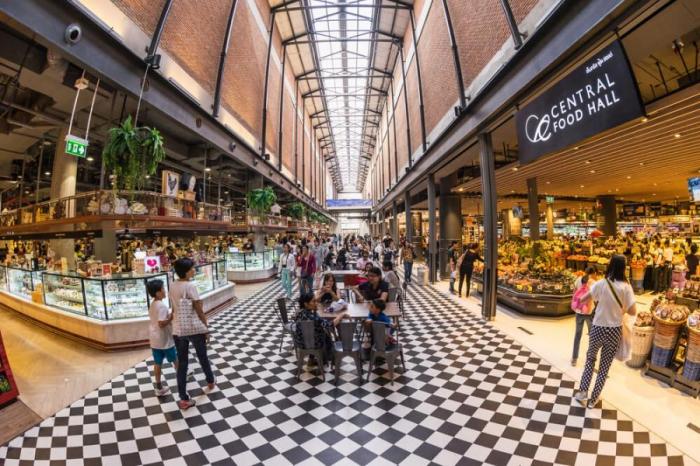 Chicagoans have had their first chance to visit their brand new food hall this week.
Hayden Hall, one of the biggest food halls in the city, opened on Monday in the iconic "Big Red" office tower.
Ran by DMK restaurant group, the hall was inspired by the 1893 World's Fair and named after Sophie Hayden, who designed the Women's Building at the exposition.
The food hall occupies the entire second floor of the building, complete with a wine bar, two sit-down restaurants, and ten food stalls. The first floor is home to a DMK-owned coffee bar.
Walking onto the floor, visitors will find two hallways with four-person tables, leading onto a larger group dining area.
All restaurants in the hall were curated by DMK co-owners David Morton and Michael Kornick and will run a little differently to those in other food halls.
Hayden Hall is currently taking food stall orders through Grubhub Ultimate, a new technology that allows diners to see the prep time of their meals before making a choice. Customers can pay by credit card or order via the Grubhub app in advance to pick up from the stall itself or the collections counter at the top of the stairs.
As for the food itself, Hayden Hall is offering quite the collection of great bites. The hall's website describes its offerings as "iconic" and "celebrating Chicago's rich culinary history."
It adds, "Guests can find local Chicago favorites, international cuisine, craft beer, natural wines and artisan coffee with signature views of Chicago's L and cityscape."
The team behind the Asian-inspired burgers at bopNgrill is offering their very own fried chicken sandwiches – made with soft brioche buns, pickled daikon radish, and crispy chicken katsu. The stall also serves lunch bowls and jumbo Korean-style wings.
Next on the list is County BBQ, DMK's BBQ collaboration with Virtue chef Erick Williams. The restaurant offers its own take on hush puppies and pulled pork sliders.
Great Lake Meat Co, the hall's brand new sandwich concept, serves up hearty, open-face meat sandwiches, while Brown Bag Seafood gives customers the chance to build their own lunch boxes.
Anaba Handroll Bar serves made-to-order handrolls and dessert crepes, while Taqueria DeColores sells street-style tacos that are super colorful and exciting in flavor.
And if you're craving the vegan food from the now-closed Mana Food Bar in Wicker Park, Susan Thompson has opened up in the hall to offer a great range of fun dishes. Mana's closure came as a shock to many, as did these restaurant closures last year, so we're glad to see it return in another form.
Joe Farina has opened his second Victory Italian restaurant at Hayden Hall, too, serving spheres of meat with salad, pasta, or polenta.
For those folks with a sweet tooth, visitors can head over to Julia Coffee & Brioche which serves a variety of fresh, sweetbreads and coffee from local roasters. It's set to be up there with Chicago's best brunch spots this year.
If you're more into food halls for their wine collection, you're more than covered – Sophia Wine Bar is a great way not only to drink superb wine but to learn about it, too. Each option includes information about the region the wine was made in, tasting notes, and a short description of the process to produce it, according to the Chicago Tribune.
One of the most unique things about Hayden Hall is it will actually be open on Saturdays for those out for a spot of shopping or battling through a weekend shift. The Hall will be open for dining Monday to Friday, 11 am-7 pm and Saturdays 11 am-2 pm.
Julia Coffee and Brioche will open at the earlier times of 6.30 am-5 pm Monday to Friday and 9 am-2 pm on Saturdays. The bar will stay open until 10 pm on weekdays but will close at 2 pm on Saturdays.
And if you're looking for somewhere that stays open a little later, check out this list of Chicago's best private dining spots.