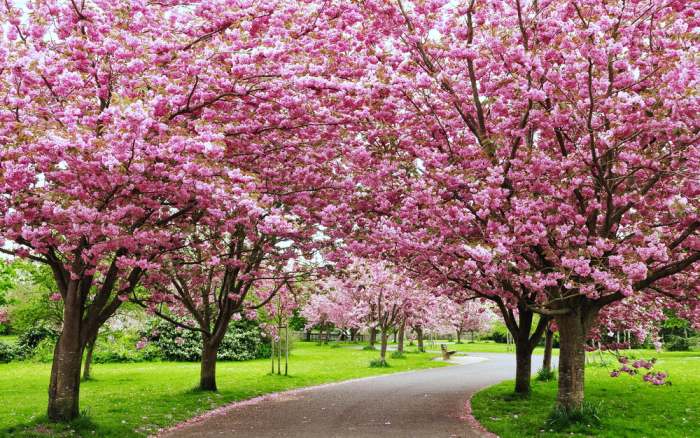 The region's largest single collection of cherry trees, planted on the banks of the Columbia Basin, just south of the Museum of Science and Industry, are in full bloom, according to Patricia Morse, 68, a member of the Jackson Park Advisory Council.  Two warm days last week thrust the trees into early bloom, and now they are near their peak, having already received as many as 3,000 visitors, with many more to come. 
Chicago has many Instagram worthy spots
For those looking to enjoy a nice day out while filling up their Instagram feed, Chicago has so many Instagrammable landmarks, views, and culinary experiences that it's hard to decide where to go first.
America's 3rd-biggest city has high-flying architecture, lush green spaces, world-class museums, striking monuments, beautiful parks, and amazing food, but now even its own sakura delight, the wonderful cherry blossoms to enchant the eye and soul. 
If you happen to be in the Windy City or planning to visit soon, you might still be able to see them and add this particular spot to all the hottest Instagram spots in Chicago that we've tried out for you, the ones you don't want to miss out on your trip. These points are not only stunning in their own right, but also offer the perfect backdrops for your Instagram photos and videos.
Our list of Instagram-worthy spots includes a nice mix of crowd favorites like the Cloud Gate and little-known gems like Lurie Garden. So grab your favorite camera, lens, or selfie stick, and be sure to stop at all these spots for an impromptu photo op!
The cherry trees have been planted starting with 2013
Of course, Chicago's own sakura is a special treat, and one for which Patricia Morse has been waiting eight years. 
Beginning in 2013, the nonprofit Project 120 and the Japanese Chamber of Commerce and Industry of Chicago planted the 160 trees in Jackson Park to commemorate the 120th anniversary of the 1893 World's Fair and the 50th anniversary of JCCC (in 2016).
The trees were planted specifically for hanami, or the traditional Japanese practice of cherry-blossom viewing, according to Chicago Park District Operations Support Manager Karen Szyjka, quoted by the Tribune in 2019.
After the trees were planted, Morse, a gardener and wildflower expert for the Hyde Park Garden Fair, started going to the site every spring, in hopes to see the first pink and white sea of delicate petals. Although conditions seemed perfect in 2019, the flowers did not appear, and only a few of them could be seen last year, making it difficult to take nice pictures. But 2021 did not disappoint, the wait is finally over. 
The Columbia Basin cherry blossoms, expected in late April or May, came early this year. Morse said Jackson Park Advisory Council President Louise McCurry counted 3,000 viewers Sunday.
"Every day I've been going down, and the two days of really warm weather (last week), basically forced all the trees to come out at once," Morse said.
Now, some of the petals are dropping, but there are still many beautiful blossoms to walk through.
Sakura, an old Japanese tradition embraced internationally
Widely celebrated in Japanese literature, poetry, and art, sakura carry many meanings. Since the blossoms can be admired for a brief period of time, they are often seen as a metaphor for the ephemeral beauty of life. At the same time, the tradition of hanami (flower viewing) is old and transmitted from generation to generation, symbolizing the perpetuity of life. Initially, the practice was associated with plum blossoms, but it has become almost exclusively linked with cherry blossoms by the Heian Period (794–1185). With wider exposure to Japanese art and culture in the nineteenth century, audiences in the U.S. and around the world embraced sakura as a particularly Japanese cultural hallmark.
Morse said she learned about Japanese cherry blossom viewing as an elementary school student in the 1950s and still remembers the traditional Japanese song "Sakura, Sakura" ("Cherry Blossom, Cherry Blossom").
A beautiful backdrop for your perfect marriage proposal
Beyond their striking beauty, the Chicago cherry blossoms could be a very good background for one of life's most important questions.
If you are planning to propose to your significant other this spring, Chicago offers many wonderful places in which to do so. A marriage proposal is one of the biggest moments in your life, and it deserves an unforgettable place to honor this special occasion. That's why we've put together the best places to propose in Chicago. These romantic places we've picked aren't ordinary, but truly anniversary-worthy spots where you can create a wonderful, lasting memory.
Jackson Park japanese garden can provide a beautiful backdrop for your proposal. The garden continues to go through renovations, assured it will remain a unique and picturesque slice of chicago. There are multiple covered areas in case it rains, and of course the newly blossomed cherry trees offer a wonderful landscape. Imagine how good your engagement photos will look with all the cherry trees in full blossom around.