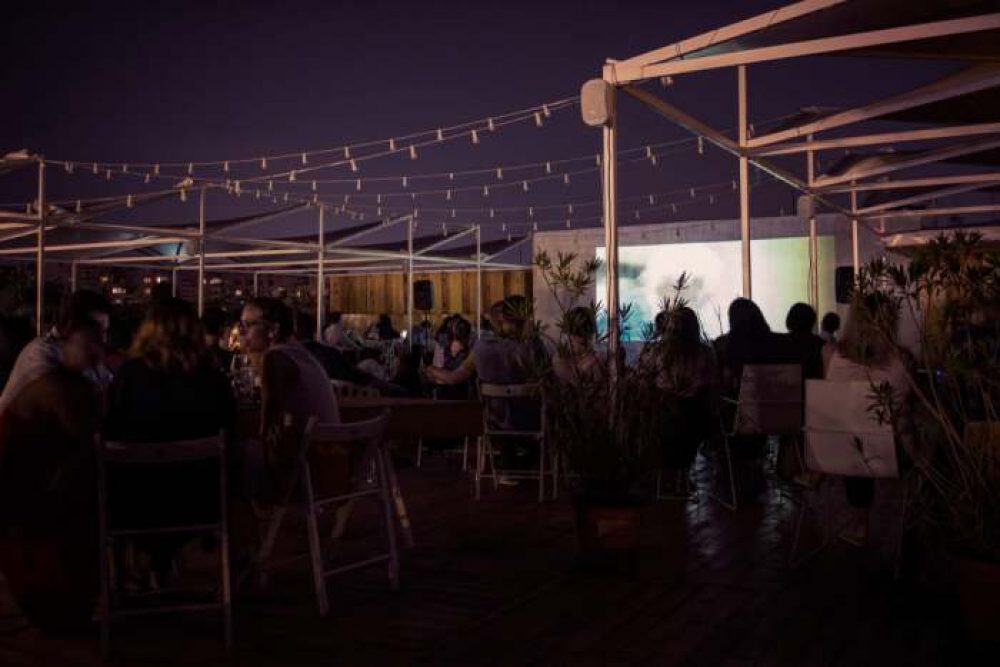 The Rooftop Cinema Club, the ultimate open-air cinema experience, is expanding its globally recognized brand with the reopening of Rooftop Cinema Club Fulton Market at The Emily Hotel.
Go on the rooftops this summer, for drinks or more
Rooftop season is upon us, and there are lots of places in the city where you can enjoy the view in style. Whether you have a business trip or a vacation, or you are a local looking for a great staycation, it would be a pretty sweet setup to have a local hangout stop that's conveniently located close to your hotel. In fact, it would be even better to have it in the same building. So, we put together this local guide to Chicago hotels with rooftop bars, which include some of the best rooftop bars in the city. 
But, if you're looking for more to do than just eat and drink this summer, and you love the movies, the Rooftop Cinema Club is returning to Fulton Market.
The open-air theater on top of The Emily Hotel (311 N Morgan St) starts its second summer season on May 25th, so if you want some seats on the first showings, you should hurry! 
If you love to be outdoors in the summer nights, but you are looking for some more to do, this type of entertainment might be the answer. Located on the fifth floor terrace of the hotel, this one-of-a-kind outdoor cinema experience shows a weekly line up of cult-classic films and timeless favorites viewed on a state-of-the-art LED screen with wireless headphones. Arrive early, play outdoor games with friends and enjoy a playful menu of casual bites, sweet + savory house-made snacks and a summery beverage list from The Emily's resident mixologist, Cristiana DeLucca. Then, just enjoy the movie.
Classics, new releases, and special showings to honor Pride Month and Black actors
Blending a unique moviegoing experience with elevated concessions, a pinch of nostalgia and breathtaking views, Rooftop Cinema Club arrived in Chicago last year to much success. In addition to seeing films, guests can hang out in a spacious lounge area and play tabletop games or snap social-worthy pics from the fifth floor terrace. 
Other offers include a curated craft cocktails list and selection of wine, beer and seltzers so you won't be parched during screenings. As previously said, the sound is delivered through wireless headphones, allowing each person to adjust the volume to their preference. The experience will also be accessible to deaf and hard-of-hearing viewers thanks to open caption screenings.
There are two seating types: an adirondack chair for one and a premium adirondack pair for two, located in the center section of the cinema.
Rooftop Cinema Club will have more showings a day, featuring special classics, cult films and recent releases. During Pride Months, LGBTQIA+ hits like The Birdcage and Set It Off are on the menu, and Black Panther and Candyman come on Juneteenth to celebrate Black actors and filmmakers. On Tuesdays, the lineups will highlight early 2000s favorites such as Legally Blonde and Drumline. Lastly, there will be special themed events held every month that offer a more interactive viewing experience.
And, if you are planning to propose to your loved one and are looking for another special way to do it, after checking the guide to the best proposal places in the city we put together, doing it after a romantic rooftop movie, under the stars, might be a very sweet option. If you have family coming from out of town, the hotel offer cozy rooms.
How much are the tickets and what are you getting for your money
Ready to book your seats? Tickets for the season are being sold since May 10 through the Rooftop Cinema Club website. Showings before 4:30 pm are open to all ages—guests must be 18 or over to enter after that time.
Rooftop Cinema Club offers three ticket types for two different types of deckchairs – a single Lounge Seat for one, a Lounge Seat + Popcorn for one, and a wide-width Love Seat + Popcorn for two. All seats come with cushions and side tables. BYOB (blankets that is… for those Windy city evenings). Standard tickets range from $18.75–$27.75, depending on ticket type and day of the week. Food and beverage is available onsite and prices are in addition to movie tickets. No outside food and beverage is permitted.
Please note, doors open 60 minutes before the screening. Guests are seated on a first-come, first-served basis. The club always encourages guests to arrive early and all together to ensure they can select their preferred seats.
In the event of a canceled screening due to inclement weather, the Rooftop Cinema Club will notify you as soon as possible via email with details on how to transfer your tickets to another screening or obtain a refund. You can check the current status of a future screening on the program tiles of the venue page.