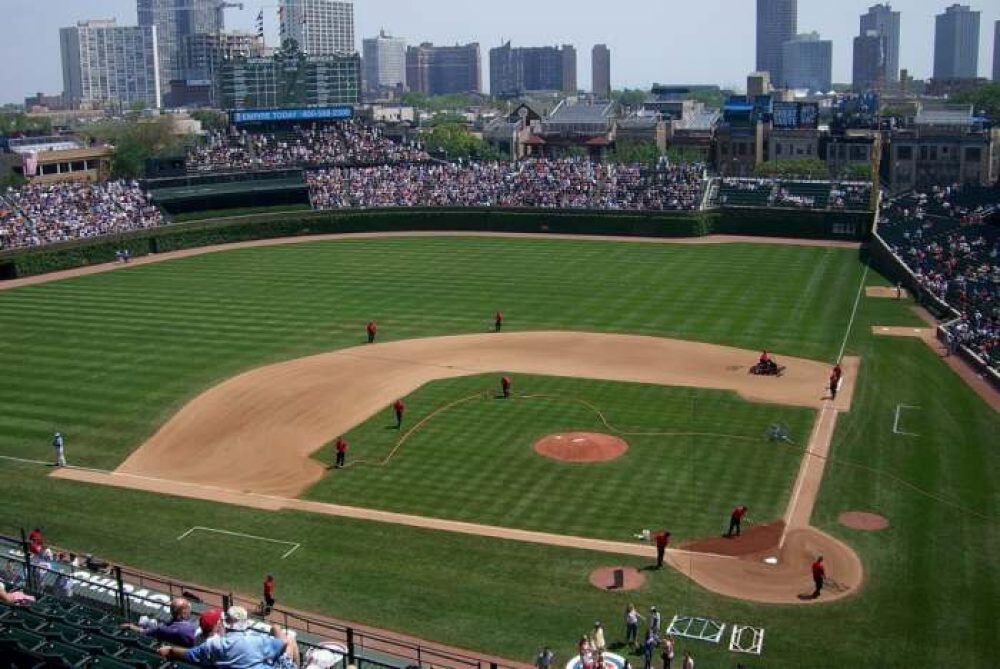 The Stadium Chef Series is coming back in 2023 with an extraordinary culinary experience. Whether you are a fan of the Cubs and went to see them play at Wrigley Field or not, this summer you'll have the opportunity to go out for dinner right on the field.
Wrigley Field, a Chicago landmark since 1914
One of the reasons Chicago is such a great city is the multitude of possibilities for spending down time with loved ones, enjoying all the great things the Windy City has to offer. Whether you're a sports fan or not, Wrigley Field is well known and beloved, a true landmark of Chicago. For those of you who love sports, Wrigley Field could be the best place to propose to your significant other, especially since this ballpark, built in 1914, is home to numerous unforgettable moments for many Chicago locals. It could be a great idea to make the person you love the most become the heart of one of these events. Wrigley Field is a great place to share another priceless moment with your loved one. In 2022, Chicagoans and guests were able to skate inside the arena, now you can enjoy a different, non sporting, experience, one to delight your taste buds. After debuting in Chicago last year, the Stadium Chef Series is coming back to the Friendly Confines on Sunday, June 4. 
Why is Chicago the foodie mecca of America
Chicago food culture is legendary. The city prides itself with many signature dishes that have gained both national and international recognition. No foodie can say no to a hot slice of the gooey, cheesy, and heavenly-tasting deep-dish pizza. How about an Italian beef sandwich, Chicago-style popcorn, hot dog, or a mile-high ice cream cone?
The magnificence of Chicago's culinary staples lies not only in the iconic dishes but also in the restaurants and people that make the magic happen. The City by the Lake has some of the world's top chefs, groundbreaking rooftop lounges, best taquerias, and to-die-for doughnut shops. Chicago's street food is one of the best in the country – some say even THE BEST – knocking the likes of New York and San Francisco out of the park.
But the city's street food is only a small segment of Chicago's culinary scene that wows you with mouthwatering dishes only you can find in your grandma's kitchen. The meatpacking capital of America sure has line-inducing bistros, food trucks, pizzerias, hot dog stands, burger shops, and steakhouses. But here one can also find more Michelin-starred restaurants than you might imagine, so Chicago's fine dining scene is definitely something to consider discovering and then writing home about.
A meal with a spin, the new summer trend
Some of the Chicago food scene blurs the line between entertainment and dining, making the city the foodie mecca of America. You can enjoy an exquisite meal in so many contexts, in formal dining areas or while watching different types of shows, inside and outside.  So, whether you're a seasoned food lover or a culinary rookie, there's always something new to delight your taste buds in the Windy City. This summer, for instance, the Malibu Barbie Cafe will be the new kid on the block in the Windy City, bringing California beachside vibes to Chicago. So, for Barbie fanatics in the city or visiting, the party will start June 7th. The Malibu Barbie Cafe will run through September 15. The menu, created by Master Chef semi-finalist Becky Brown, will include all-day brunch fare like Pacific Paradise Pancakes and a California Dreamin' Club Sandwich, alongside delicious desserts and a variety of drinks.
What to expect of this new culinary treat
The dining experience on Wrigley park will feature a coursed menu created by a lineup of local culinary talent, with dinner taking place in the middle of iconic Wrigley Field. The participating chefs include Matthias Merges (Mordecai, Billy Sunday), Chris Pandel (Swift & Sons), Thai Dang (HaiSous), Jonathan Zaragoza (Birrieria Zaragoza) and more.
The evening  on Wrigley field will kick off with a cocktail reception and hors d'oeuvres before guests step onto the field for photo ops, good enough for some Instagram memorable pics. The meal will consist of a four-course, family-style dinner – set to the backdrop of the stadium's ivy covered walls and historic scoreboard. Tickets to the dinner start at $500 per person and are available starting May 4th via the Stadium Chef Series website. 
While pretty steep, the price you'll pay for this one of a kind dining experience will be well spent. The 2023 event will benefit the James Beard Foundation, which is also hosting its annual James Beard Awards ceremony the same weekend in Chicago. This year, the city has five finalists in the running for prestigious top honors: Obelix (Best New Restaurant), Sepia (Outstanding Hospitality) and chefs Damarr Brown (Emerging Chef), Diana Dávila Boldin (Best Chef: Great Lakes) and Tim Flores/Genie Kwon (Best Chef: Great Lakes).
Chicago isn't the only city hosting the high-profile experience this year. Other cities will be enjoying similar dinners, since the Chef series will head to Target Field in Minneapolis on Sunday, June 25 and Boston's venerable Fenway Park on Friday, September 29. But people wanting to go to those events will have to wait for tickets to be released, which will happen at a later date.