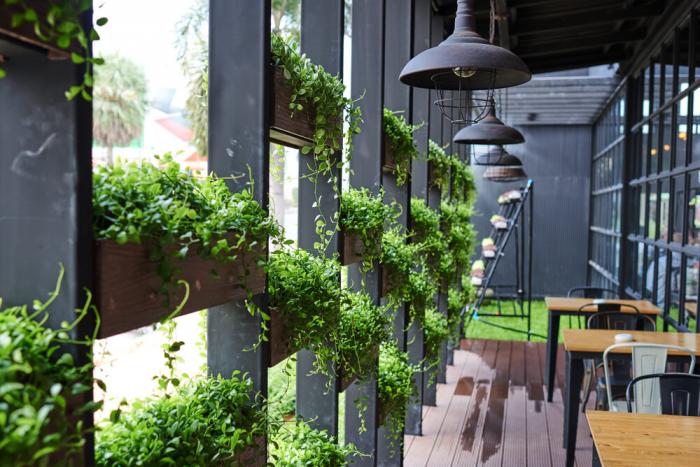 Around the world, restaurant owners are getting creative to comply with social distancing orders, as they reopen to the public.
Among the most creative is restaurateur Sophie Huterstein, the proprietor of The Darling in the West Loop. Huterstein found her inspiration across the pond in Amsterdam, where the illustrious cafe Mediamatic reopened with mini-greenhouses set up for private dining.
"It made headlines everywhere from the BBC to CNN, and I was inspired by the following emotions in a report from the BBC. It was then that I realized that when Darling reopened not only was I under a moral obligation to protect my staff but also to find a way to bring a 'night out' back for those who are not comfortable being around large groups of people until there is a vaccine," Huterstein said.
The Darling Rose Garden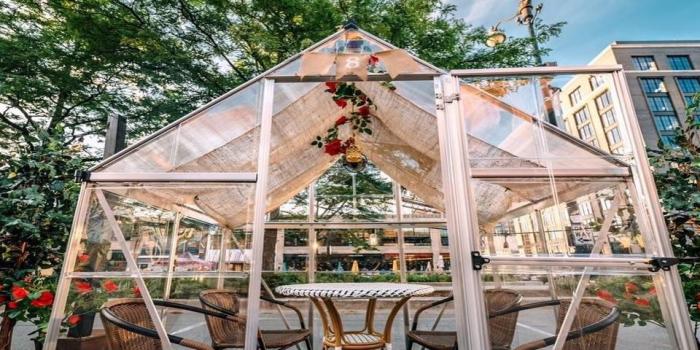 When Huterstein discovered that Randolph Street would be participating in Chicago's Open Streets program, she went online and ordered the few miniature greenhouses she could find. The Open Streets program sets aside sidewalk space to help restaurants host open-air dining, while social distancing measures are still in effect.
Named the Rose Garden, The Darling's 10 little greenhouses dot the outdoor space. Each greenhouse can seat two to four diners. Furthermore, the greenhouses are contactless, other than when a server brings out the food and drinks.
Huterstein points out that the greenhouses are completely sanitized between reservations and at the end of the evening, when a cleaning crew sprays every inch inside with a sanitizing solution. "I'm sure it would be more profitable to simply use picnic benches, and I know a lot of people think I'm crazy, but I felt this was the safest way to do an outdoor business, especially in light of how many pedestrians refuse to wear masks walking around the area," she said.
Darling to Go
During the height of the shutdown in May, Huterstein, and chef Petra Matos kept the restaurant alive with a very romantic to-go package, mimicking the Darling experience.
The Darling To Go was a dinner-and-drinks kit supplemented with flowers, candles, and live-streamed musical performances by a mask-wearing burlesque performer named Miss Ammunition.
The meal included short rib beignets, vegetable chips with sour cream and onion dip, a cauliflower crust pizza topped with pesto, mozzarella, and pecorino cheese, cherry tomatoes and bacon, to be heated in the customer's oven. The gourmet meal was finished with a dessert of chocolate mousse and macaroons, along with a bottle of champagne.
Order at the Darling Rose Garden By Phone
Huterstein has signed up Chicago-based reservation service Tock to make the ordering process easy. Guests view the menu on their phones, which boasts a high-end selection of craft cocktails by the glass or pitcher as well as beer and wine buckets. The English Rose cocktail is a great summertime choice, made with vodka, prosecco, elderflower syrup, mint, and lime.
The Rose Garden's food menu includes shareable delights on small plates, as well as and a sandwich made in collaboration with neighboring J.P. Graziano Grocery; the sandwich is stacked high with smoked salmon, basil-caper flavored cream cheese, red onions, cucumbers, arugula and drizzled with a truffle vinaigrette. Other savory delights include a British meat and cheese board, and a cauliflower crust pizza, smothered with pecorino cheese, bacon, cherry tomatoes, mixed greens, and red onions.
For dessert, there's a delectable chocolate mousse topped with Bailey's whipped cream and drizzled with whiskey caramel, or a simple Aperol spritz sorbet.
A $10 per person deposit reserves a private greenhouse at the Darling's Rose Garden. However, the sidewalk greenhouses are only available on the weekends, Friday through Sunday, from 5 to 11 pm.
You Might Also Like: