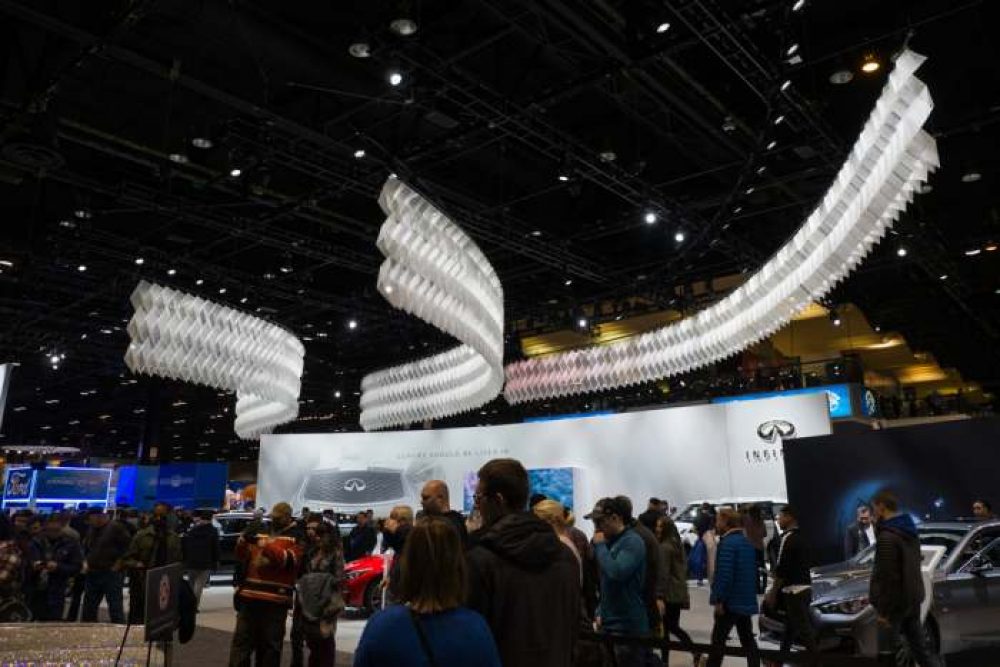 EXPO CHICAGO is back at Navy Pier this spring for the first time since 2019, making its in-person return with new dates and an exciting new offer of exhibitors, programs, installations, and more, welcoming more than 140 leading galleries from 25 countries worldwide.
Navy Pier, One of the Most Iconic Destinations in the Midwest
Navy Pier is one of the most iconic destinations in Chicago and definitely the most sought-after attraction of the Windy City, for locals and tourists alike. Breathtaking lakefront views, unmatched entertainment, and cool breezes — Navy Pier has them all, making it one of the most wanted destinations in the entire Midwestern region, with an undeniable charm. The allure of Navy Pier lies behind its stunning street views particularly from the high-rising Ferris wheel, as well as humongous boats, splash fountains, extravaganza, great restaurants, art scene, and much more.
In order to be able to visit and thoroughly enjoy Navy Pier, you might want to read the comprehensive guide we put together especially for those who have never been there, but want to see its attractions up close. 
Last April, Navy Pier opened to the public only partially, people having access to Navy Pier parking garages, Polk Bros Park, Peoples Energy Welcome Pavilion, North and South Docks, Pier Park (including select rides and attractions, like the Centennial Wheel, Pepsi Wave Swinger and Carousel), East End Plaza, tour boats and cruises, the new Sable hotel, and select restaurants at limited capacity.  Following Navy Pier's longest closure in recent history, we are anxious to reopen our spaces and safely welcome guests back to the Pier," said Navy Pier President and CEO Marilynn Gardner. "We recognize the critical role Navy Pier, as a key economic driver and cultural anchor for the city and state, plays in leading our community out of the devastation from the pandemic. With mass vaccination rollouts now underway, we are eager to help guests safely reconnect to Chicago and its most treasured experiences, and remain committed to helping revive the city and region."
The Highest Quality Platform for Contemporary Art and Culture
Now, Chicagoans and visitors alike have a real reason to be enthusiastic about next month on Navy Pier.  
The city of Chicago has proudly hosted a global contemporary and modern art exposition for nearly forty years and serves as the site of the first international art fair in the Americas. Since its inception, EXPO CHICAGO has remained dedicated to supporting local, regional, and international arts communities, with strong regional support throughout the Greater Midwest, both US coasts, and maintained a growing international commitment from Europe, Asia, and Latin America. 
The International Exposition of Contemporary & Modern Art – Expo Chicago's full name – draws upon the city's rich history as a vibrant international cultural destination, while engaging the region's contemporary art community and collector base. 
The exposition features leading international galleries alongside the highest quality platform for contemporary art and culture. In 2022, EXPO CHICAGO will host more than 140 leading international exhibitors at Navy Pier's Festival Hall. 
EXPO CHICAGO 2022 will welcome galleries representing 25 countries and 65 cities from around the world. Countries represented at the 2022 exposition include: Argentina, Azerbaijan, Brazil, Canada, China, Colombia, Finland, France, Germany, Great Britain, Greece, Ireland, Israel, Italy, Japan, Mexico, Netherlands, Peru, Singapore, South Africa, Spain, Thailand, Turkey, United Arab Emirates, and United States of America.
The Exhibitions for the Next Two Years Are Also Being Prepared
EXPO CHICAGO will host the 9th edition in-person exposition on April 7-10, 2022 at Navy Pier. Moving forward, the exposition will be presented annually in April, announcing April 13-16, 2023 and April 11-14, 2024 as dates for the 10th and 11th editions at Navy Pier. Over the next months, EXPO CHICAGO will be actively working with global partners and Chicago's renowned hospitality community to prepare for next year.
Entering its ninth year as a leading international art fair, EXPO CHICAGO has a lot to offer this year. The Galleries section features leading international exhibitors presented alongside one of the highest quality platforms for global contemporary art and culture. Additional sections include: EXPOSURE featuring solo and two-artist presentations represented by galleries ten years and younger, PROFILE presenting solo booths and focused projects that showcase ambitious installations and tightly focused thematic exhibitions, Editions + Books showcasing limited editions and publications offering a diverse array of print media and object-based practices, and Special Exhibitions featuring select regional, national, and international non-profit institutions, museums, and organizations. 
Leading gallerists on the Selection Committee this year
The EXPO CHICAGO 2022 Selection Committee is comprised of the following leading gallerists: John Corbett and Jim Dempsey | Corbett vs. Dempsey, Chicago; Chris D'Amelio | David Zwirner, New York, London, Hong Kong; Kavi Gupta | Kavi Gupta, Chicago; Leslie Hammons | Weinstein Hammons Gallery, Minneapolis; Rhona Hoffman | Rhona Hoffman Gallery, Chicago; Nick Olney | Kasmin, New York; Jessica Silverman | Jessica Silverman, San Francisco; Susanne Vielmetter | Vielmetter Los Angeles, Los Angeles. 
With the advisement of the Selection Committee, Humberto Moro | Deputy Director and Senior Curator at the Museo Tamayo in Mexico City will curate the EXPOSURE section —highlighting solo and two-artist presentations of emerging work from galleries eight years and younger.