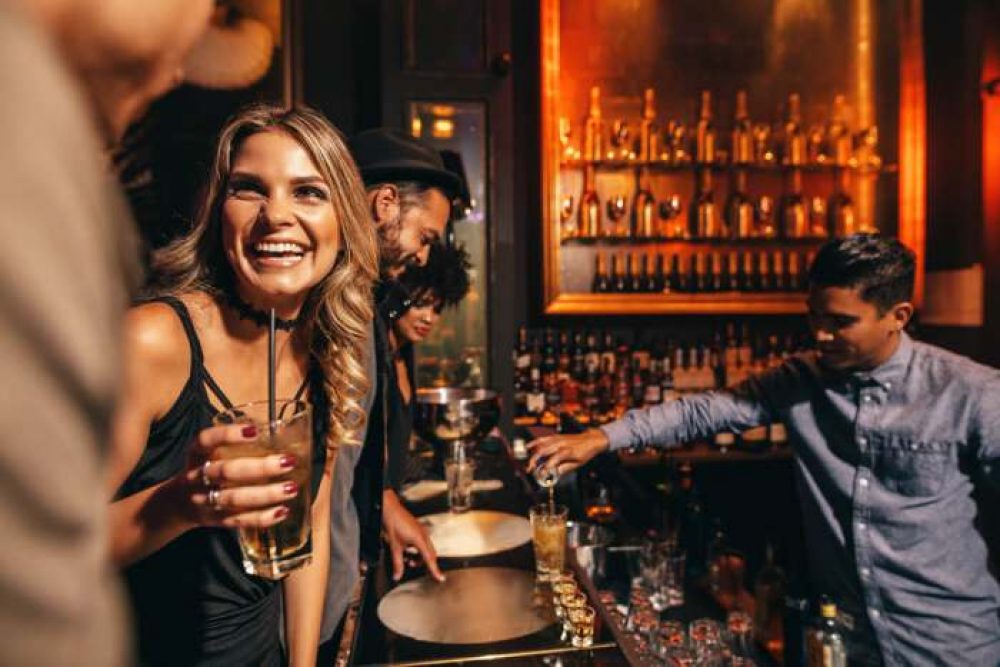 At Moonflower, three industry vets are serving fancy cocktails at affordable prices, in a lush green and welcoming space in the Portage Park area.
Chicago, famous for its food scene and bars
The Windy City is famous for many things, it's amazing architecture, sports life, festivals, 1920s gangsters, and Fortune 500 companies being only a few attractions, but it's the Chicago food that is really unforgettable. Chicago is one of the best cities for culinary experiences, offering a variety of unmistakably local dishes as well as global eats and a wide variety of dreamy restaurants. If you want help choosing one, we have put together a selection of the best dishes and must-try restaurants Chicago has to offer.
When it comes to bars, you have a wide range to choose from in the city, including some amazing hotel rooftop bars, which are a great choice if you travel to Chicago for business or pleasure or if you are a local trying to impress guests. 
Lush greenery, relaxing space, wonderful ambiance
However, if your vibe is a very relaxing, homey atmosphere, and you don't necessarily want to pay a fortune for drinks, but you still like your cocktails, Moonflower, a new cocktail bar in Portage Park, might be the right choice for a nice evening. The feature one would notice right away is the beautiful greenery inside: the plants are lining the walls and hanging in front of the windows. As co-owner Zach Rivera said, even though the exact time he and his partners decided on this green theme is hard to pinpoint exactly, the time spent tending to their own houseplants last year, when we were all stuck inside because of COVID-19, was a deciding factor. Creating a welcoming place for locals and visitors was the aim, and the plants just helped with the vibe and ambiance,  to Rivera, the decision to decorate the bar with greenery was on based on "vibe and ambiance," creating a welcoming place for locals and visitors to enjoy a drink, as well as lush sights.
When friendship found the space to expand
Zach Rivera, Marvin Boeving and Christina Chae officially opened Moonflower at the beginning of December at 4359 N Milwaukee Avenue, in the space previously used by craft beer bar Hops & Barley. They met a while back, when they were working together at Headquarters Beercade in River North, before moving on to roles with Hogsalt Hospitality, 16″ on Center and Celeste. The now partners remained friends and were thinking of opening their own place, but did not find the right space for their endeavour, although they checked possible spaces in Avondale and other Chicago neighborhoods. But when they could secure the space in Portage Park, their dream to go into business as a team finally became a reality.  
Familiar drinks, reinvented, new dares and cool prices
Located just across the street from Tone Deaf Records (which opened in 2019), Moonflower was created to be affordable, the owners being aware of what people in the area would be able and willing to pay for a drink, so most of the drinks on the menu are priced at or around $10.
Although you can find classic cocktails and riffs on familiar drinks at Moonflower, there are some very creative new options to consider. Kiss & Tell is a watermelon-flavored tequila and mezcal drink, augmented with Milkis, a Korean soda from Jong Boo Market, adding "milk and yogurt flavor." The house's riff on a Saratoga (a combination of rye whiskey and brandy), named "Off The Record" (maybe because no one should take anything you say after a few of these and use it against you) replaced sweet vermouth with Goldsaft, a German sugar beet syrup. If you like experimenting, even the most classic drinks offer possibilities, Rivera thinks, so for instance he put together four different coffee liqueurs to create the bar's nitro espresso martini.
Bolo fries and plants to go
Drinking on an empty stomach is never a good idea, so the Moonflower kitchen has dishes for  omnivores and vegetarians, plenty of the dishes being shareable. Whether you like soups, grilled cheese sandwiches or fries, you have where to choose from, the most unique dish on the menu being probably the Bolo Fries, crispy potatoes with bolognese sauce, parmesan cheese and pickled jalapeños. 
The fun part does not end with food. If you like one of the plants in the bar, you might be able to go home with it, for a price, or at least be directed to the place you can buy a similar one from.   The plants that so nicely fill the space in Moonflower came from local shops Sunnyside Plants and Plant Shop Chicago. A couple of shelves on either side of the space are lined with selections from Sunnyside Plants that guests can purchase at the bar. The owners want their new bar to be a gathering place for the city's plant-loving community, hosting meet-ups and auctions. 
Moonflower is open Wednesday through Sunday from 4:30 pm–1am. The owners are waiting to meet many of their new neighbors and hope cocktail lovers will come to try out their creations, while enjoying the lush green space they created together in Portage Park, on their spot on Milwaukee Avenue.