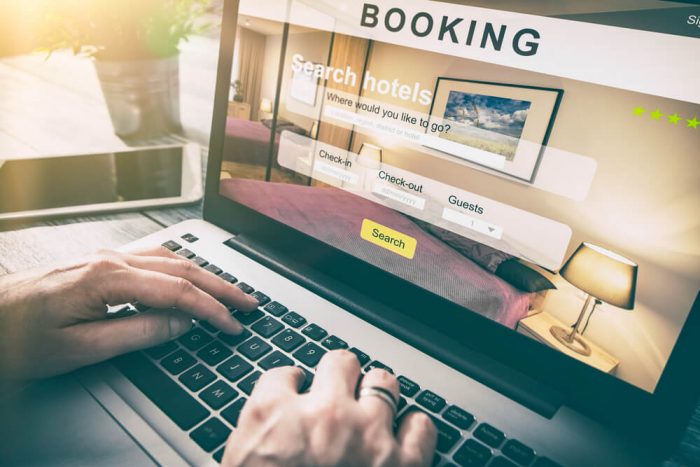 Hotel owners are experts at knowing their customers. They know exactly what service to provide and the quality of support needed.
Imagine using a tool that could increase your website traffic ten-fold! It's possible when SEO is done properly.
Search Engine Optimization is the internet buzz. It helps businesses get noticed online like a giant billboard on the side of the highway, but now in digital form and improves your overall ranking
SEO is a crucial part when creating a hotel's website.
Why You Should Invest in SEO in the Hotel Space
Anyone who owns a business will tell you that one of their goals is to land at the top of the Google Search Results page every time their name is typed in the search bar.
Why, you may ask? It's primarily due to users only concerning themselves with the first page of Google results page. There are roughly 3.5 billion Google searches a day and millennials make up most of that statistic.
Learning how to play the algorithms will give your hotel a leg up against your competitors. Getting familiar with digital marketing should be a hotel's top priority as we live in a digital age.
If you're not familiar with SEO (Search Engine Optimization), it's the process of increasing traffic to your website through a search engine (great article here). Hotels need to learn about the importance of using SEO to increase traffic to their website. 
The more traffic and the more data they acquire will help increase revenue and keep visitors coming back.
Hotels can have multiple streams of traffic. These can come from their email list, paid searches like Google AdWords, referrals or backlinks from other websites, and direct traffic from those who directly accessed your website.
Organic search traffic occurs when a user types in keywords in their search engine bar and stumbles upon your website.
This type of traffic is helpful because you don't have to invest any money into it. The SEO will do all the work for you.
It's important to stay as relevant as possible and do your homework on keyword searches. These keywords are what your visitors will type into their search bar and, hopefully, discover your website.
In an article by Julie Daniel, she talks about how Google's search landscape is changing. She notes that voice searches are becoming increasingly popular and should not be overlooked. If anything, there should be more focus placed on that than regular typed in searches.
Something to take note of is the difference between searching on a desktop and on a mobile phone. On a desktop, Daniel says efforts should be placed more on paid ads rather than organic search.
The example she uses is "generic hotel searches—such as "hotels in Paris"—users are immediately presented with a set of paid ads, followed by the metasearch engine, which includes a map, customer reviews, contact information, best available rates, images and more."
Remember that the competition is not a friendly one and that means spending the extra buck for an ad will be worth it and visitors will be more inclined to click on it.
For the mobile side she notes, "For users searching on mobile phones, a hotel's "Google My Business" listing and metasearch booking engine occupy an entire screen, with many attention-grabbing features pushing organic results beneath this attractive display."
Mobile phones are likely the first device a visitor would use to search for a hotel so this information is crucial.
Online Searches VS. Number of Guests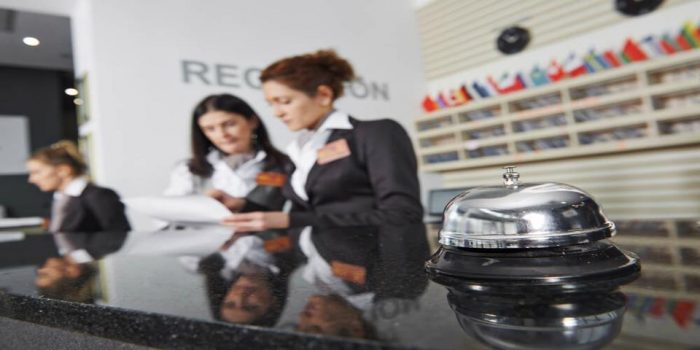 Most of the time, your hotel will be chosen for its location, convenience, and price. The decision will also depend on how many people have searched for your hotel.
By increasing your presence online, you will automatically increase the number of guests. This really shows on search engine rankings. Ideally, you want your hotel to rank number 1.
Increasing your presence can refer to making more content, making your hotel visible on all booking websites, getting backlinks from travel blogs, and more.
To learn more about on-site and off-site SEO, click here.
Digital Marketing Tips for Hotels
Search Engine Optimization (SEO) does strongly affect the decisions of visitors on hotel websites.
This search will determine whether they choose to inhabit the hotel for their stay or find a better one nearby.
Here are a few tips and tricks for hotels to improve their SEO (for a more in-depth article, you can check this one out from Digital Authority) 
 1. Create Content: The key to staying visible online is creating lots of content and staying consistent. Consistency is key. By answering your visitors questions or giving them relevant information, they will continue to use your website.
 2. Snap Photos: Stunning, high-quality images are enough to grab a visitor's attention. By adding value and optimizing these images, like a well thought out description to advertise a part of your hotel, it will really attract visitors.
Keep in mind that all images have to contain a description that can also be found on google.
For example, if a user is searching for the best bed and breakfast, your image of scrumptious pancakes and orange juice could land on the results page and end up getting clicked on.
 3. Meta-Search Marketing: This type of marketing is when a booking website like Expedia.com displays your hotel option and also uses your ad to show off new deals. It's a good way to make your hotel's name known and stand out if you offer the best deals.
 4. Searches, Reviews, and Reputations: We now use technology to our advantage and rely on reviews to decide for us on where to go. A common traveler behavior consists of rummaging through website after website for the good, the bad, and the ugly of review and ratings on hotels.
If your hotel has a spotless, 5- star review online you can rest easy knowing that whatever service you're providing is making your visitors happy and they are helping invite more. This will give your hotel a clean reputation it needs to increase traffic.
 5. Clean Up Your Website: If you haven't hired an SEO expert, you're missing out on an opportunity to be seen by many.
These professionals will conduct a thorough keyword search, optimize and improve your images, all descriptions and copy, page titles, and tags.
All of the above should be revisited to improve its accuracy and visibility online.
In summary, another hot tip is to take advantage of social media. Post often, engage with users, and offer promotions they can't turn down.
Doing a collaboration with booking websites like Expedia, Kayak, or Trivago is another good place to start.
Always optimize your content by writing clear and concise copy and using language that your visitors would use when searching for the right hotel.
You Might Also Like: