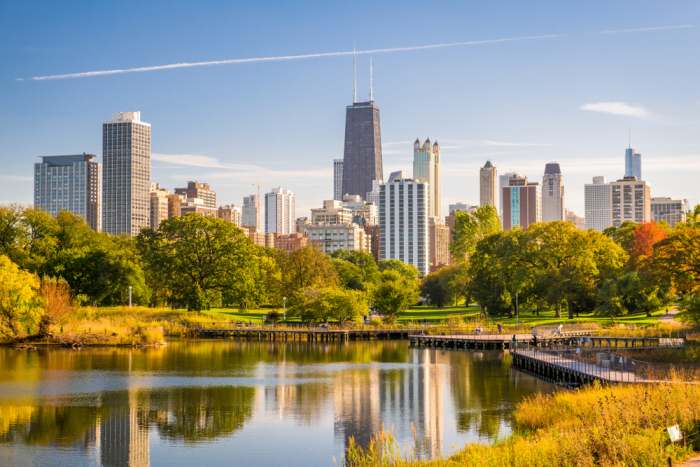 Illinois has always demonstrated an interest in permitting online gambling. Back in 2009, the Land of Lincoln sent a joint letter with New York asking the Department of Justice for clarification on whether it was legal for states to sell lottery tickets online.
The DOJ replied two years afterward, stating that not only was it legal for states to sell lottery tickets online but they could also permit online casinos. This interpretation of the 1961 Wire Work inspired Illinois to start selling lotto tickets on the Internet in 2012.
In the same year, Delaware legalized online casinos. New Jersey followed next in 2013, Nevada in 2015 and Pennsylvania in 2017. A few more states have permitted one or more forms of online gambling. But where does Illinois stand in the debate about online gambling legalization?
An Online Lottery
As mentioned, Illinois was the first state to take its lottery sales to the Internet in 2012. Initially, the Prairie state only intended to sell lottery tickets. However, WGN America, which used to broadcast the state's lottery drawings on national television, discontinued the program in 2014.
To provide a convenient way for Illinois lotto players to view winning numbers, the state launched a website for that exact purpose. Now, you can buy tickets, discover the correct numbers, and determine whether you've won or not on the Internet in Illinois.
In case you're wondering, there are more than five lottery games in Illinois. There's the state lottery, which pays out from $2 million. Then there's the Lotto Extra Shot, which pays from $50,000. You can also participate in two of the country's biggest lotto games—Mega Millions and Powerball.
Sports Betting
After months of debates and opposition, Illinois legalized sports betting in late 2019. The bill allowed both in-person and mobile betting, meaning you can now wager on your favorite sports legally. Discover more details at online-gambling.com, including everything that's not legal under the new Illinois online gambling bill.
Like many states, Illinois legalized nearly all major sports: Football, basketball, baseball, hockey, soccer, boxing, and athletics, to name a few. The only notable exceptions were high school sports and betting markets for colleges based in the state.
Bet Rivers accepted the first legally placed sports bet in Illinois in March. It also became the first betting company to open an online sportsbook in June. According to the new betting laws in Illinois, there was a requirement for punters to register in person before they could bet online.
Governor JB Pritzker suspended this requirement in June for COVID-19 related safety reasons. For some reason, he rescinded the order in July but reinstated it in August. Since then, it's been legal to create an account at an online sportsbook without the need for in-person registration.
Daily Fantasy Sports
The law legalizing sports betting in Illinois in 2019 also permitted sports betting. Before then, people still participated in DFS. But they did it because there was no law that banned it at the time—a legal grey area. Now, the Illinois sports betting is clear.
Whether you join FanDuel or DraftKings, it's legal to play fantasy sports. For the uninitiated, DFS involves drafting a team of MLB, NBA, NHL, or MLS players from a pool of players from different franchises in the same league.
As a result, you could pick two wide receivers from the Chiefs, a quarterback from Tampa Bay, a Kicker from Baltimore, running backs from the Patriots, and line backs from the Steelers. The objective is to acquire maximum points when players in your DFS team play well in real life.
DFS websites award points to every player depending on their performances. As a result, there are competitions and tournaments from millions of people who participate in the game. Some DFS tournaments have grand prizes worth up to $1 million in payouts. But in many cases, you must also pay an entrance fee.
Online Poker
Throughout the country, it's common for states to legalize online poker even though other casino games might be banned. Nevada and California are prime examples. Both of these states don't allow their citizens to play slots, blackjack, or roulette online. However, you can play online poker.
Unfortunately, poker players in Illinois don't have these privileges. Online poker is illegal in the land of Lincoln. In the past, there have been efforts to make it legal. Even the state's senate passed a bill legalizing poker in 2017 but it stalled afterward.
There are hopes Illinois could soon legalize online poker. Amid an economic downturn caused by COVID-19, many states in the country have been legalizing online casinos to increase their revenues. Illinois could soon join them.
Online Casinos
You've probably guessed it—online casinos are not yet legal in Illinois. If they were, playing poker online wouldn't be a crime. To be clear, land-based casinos are allowed in the Prairie State, especially tribe-owned casinos.
However, you can't operate an online casino in the state. If you want to play slots, blackjack, or baccarat online, your best bet is to play at out of state websites. Many of them aren't supposed to accept bets from players in Illinois. And as a result, they could very well scam you with little legal consequences.
Social Casinos
Social casinos allow you to play casino games like poker, slots, and craps for fun. You don't need to deposit money because the apps and websites give you the betting coins you need. The best social casinos have hundreds of slots and card games.
And using the money they give you, there's a chance you could win millions of dollars while experiencing gambling fun online. Of course, you can't cash out any of this money—otherwise, the apps and sites would have to be regulated.
All the same, social casinos are legal in Illinois. You can download as many social casino apps as you can. And some of them allow you to place their games without a need to create an account. However, beware some social casinos sell you betting chips. You don't have to buy them, though.