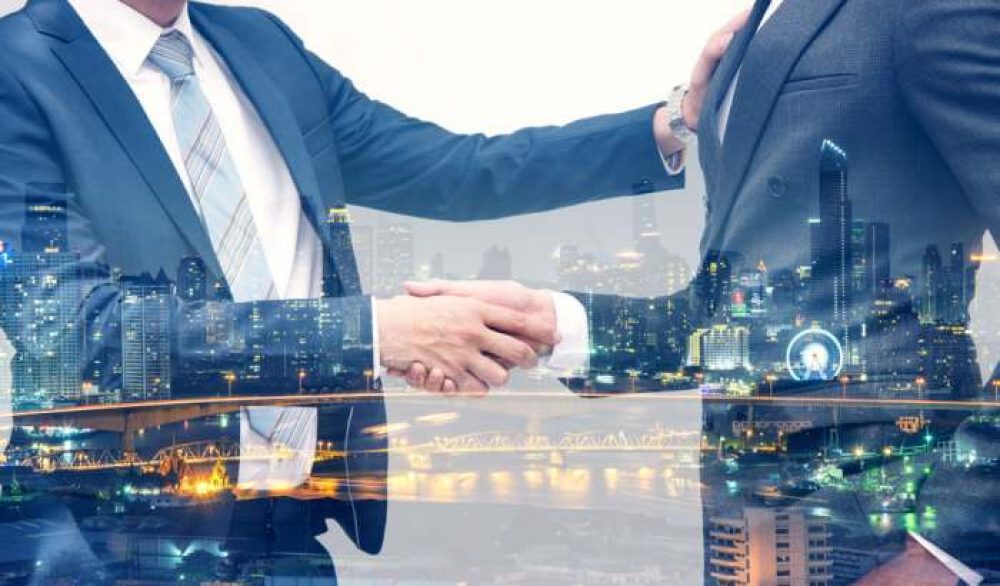 Kroger and Albertsons, the parent companies for Jewel and Mariano's, announced October 14th that they have entered into a definitive agreement to merge the two complementary organizations with iconic brands and deep roots in their local communities in order to establish a national footprint and unite around Kroger's Purpose to Feed the Human Spirit. 
Through a family of well-known and trusted supermarket banners, this combination will expand customer reach and improve proximity to deliver fresh and affordable food to approximately 85 million households with a premier omnichannel experience.
Under the agreement, Kroger will pay approximately $24.6 billion
Under the terms of the merger agreement, which has been unanimously approved by the board of directors of each company, Kroger will acquire all of the outstanding shares of Albertsons Companies, Inc. ("Albertsons Cos.") common and preferred stock (on an as converted basis) for an estimated total consideration of $34.10 per share, implying a total enterprise value of approximately $24.6 billion, including the assumption of approximately $4.7 billion of Albertsons Cos. net debt. As part of the transaction, Albertsons Cos. will pay a special cash dividend of up to $4 billion to its shareholders. The cash component of the $34.10 per share consideration will be reduced by the per share amount of the special cash dividend, which is expected to be approximately $6.85 per share. This cash dividend will be payable on November 7, 2022, to shareholders of record as of the close of business on October 24, 2022.
Kroger Chairman and CEO Rodney McMullen, who would retain those titles at the combined company, said it will decide market by market whether stores will change their names. "We'll want to evaluate each market individually, who has the stronger market share," he said, adding they would reinvest approximately $500 million into price reductions, and spend $1.3 billion updating Albertsons stores and $1 billion on higher employee wages and improved benefits.
"We have been on a transformational journey to evolve Albertsons Cos. into a modern and efficient omnichannel food and drug retailer focused on building deep and lasting relationships with our customers and communities. I am proud of what our 290,000 associates have accomplished, delivering top-tier performance while furthering our purpose to bring people together around the joys of food and to inspire well-being. Today's announcement is a testament to their success," said Vivek Sankaran, CEO of Albertsons Cos.
Together, Albertsons Cos. and Kroger currently employ more than 710,000 associates
Kroger, based in Cincinnati, Ohio, operates 2,800 stores in 35 states, including brands like Ralphs, Smith's and Harris Teeter. Albertsons, based in Boise, Idaho, operates 2,220 stores in 34 states, including brands like Safeway, Jewel Osco, Shaw's, and Star Market. 
Together, Albertsons Cos. and Kroger currently employ more than 710,000 associates and operate a total of 4,996 stores, 66 distribution centers, 52 manufacturing plants, 3,972 pharmacies and 2,015 fuel centers. The combination creates a premier seamless ecosystem across 48 states and the District of Columbia, providing customers with a best-in-class shopping experience across both stores and digital channels. Both Kroger and Albertsons Cos. are anchored by shared values focused on ensuring associates, customers and communities thrive. The combined company will drive profitable growth and sustainable value for all stakeholders.
Kroger has a long track record of lowering prices, improving the customer experience and investing in its associates and communities. 
Consistent with prior transactions, Kroger plans to invest in lowering prices for customers and expects to reinvest approximately half a billion dollars of cost savings from synergies to reduce prices for customers. An incremental $1.3 billion will also be invested into Albertsons Cos. stores to enhance the customer experience. Kroger will also build on its recent investments in associate wages, training and benefits. Kroger has invested an incremental $1.2 billion in associate compensation and benefits since 2018. The combined company expects to invest $1 billion to continue raising associate wages and comprehensive benefits after close.
Albertsons, leader in the Chicago area with its Jewel stores
The deal will likely get heavy scrutiny from U.S. antitrust regulators, especially at a time of high food price inflation. If approved, the deal is expected to close in early 2024.
Together, the stores would control around 13% of the U.S. grocery market, assuming the sale or closure of around 400 stores for antitrust reasons, according to J.P. Morgan analyst Ken Goldman. He also said a stronger combined company could possibly help tame food price inflation, since it would have more power to reject food producers' price increases. 
Still, that is a distant second to Walmart's 22% share. Amazon, which bought Whole Foods in 2017, is also a growing player in the space, with 3% share. Warehouse store Costco controls 6%. Value chains like Aldi and Dollar General __ which have a combined 4% market share __ have also been squeezing traditional grocers like Kroger and Albertsons, particularly as red-hot inflation pushes people to cut costs.
Albertsons is the smaller company of the two, but it is the market leader in the Chicago area with its Jewel stores. 
Chicago market conditions could draw the attention of federal antitrust regulators who must approve the combination. It's not known if any Chicago-area locations will change or get a new name. If the merger is approved and goes through, the foodies in Chicago would not only have some of the best eateries in the US, but also an improved chain of groceries retailers, and staffed with better paid people, and this can only be good news. 
About Albertson
Albertsons is a food and drug retailer. Albertsons operates under 20 well-known banners including Albertsons, Safeway, Vons, Jewel-Osco, Shaw's, Acme, Tom Thumb, Randalls, United Supermarkets, Pavilions, Star Market, Haggen and Carrs, as well as meal kit company Plated. Albertsons was formed in 1939 and is based in Boise, Idaho.
About Kroger
Kroger Co. (NYSE: KR) is dedicated to the purpose of Feeding the Human Spirit™. Nearly half a million associates in a family of companies who serve over nine million customers daily through a seamless digital shopping experience and 2,800 retail food stores under a variety of banner names, serving America through food inspiration and uplift, and creating #ZeroHungerZeroWaste communities by 2025.