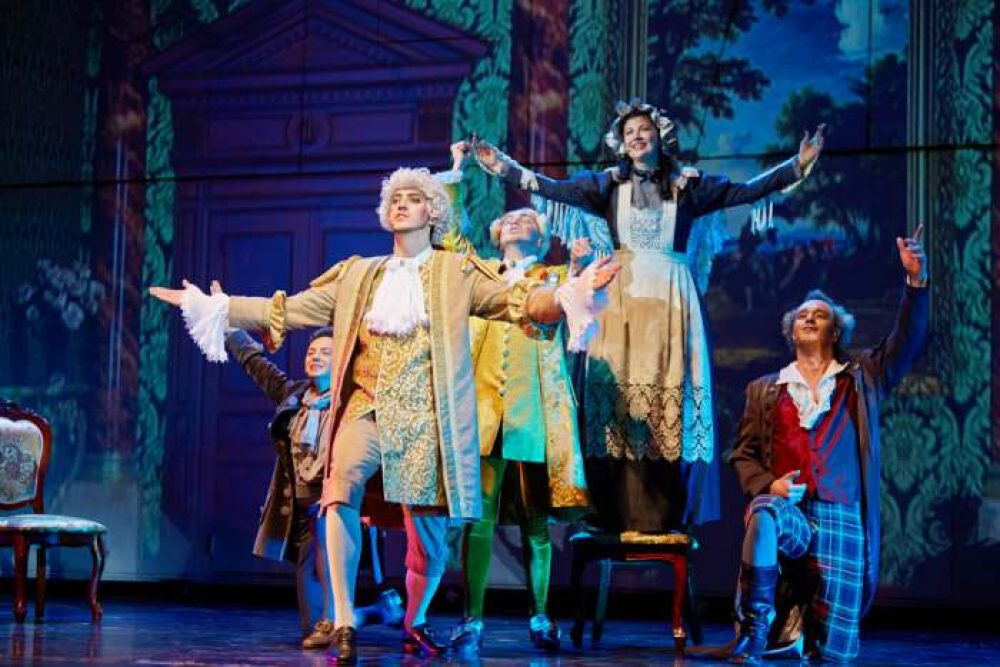 'The Twenty-Sided Tavern' invites Chicagoans and visitors to embrace all the sword-and-sorcery tabletop roleplaying games have to offer in a new D&D inspired theater show. 
Chicago, the best big city in the country for the sixth year
Chicago was recently named the Best Big City in the United States for an unprecedented sixth straight year in a row. 
More than 240,000 people from around the country voted for our city in the Conde Nast Traveler's annual Readers' Choice Awards and we are happy to say no other city has won so many times in a row until now.  
We all know our beloved city has a lot to offer, from great spots where famous artists love performing live, to great food, to be enjoyed either on the street, in the parks or in one of its amazing restaurants, and wonderful rooftop bars from where you can take the best pictures while you drink signature cocktails to remember. The city also has immersive shows that blow your mind, great theaters and continuously innovates to bring all art forms into the city, for us to enjoy and enrich our souls.   
Immersive experiences and shows galore
After two pandemic years when the concerts, festivals and performances were pretty much banned from the city, Chicago got its flamboyance back in 2022. In June, Stage 773 launched its new concept Whim – a complex immersive theater and art experience, complete with self improved cocktails.
The first stage of the project is an immersive cocktail bar located within the theater's newly renovated lobby. Basically, what this means is you can order a series of interactive cocktails with participatory elements, this being meant to "blur this idea between artists and audience," according to producer Brad Younts. 
The fun continued after you got your drink all dolled up, since you could explore the space and its new features – from interactive art to an "enchanted forest" experience, all created by local designers. 
The Twenty-Sided tavern now offers a new concept, inspired by Dungeons & Dragons and other fantasy TTRPGs (tabletop roleplaying games), which are suddenly very popular, being represented in everything from online streaming series to appearances on Stranger Things. Now, a new interactive show coming to Chicago is giving seasoned tabletop players—and curious newcomers—an opportunity to step outside the theater of the mind and explore this fantasy world in, well, a literal theater.
A show with dungeons, dragons, comedy and interactive play
The Twenty-Sided Tavern, which begins its residency at the Broadway Playhouse on October 27, is an immersive theatrical experience inspired by games that "might involve dungeons and might involve dragons." This is a complex show, since it is a comedy, an interactive game created by experienced game designers all at the same time, using the cast, the crew and the audience to tell an ever-changing story. 
The audience is a "fourth player" at The Twenty-Sided Tavern, collaborating directly with the actors and the Game Master. Beside the more traditional improv show audience engagement, The Twenty-Sided Tavern uses Gamiotics, a browser-based software that guests use to vote to make decisions on where the story will go—what characters appear, what rooms they explore. The result is an experience that balances giving the audience agency while letting guests choose their level of involvement—and a different show every night, which means someone could go to see the show multiple times and have different experiences. 
Other fun things to do this fall in the city
But if this kind of theater is not exactly your cup of entertainment, no worries. We have prepared a list with the best things to do in Chicago this season. If you plan to spend some time with family, friends or your significant other, the activities we have hand picked for you to try are really fun and engaging, perfect even for romantic dates. From pumpkin patches and apple picking to admiring fall foliage and taking part in fun activities and events, you will find perfect ideas for both adults and kids to do in Chicago and suburbs.
And since we are in the midst of spooky season, if you are you on the hunt for a new afternoon diversion, you should consider a visit to the Medieval Torture Museum. This one-of-a-kind, interactive, eight-room tour of history's most gruesome torture methods in State Street might be just the right choice. The Medieval Torture Museum gives people the opportunity to see some of these torture devices up-close, in a more direct way, although you don't have to worry, it might be an interactive experience, but no one will be hurt, even though especially squeamish people might want to take a pass on visiting.