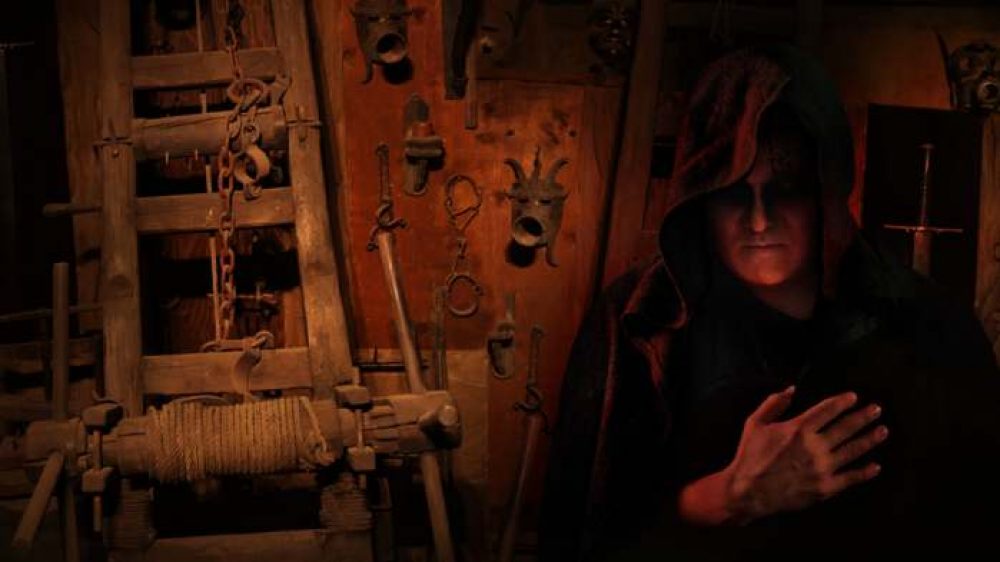 Are you on the hunt for a new afternoon diversion? A visit to the Medieval Torture Museum, an interactive, eight-room tour of history's most gruesome torture methods in State Street, might be just the right choice. 
Torture was a commonplace form of punishment throughout Europe in the Middle Ages, although it has been common even before. It was mostly used to either extract or force victims into confessing a crime – regardless of whether they were actually guilty or innocent. With no legal regulation, just about any type of torture was allowed and practiced in the Middle Ages, and here are only o few examples. 
Rat torture
To force confessions out of a victim a rat would be placed on their stomachs, covered by a pot. Heat would be applied to the pot, which would cause the rat to panic and begin to dig through the victim's stomach.
Iron Chair
A popular torture device, the iron chair was a chair containing hundreds of sharp spikes. The victim would be strapped onto the chair, and as the straps were gradually tightened, the spikes would tear deeper into the flesh.
The Judas Cradle
Perhaps the goriest and most unpleasant of them all, the Judas cradle forced the victim's anus or vagina onto a sharp spike, and increased pressure was added (sometimes with weights) to gradually tear the insides of the victim apart.
Thumbscrew
Much as it sounds, this small yet agonising torture device involved placing a screw through the victims thumb and turning.
Flogging
Flogging was also commonplace. Beating the victim repeatedly, usually with a leather whip until they confessed or slipped into unconsciousness. Some people even flogged themselves, often as part of a religious ritual and form of self-punishment for committing "sins."
The Cage
The cage was a metal cage just big enough to fit a human into but not big enough to move. The victim would be left there without food or water until a confession was admitted. If not, they would simply be left to die. This was also used as a Medieval execution method, where the victim would typically be hung in the cage in a public place and left to die.
Getting to know the gory history up close and personal
The Medieval Torture Museum gives people the opportunity to see some of these torture devices up-close, in a more direct way, although you don't have to worry, it might be an interactive experience, but no one will be hurt,  even though especially squeamish folks might want to take a pass on visiting. Instead of displaying historical torture devices under glass, the museum created diorama-like set-ups that show silicone dummies—their visages mimicking those of  actors who posed for each scenario—being subjected to medieval-era torture methods, some real, some not, from a Holy Roman Empire-style breaking wheel to a Viking "bloody eagle," a ritual in which a victim's lungs are pulled from their ribcage to resemble a set of wings (as pictured in the  2019 movie Midsommar). A short wall text accompanies each installation, but more detailed historical context is provided by the museum's free audio guide, performed by a spooky-voiced actor.
Many installations are based on real-life stories, and people get to experience some up close because, as museum manager Paula Malone explains, they "wanted people to feel more emotion rather than just coming to see artifacts". Thus, guests are invited to try out some of the devices, like a lever that dunks a waxen-faced woman into a vat of water—a method used in the famous witch trials—or a guillotine blade that can be hoisted up and tugged to land atop a dummy's severed neck. Visitors can also pose for photo ops or open up chests or coffins (do not be surprised if you find dismembered body parts inside). You should reserve an afternoon for the visit, because, if you decide to listen through the whole audio guide, the visit will take several hours. After a circuit through all eight rooms, you can try out the museum's ghost hunting app, which is free to download and will enable you to detect "ghosts" of the tortured subjects. If you think you are ready for the challenge of plunging into centuries of torture history, The Medieval Torture Museum, located at 177 N State St, is open daily from 10am–10pm, and tickets are $29.99 per person. There's a preview video available at the museum's entrance for visitors to tell whether the gory displays might prove to be too much for them. 
Other attractions for museum lovers who are easily spooked
If museums are your thing, but you are not into medieval torture, you can try the art museums on the Magnificent Mile. On Michigan Avenue, you can tour such well-known sites as the Art Institute of Chicago, Loyola University Museum of Art, the Museum of Contemporary Art Chicago, Hildt Galleries (located inside the Drake Hotel), the Richard Gray Gallery (located at the John Hancock Tower), and Mongerson Gallery to name a few. 
If you are an art lover, but would also love to do some outdoor exercise and you cannot bring yourself to choose between the two, there is a solution. If you had the chance to see  "Immersive Van Gogh," the three-dimensional art exhibit hosted by the Germania Club Building in February, and you want to relive the magic or if you did not get a ticket, but still want to experience Van Gogh's art in a different manner, the answer might be a new Chicago attraction: The Maggie Daley Ice Skating Ribbon in the Loop. If you like to skate, you will be able to do that while admiring some of the artist's most iconic works imprinted on the ice, as part of "Gogh Skating," a partnership between "Immersive Van Gogh" and the Chicago Park District.