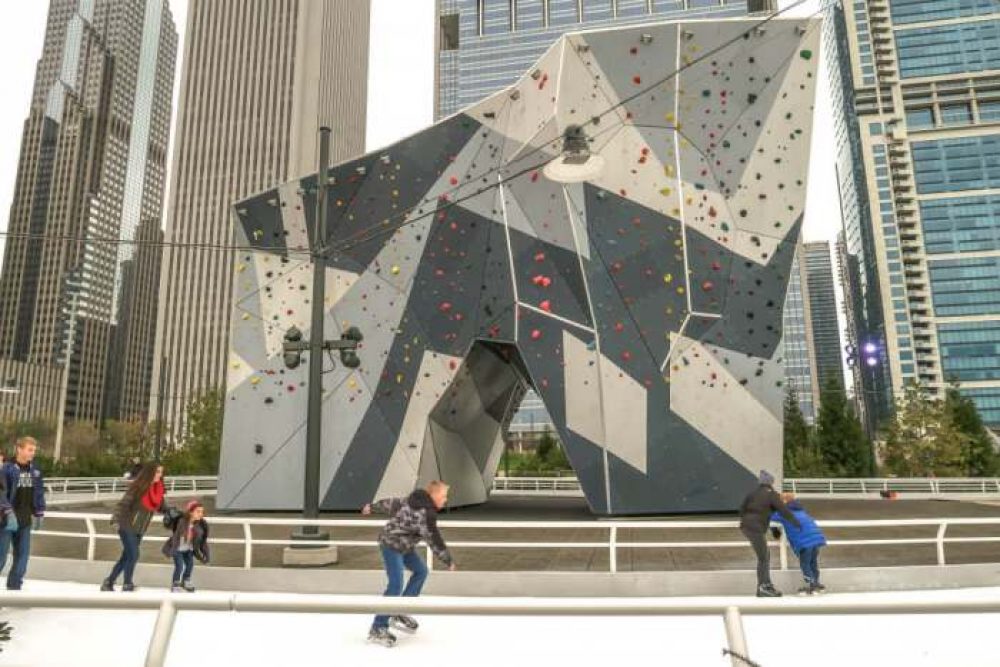 If you had the chance to see  "Immersive Van Gogh," the three-dimensional art exhibit hosted by the Germania Club Building in February, and you want to relive the magic or if you did not get a ticket, but still want to experience Van Gogh's art in a different manner, the answer might be a new Chicago attraction: The Maggie Daley Ice Skating Ribbon in the Loop.
This new and different approach to presenting the Dutch artist Vincent van Gogh's post-Impressionist work will for sure be a hot spot this winter. The ribbon will open for the season on November 19 (the same night Christkindlmarket opens and the city's Tree Lighting Ceremony is happening). If you like to skate, this is what organizers have in store for you: some of the artist's most iconic works will be imprinted on the ice, as part of "Gogh Skating," a partnership between "Immersive Van Gogh" and the Chicago Park District, and you will be able to glide over it.
A three-dimensional world people were able to freely explore and experience
"Immersive Van Gogh" is the work of an incredibly versatile Canadian theater company, Starvox Entertainment, which has been available in Toronto, Chicago, and San Francisco this year. It consists of over three thousand moving digital interpretations of the famous artist's paintings, projected all around the walls of the space, while classical music is playing in the background. The most popular paintings of Van Gogh, such as Starry Night and Sunflowers, were transformed into a three-dimensional world and people who saw the exhibition were able to freely explore and experience. This multi-sensory experience was made possible by the one hundred and fifty high-definition projectors which created life-like floor-to-ceiling images. The exhibition's curators promised and delivered a one-of-a-kind experience which would be even better than seeing the real paintings in a museum. The magnitude of the images allowed guests to really see details and the brush strokes that would have been otherwise missed by the human eye in a normal museum setting.
This exhibition appealed to a wider public, not only to regular art lovers, who already know all there is to know about the masterful creators of the Parisian Atelier des Lumières, Van Gogh included. The younger generations, who probably enjoy the digital masterpiece more than the painter's original work, were also attracted. Either way, the exhibition was a smash-hit experience that has attracted, according to its creators, more than two million visitors before coming to Chicago, where 150.000 people bought tickets to see it even before it had opened. 
A different way of exposing winter sports enthusiasts to classical art pieces
And, since "Immersive Van Gogh," which projects paintings onto the walls of an indoor space, was such a big hit, the idea was to make some part of the experience available for outdoor winter activities lovers. The slender rink will feature static designs inspired by van Gogh's "Starry Night" and "Sunflowers" series embedded in the ice. The quarter-mile-long ribbon will be open seven days a week for four daily sessions (11am–1pm, 2pm–4pm, 5pm–7pm and 8pm–10pm) through March 13, if the weather permits it. 
There are some things you should know before you hit the ice. Reservations are already  available online, where they'll be released in batches throughout the season, and you really need to book in advance to be sure you secure a spot in the desired time slot. If you have your own skates, admission is free Monday through Thursday and $5 Friday through Sunday and on holiday dates. For $16 Monday through Thursday and $20 Friday through Sunday and on holiday dates, one can have tickets and rented skates for a two-hour session. If you follow Maggie Daley Park's social media feeds, you might catch wind of special skating events, like an ugly sweater night on December 16 that could win you tickets to an Ugly Buildings Tour in the Loop. 
Visiting Michigan Avenue might bring joy to those who avoid crowds
If skating is not your thing,  and you enjoy strolling on your own two feet, there are still a lot of things you can enjoy in Chicago this season. If Christkindlmarket is not your cup of tea either, especially since avoiding large crowds of people seems to be the mandate still, you might find the city has other, less packed, attractions too. If you are looking for a local hot spot when you are in downtown Chicago, you absolutely have to at least visit Michigan Avenue. There is a lot to see and do in this stretch of pavement and activity that is best known as the Magnificent Mile. Here's a look at why you should visit this portion of the city this winter.
It isn't called 'magnificent' because it's boring and dull, that's for sure. In many ways, the Magnificent Mile is an iconic piece of Chicago that one must see to really appreciate. It has a reputation that makes Michigan Avenue as significant to the Windy City as Rodeo Drive is in Beverly Hills and 5th Avenue in New York City. If you are looking for something to help you while away a day and evening in the city, then the Magnificent Mile is your best destination.