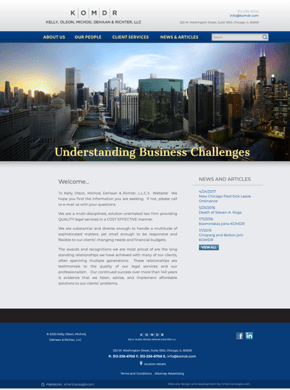 Kelly, Olson, Michod, DeHaan, & Richter, LLC are as Chicago as it gets. The firm dates its foundation back to six months after the Great Chicago Fire of 1871. They played a key role in the acquisition of real estate and opening of businesses that helped Chicago recover from the disaster.
The firm prides itself on holding long-term relationships with its clients.
KOMDR remains a staple for Chicago business law, representing corporations, LLCs, banks, real estate developers, trusts, small business owners, and individuals.
KOMDR's team boasts of individuals with decades of experience in law.