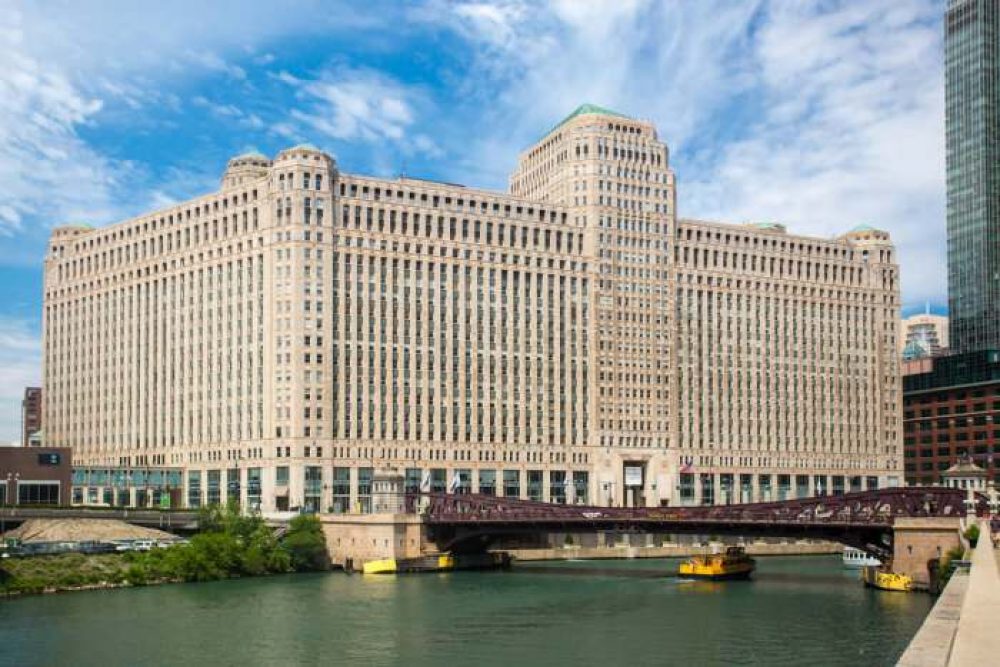 The architectural profile of the Windy city is continuously changing. New York-based developer Vornado Realty Trust is planning a new residential tower at 527 W. Kinzie St in Fulton River District, near Merchandise Mart. News of the project was broken January 21st, in Alderman Brendan Reilly's  (42nd) most recent newsletter to constituents.
In an email to constituents, Reilly said Vornado Realty Trust plans a 26-story building with 288 units. Located at the southwest corner of W. Kinzie St and N. Canal St, the project would replace an existing surface parking lot, the new construction was designed by Pappageorge Haymes Partners, and it will be an exclusively residential, 290-foot-tall structure containing 288 residential units. The unit mix will consist of 35 studios, 35 convertibles, 108 1-beds, 38 2-beds, and 12 3-bedroom configurations. Residents will enter the building through the residential lobby at the corner underneath the curved facade of the main tower volume. 
The changes will improve sightlines for drivers on Canal turning onto Kinzie
Vehicular access will be solely off of N. Canal St, with one curb cut giving access to the interior parking levels as well as a porte cochere, this allowing that drop-offs, pick-ups, and deliveries occur entirely off of the street. Loading is accommodated within the building, after, as alderman Reilly says, he has convinced Vornado to revise plans to that end.  The developers said in a presentation given to Reilly the building will have 81 parking spaces, the same number as the surface lot that was used as parking by tenants at the mart.
Vornado said in its presentation the changes will improve sightlines for drivers on Canal turning onto Kinzie. The intersection has been a traffic choke point because of development of the surrounding area, including Wolf Point along the Chicago River.
Separately, Reilly said a developer, who plans to build another residential tower at 640 W. Washington St., has agreed to reduce the building's height. Crescent Heights will build 38 stories, not the 47 stories the City Council authorized last year, Reilly said, adding construction should start later this year.
Both Chicago's architectural profile and community are evolving 
The architectural profile of the city is not the only one changing, so does the architectural community in the Windy City. Last fall marked the beginning of two active efforts meant to increase diversity amongst Chicago's architects.    
University of Illinois Chicago graduate student Martina Smith became the first recipient of the Hartshorne and Plunkard Fellowship, a new annual award given to a UIC architecture graduate student. She received the award in September, which comprises $10,000 in financial assistance for up to three years of graduate study, academic and professional mentoring, and a paid summer internship at Hartshorne Plunkard Architecture in Chicago. 
What is expected from the new diverse architects of tomorrow is to better reflect their own backgrounds in their work, while creating spaces to accommodate the city's developing needs, throughout the entire community. 
New spaces for young and creative professionals
The new professionals in the city need new spaces to live in, as this new residential tower is providing, or to work in, since regular office spaces prove to be expensive and sometimes hard to find. A good solution seems to be coworking spaces, which are neutral, membership-based offices shared by workers or groups that work independently of a corporate office.
No matter what you do, the Chicago coworking scene offers a wide variety of workspaces to match your specific needs. These spaces are usually located centrally in Chicago, being preferred by freelancers, independent contractors, startups, remote employees, gig workers, and other groups looking for the amenities of a traditional office, but not wanting to pay the full price.
Using a coworking space gives you a professional edge and builds a sense of community. It also helps boost productivity, while enabling you to connect with like-minded professionals and organizations. For Windy City-based professionals and companies looking to encourage remote working and cut costs, coworking spaces in Chicago are a feasible, flexible and affordable option for office space. Your choice includes creative hubs for designers, copywriters, and tech professionals; quiet oases for writing; conventional coworking spaces for teams, freelancers, and much more. This is why we've compiled a list of the best Chicago coworking spaces, helping you pick the perfect site for your desired amenities and budget.
Another residential tower might be built near the Merchandise Mart's one
Coming back to the new construction in Kinzie Street, the subject parcel addressed at 527 W. Kinzie St is within Subarea D of the existing PD 87. Currently, the planned development statements for Subarea D allow for a residential building measuring up to 340 feet tall with 288 units and 288 parking spaces. Since this new plan to build there is smaller than the allowable scale, the project will not require any approvals from the alderman. Actually, such a development in the area had already been considered while another project was asking for the necessary documents to go forward with a new building. 
According to Alderman Reilly's newsletter, a future development at 527 W. Kinzie St was taken into consideration when going through the approval process at 344 N. Canal St. The Habitat Company received approval for a 33-story tower at 344 N. Canal St in June 2020 but have not yet begun filing permits for construction at that site, formerly home to a Cassidy Tire service center.
When this happens, that site will host a new residential tower, which means the area is going to offer a lot of housing opportunities.