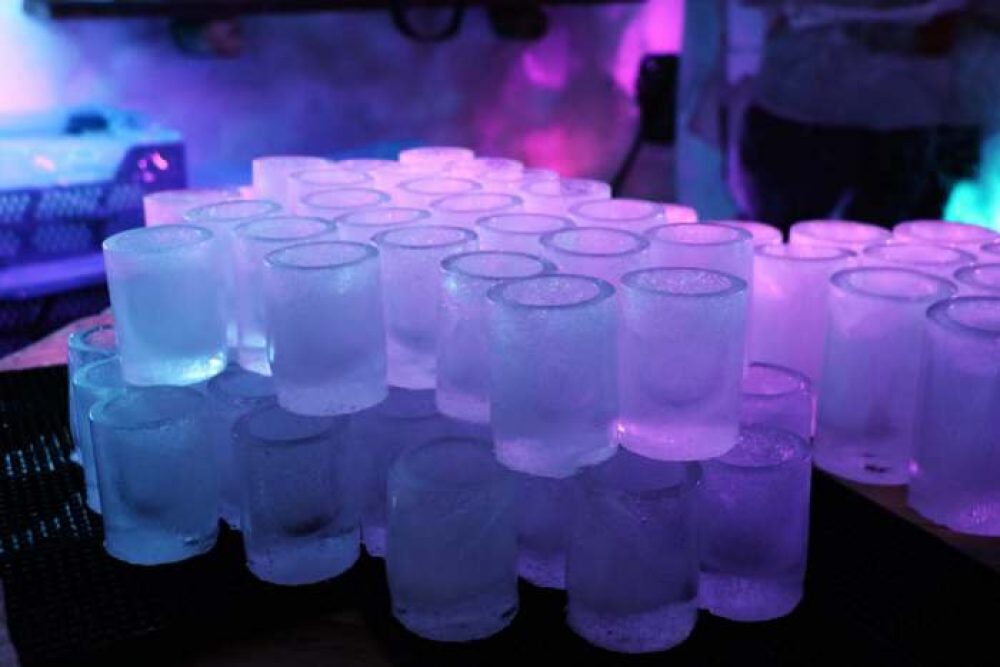 Pizza, Beer & Jukebox, a West Loop bar on Peoria Street is cashing in on the freezing temperatures in Chicago by serving drinks from an outdoor ice bar complete with extra props ready for the coolest pictures. 
Attractions in North America, and not only in the coldest towns
Ice bars are well loved in North America, mostly in the colder climate areas, but not only, some of the most famous including Minus5 Ice Bar, which has five locations in the United States.  Two of these are in Las Vegas (one at Mandalay Bay Resort and Casino and one at Monte Carlo Resort and Casino), one in Orlando (at Pointe Orlando) and one in New York (at New York Hilton Midtown) with their newest location on Grand Cayman in the Cayman Islands. Everything in all of the bars is made entirely out of ice including the walls, the seats, the bar and the glasses. Once you purchase your entrance package and arrive you're given gloves and a parka to keep warm. Then you can sit back and enjoy the icy surroundings. Expect different types of ice sculptures, themed ice rooms, an LED light display and music.
You likely don't associate Florida with ice, but there's a bar that will change your perception. IcebarOrlando has the distinction of being the largest permanent ice bar in the world. Many ice bars shut down for part of the year, but not this one. Upon arrival guests are given thermal coats and gloves to make the experience more comfortable. A faux fur coat can be provided for an additional fee. If you want to warm up at any point, head over to the Fire Lounge, a nightclub (and warmer spot) located within Icebar.
Chicago does not get left behind on the winter trend
After successfully doing it last year, but on a smaller scale, Pizza, Beer & Jukebox (a.k.a. PB&J) is using 40,000 pounds of ice to construct a bar on Peoria Street, accompanied by a pair of ice thrones (one for adults and one for kids), an ice drink luge and a beer stein made of ice. 
Open from 5PM till 10PM, the ice bar It's a bigger and better version of the "PB&J Frozen" experience that co-owners (and brothers) Matthew and Josh McCahill created in 2021, using 30,000 pounds of ice.  Last winter, abar and an igloo were built in front of the West Loop restaurant.
"PB&J on Ice" is programmed to open on January 20th, and will be ready to serve drinks every night until the ice bar melts away. Because the bar is situated in open air, it's an "open air experience," guests won't need proof of vaccination to order a drink, but one will be asked if they want to sit down inside of PB&J and order food. According to a release, a live DJ and $13 drink specials were the features planned for the opening night, on the menu being some of the bar's signature drinks, such as Hottie Toddy and Skrewball Hot Cocoa.
New spots to enjoy well crafted drinks in a special ambiance
Well crafted drinks and a one of a kind experience is what makes any bar a special Chicago has many such places, and even if the coronavirus pandemic meant some of the businesses had to close, for other, it was a good opportunity to launch themselves into new ventures. 
At Moonflower, for instance,  three industry vets are serving fancy cocktails at affordable prices, in a lush green and welcoming space in the Portage Park area. Zach Rivera, Marvin Boeving and Christina Chae officially opened Moonflower at the beginning of December at 4359 N Milwaukee Avenue, in the space previously used by craft beer bar Hops & Barley. They met a while back, when they were working together at Headquarters Beercade in River North, before moving on to roles with Hogsalt Hospitality, 16″ on Center and Celeste. The now partners remained friends and were thinking of opening their own place, but did not find the right space for their endeavor, although they checked possible spaces in Avondale and other Chicago neighborhoods. 
The Drifter is one of those places that one has to experience in order to really appreciate. Once you find it, since it is one of those places you don't easily find, it could become your newest favorite hideout in the city. Located at 676 N Orleans Street, The Drifter is hidden in the lower level of the Green Door Tavern in River North. It is a fairly new hot spot on the bar map of the city, since it has only been there for just over a year.  The bar has built a reputation as a speakeasy that takes some hunting to find, since it does not have a main street frontage. The customers keep going back partly due to the legend of the location, and partly due to the location and ambiance. Sure, the well-crafted cocktails should be the main attraction pulling you into this truly hidden gem of the city.
The dropping temperatures will keep the new attraction up and running 
The cold front arrived in Chicago January 19th, with below zero windchill expected in the evening, according to the National Weather Service. The chilly weather will stick around through the weekend, and beyond, which gives hopes to the temporary frozen bar to last. Now, how long tat will be, remains to be seen. The latest Accuweather forecast for Chicago lists temperatures below (or just a few degrees above) 32 degrees through the end of January, which means that PB&J's ice bar and amenities could last  at least for a couple of weeks. Reservations are needed if you want to be able to sip an extra cold drink from the coolest cold bar in town.